MURRELLS INLET — When Hurricane Ian stormed ashore not 48 hours earlier, shoving the Atlantic Ocean mightily toward Belin Memorial United Methodist Church, its freestanding cross stood a resolute guardian against a raging sea.
The Category 1 storm barreled ashore about 20 miles to the south in Georgetown, its power ramming the sea into a Murrells Inlet creek just beyond the church, over a wall, over the cross's foundation and through the church parking lot until the ocean lapped at the sanctuary's front door.
But never inside of it.
A few hours later that Friday, a rainbow appeared. The biblical symbol of God's promise to never destroy the planet again with floodwaters arched over the cross and the communities that Ian had just pummeled.
Now, it is Sunday. 
As worshippers arrive this Oct. 2, early morning sunshine shimmers off the calm waters of a new day. The simple wooden cross stands dry before a ribbon of blue creek behind it, surrounded by a gravel parking lot, only a few errant reeds evidence of Friday's storm surge. 
People arrive saying prayers of thanks, keenly aware that residents of other states continue to count their dead.
At least 68 people have been confirmed dead: 61 in Florida, four in North Carolina and three in Cuba, The Associated Press reported. The weakened storm had drifted north on Sunday and was expected to dump rain on parts of Virginia, West Virginia, Maryland and southern Pennsylvania. 
Inside Belin church, the Rev. Will Malambri steps up to deliver his sermon.
"So, what did you do this weekend?" he asks to nervous laughter of relief. "My plans changed."
Yet, storms give reason to recalibrate, to repair, to reconnect and help one another.
"We're able to sit in this very comfortable sanctuary, look around at the property that hardly reveals that less than 48 hours ago, there was a hurricane coming through here," he said. 
In the second-to-last pew in back of the sanctuary, Ruthie Kearns listens. She knows.
At her home on Murrells Inlet, she lost nine trees. Her husband is there now, as she worships, removing mounds and mounds of soggy reeds that smell of rot and dead fish.
Along the coast of South Carolina, it is a time for rebuilding.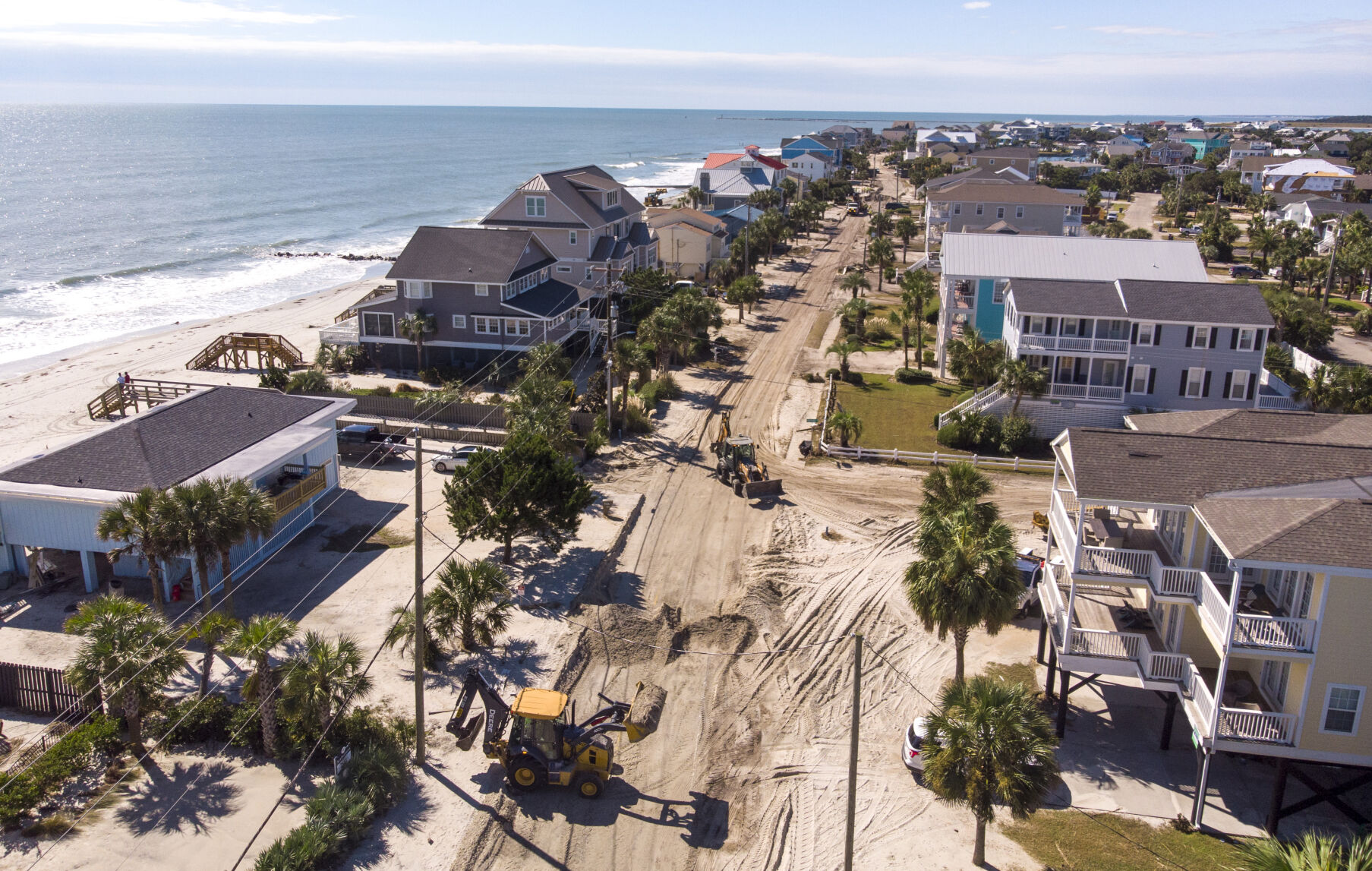 ***
As church services continue, across Murrells Inlet, Garden City Beach is a hive of dump trucks, tractors and other heavy equipment digging up and removing sand that once comprised ocean-front dunes that protected homes from the tide. 
Many structures in this rental-heavy stretch of houses suffered significant damage on their ground levels when the ocean barreled across the dunes, thrusting sand through and beneath homes and across South Waccamaw Drive. 
Courtney Cox saved her dogs and a beloved box of her late grandmother's letters as ocean water flowed into her ground-floor living space. On Sunday, she and her boyfriend's mother, who has owned the house since the '80s, haul their earthly belongings outside to dry.
Shoes, an ottoman, a wicker nightstand, bar stools and rugs clutter their front yard. A grey sweater dress hangs from the porch, swaying in the warm day's breeze like a ghost of normal days.
The two women recall how, in a matter of 20 minutes, water lapping toward their porch flooded the entire first-floor of the house. Strangely, it wasn't particularly windy or rainy outside in those moments, nothing that spoke to a hurricane except the storm surge.
They quickly hurried to the second floor, grabbing items to save as they did.
Cox lives on the first floor of the house owned by Karen Hemingway, who says that residents were expecting little more than a king tide as Hurricane Ian appeared headed for Charleston.
At 10:45 a.m., they were sipping bloody marys. At 12:48 p.m., shortly after high tide, the waves frothed over the dunes and reached into their backyard.
At 1:17 p.m., Ian poured into the house.
"We were not prepared for the tide. Not at all," Hemingway says.
Instead, where a grass-covered, 8-foot dune once rose in their backyard, only a flat expanse of sand remains leading to the ocean's waves.
"It's overwhelming," Cox says. "You work hard for everything, and it's all underwater."
Then, surveying their belongings outside under the sun, she adds, "But it's just stuff."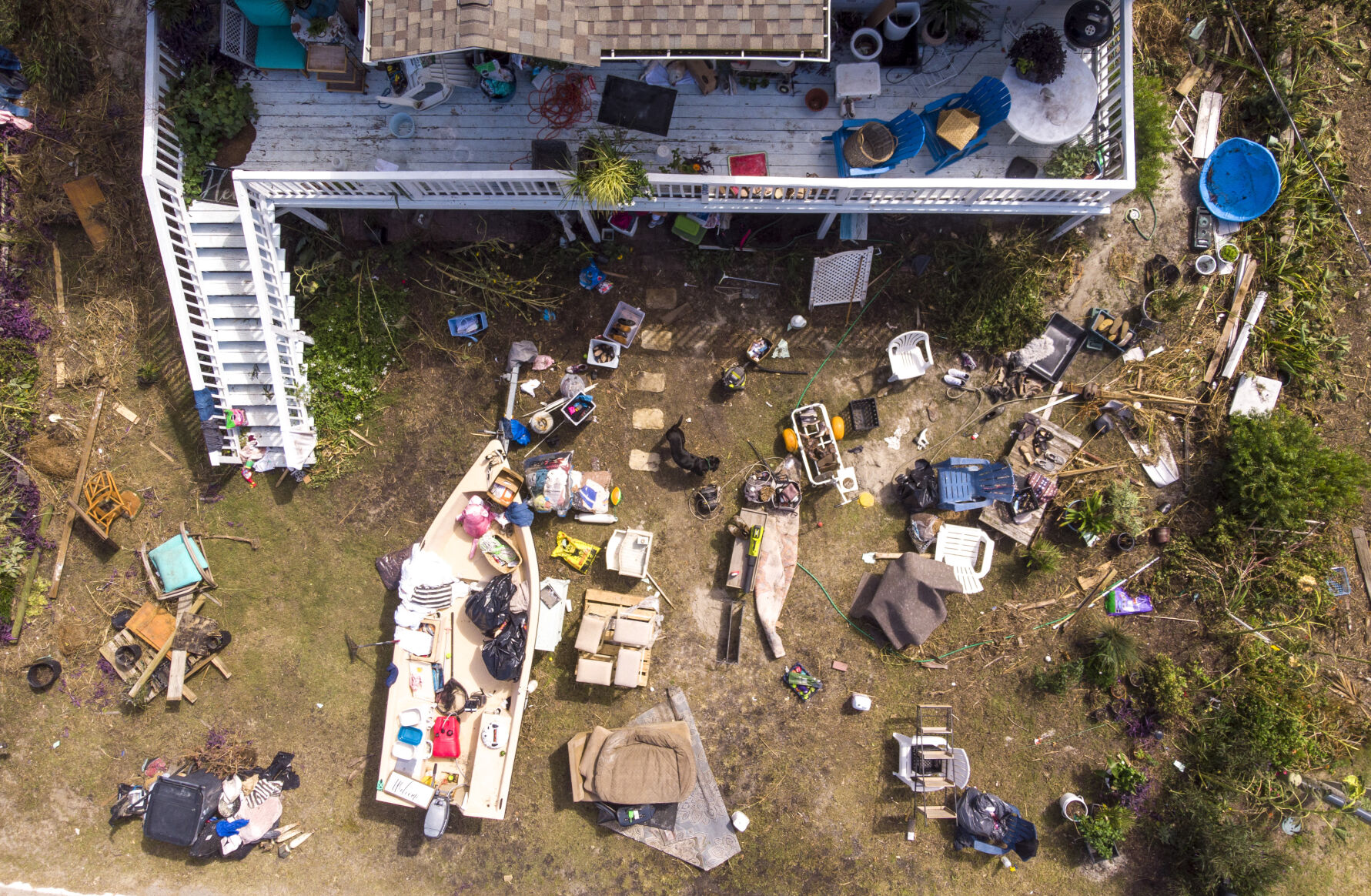 Crews across Georgetown County found streets in Garden City and Pawleys Island, two of the hardest-hit areas, with as much as 3 feet of sand, county Emergency Services Director Bradon Ellis says.
While the storm damaged several hundred homes in the county, Ian's impact was limited to the coastline with storm surges estimated reaching up to 7 feet. Strong winds and rain did not do as much damage inland.
"It could have been much worse," Ellis says.
Roads into Pawleys Island could be cleared as early as Oct. 2 and roads around Garden City reopened Oct. 3 or 4.
Meanwhile, outside Garden City Chapel and Retreat, hundreds of tan chairs hauled outside sat drying in the warming sun. 
***
Among Ian's destruction, some of the most visible wreckage was to five coastal South Carolina piers that suffered damage over a 50-mile stretch from the Cherry Grove Pier in North Myrtle Beach to the Pawleys Island Pier to the south.
Rebuilding the destroyed mid-section of the Cherry Grove Pier should begin in January and take five to seven months, pier manager Edgar Stephens says. In the meantime, people can still use the pier up to the broken middle section.
"We've still got people coming and fishing, and we've still got the souvenir shop," Stephens says. "The pier will be rebuilt, and it will be bigger and better next year."
Constructed in 1952, the pier is among the region's most popular spots. It attracts fishing enthusiasts and tourists looking for wind-swept walks over the ocean. During the height of its busy season, officials often see upwards of 1,000 visitors come through a day.
Travis Pauley and his family, residents of Virginia, fish off the pier on Oct. 2 during a family vacation. They had arrived in North Myrtle Beach around the time Hurricane Ian hit the region, and he was disappointed to see the structure damaged.
"You hate to see it," Pauley says. "But I'm glad it was nothing like Florida. This is a mess, but it's nothing like what they are going through."
Cherry Grove Pier cannot be rebuilt until at least January, Stephens says, due to a backlog of building materials being directed toward rebuilding the western coast of Florida.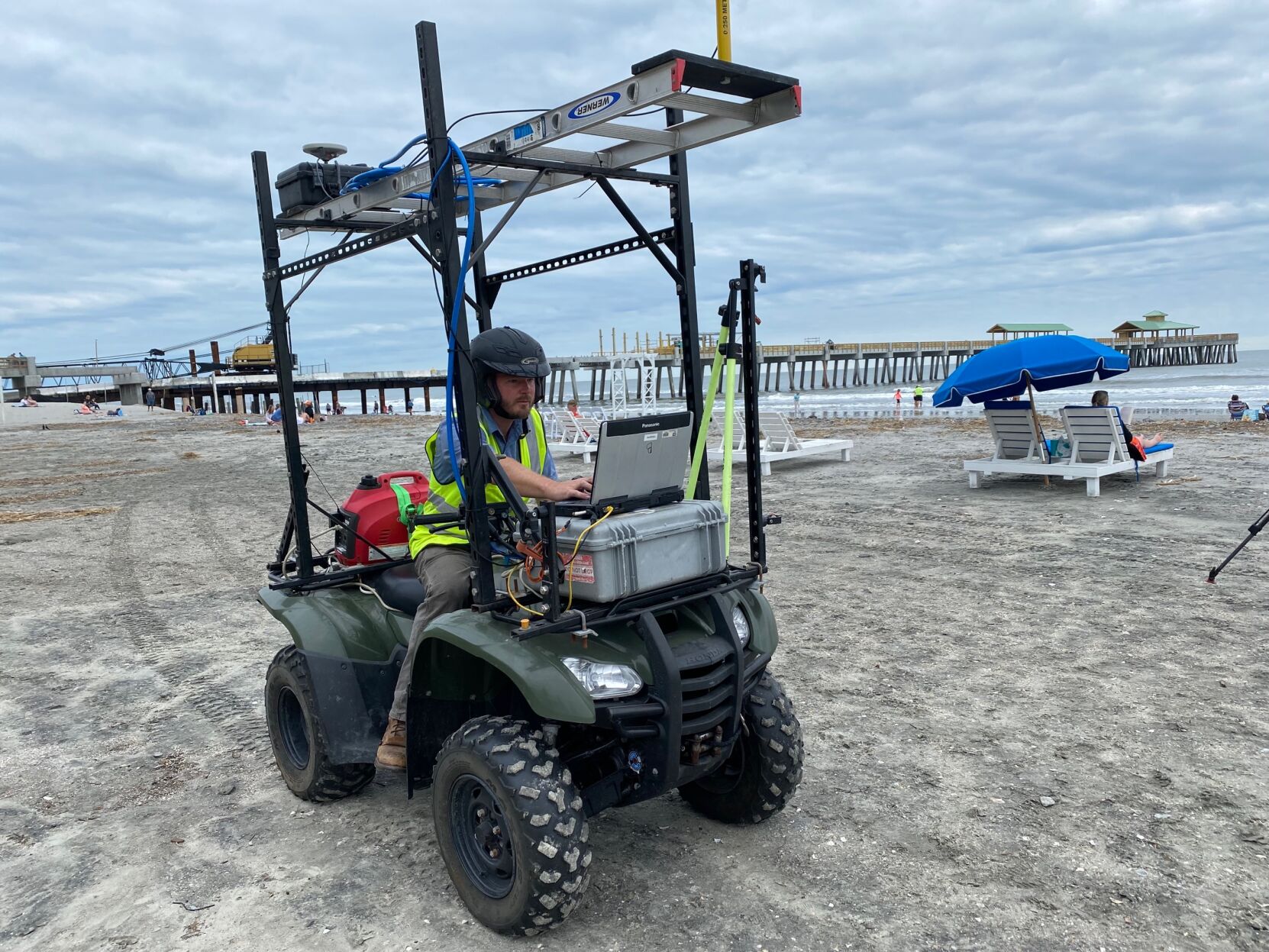 ***
Farther south along the coast, Ian-related damage assessments continue through the weekend in the Lowcountry. By early Oct. 2, municipalities had cleaned up much of the leftover debris.
The American Red Cross had crews traveling through parts of the Lowcountry and Grand Strand to assess damage from the hurricane, much of which is concentrated closer to Georgetown and Pawleys Island.
Todd Musselman, a disaster program specialist with the Red Cross, says at least one apartment complex on Dorchester Road in North Charleston is dealing with flood damage.
"I got a team working pretty hard over there," Todd says, though he is unable to provide a count for how many people at the complex are displaced.
Ian dropped about 4 to 8 inches of rainfall in the metro area, including Charleston, Mount Pleasant and Summerville, according to NWS meteorologist Douglas Berry. The highest counts — about 9.82 inches — were recorded near the Santee coast and McClellanville.
"The further south you were, the less (rain) that you saw," Berry says.
Like many agencies, the NWS is accepting damage reports to better evaluate Ian's impact on the Palmetto State.
Most reports received by the service so far are of downed trees. Berry says he only knows of two instances where a tree fell on a home, but with no confirmed injuries or deaths. The NWS has received no reports of substantial structural damage.
Meteorologists expect to release an official weather report from Ian on Oct. 4, Berry says.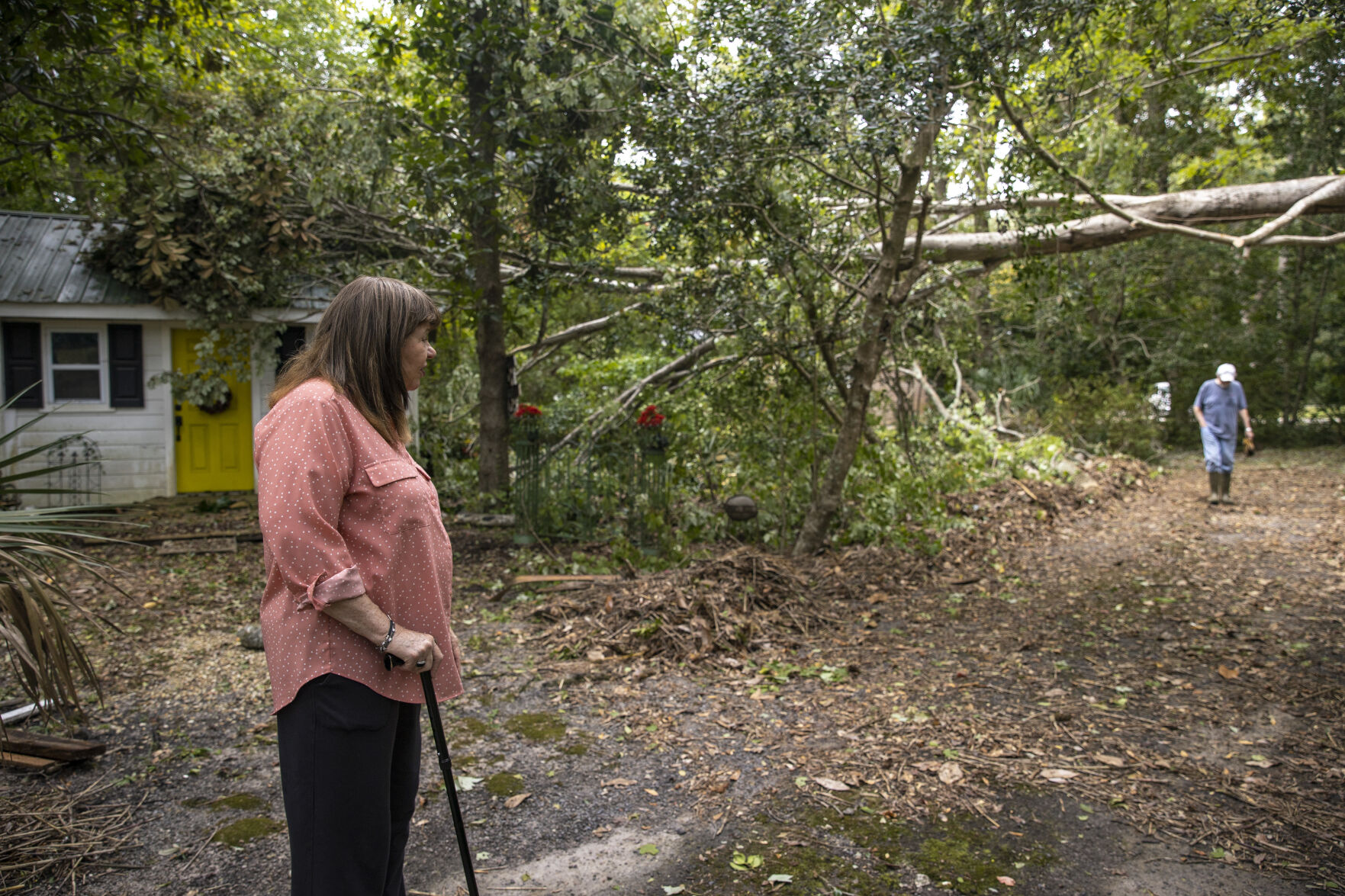 ***
The Army Corps of Engineers' Charleston district arrives Oct. 2 at Folly Beach to determine how much sand Ian pulled from its shoreline.
Storms — particularly ones like a powerful Category 1 hurricane — increase wind speeds and the waves' velocity, knocking sand loose, says Chief of Survey Sonja Zindars. This disruptive process causes large amounts of erosion and chips away at an island's protective barriers, she says. Without a beachfront or dunes, Folly's homes, hotels, restaurants and natural ecosystem are at risk of being inundated by the heavy winds and waters.
Folly saw the Charleston area's highest reported wind speed from Ian, 73 mph, around 10 a.m. Sept. 30 — hours before the storm made landfall. White-tipped, flailing waves broke onto the beach and a few streets flooded, shuttering bars and restaurants as the storm bore down.
The Corps uses special technology strapped onto an ATV to create a 3D map of the beach and capture its volume of sand, Zindars says. The assessment tells engineers how much sand needs to be replaced.
Folly Beach Mayor Tim Goodwin says he isn't sure how much sand his community lost to Ian. Damage "comes and goes" down the shoreline, he offers.
Erosion may be apparent to the naked eye, but that doesn't mean it can be easily quantified, Zindars says. It's important to have a clear idea of how much sand needs to be replaced on the beach. Otherwise, Corps engineers run the risk of dumping too much, which can cause increased erosion, she says.
The ATV — outfitted with various poles, boxes and a ladder — shows up behind the Tides Folly Beach hotel, just after 4:30 p.m. Engineering Technician Matthew Boles will pilot the machine for the next several hours as he drives down the line of dunes and then back up the shore, gathering a complete picture of the beach.
Engineers will then take the data, build it into the map and compare it to an assessment taken prior to the Sept. 30 storm to determine whether additional sand needs to be brought in, Boles says. The process generally takes a week to complete, and the results would be distributed online.
Members of the Corps' Charleston district will travel to Myrtle Beach and Pawley's Island next to conduct the same survey, Zindars says.
President Joe Biden declared a state of emergency in South Carolina authorizing the Federal Emergency Management Agency to coordinate disaster relief efforts and provide assistance with 75 percent paid by the federal government.
***
When Ruthie Kearns leaves Belin church and heads back to her house in Murrells Inlet, she arrives to a driveway still draped in a towering tree that had cracked in half and now leans across it like an archway, one end precariously balanced on a shed.
She and her husband went inland during the storm, then returned Saturday. After Hurricane Matthew struck in 2016, they learned to bring a chain saw with them.
Good thinking because, even with the saw, it took them six hours to cut and dig their way through trees and debris to reach their front door. The entire property was smothered in three-foot mats of soggy reeds. About 4 feet of water had rushed into their lower-level, but the large deck they rebuilt after Matthew remained intact.
Neighbors on their cul-de-sac were out of town, their azalea-lined driveway and wide yard also covered in reeds. Several trees had toppled.
And beneath the house, with its high front porch adorned with American flag bunting, they had stored all kinds of memorabilia — family photographs, baseball cards, Army posters, letters, jewelry, documents, most now damp and caked with sand mud.
Once Ian raged on, other neighbors hurried over to salvage the family's memories, carefully laying them out to dry in the space beneath the house. 
"Look at this mess," neighbor Allen Ryals said. "This is what they are left with."
He shook his head and surveyed the scene. In a few hours, he would leave to pick up the homeowners from the airport and bring them home. Then they, too, could begin salvaging and rebuilding.
Shamira McCray contributed from Charleston, Jocelyn Grzeszczak from Folly Beach, Andy Shain from Columbia and Nicole Ziege from North Myrtle Beach.