It'd take a very good eye to tell these budget backyard patio ideas apart from pricier looks. That's because exterior design doesn't have to be expensive. You just need to know where to look for bargains and have a little creative license.
Sure splashing out on the best garden furniture is an easy way to pimp up your patio, but not everyone earns the big bucks. Plus, even if you can afford to buy from recognizable retailers, the chances are someone else is going to have the same (or similar setup). Cookie-cutter configurations aren't our style.
Our budget patio ideas allow you to copy some of the most iconic looks for less, while rewarding you with an endorphin-boosting 'I did that feeling. And by DIYing your decor, you can add a touch of flair to your furnishings.
We'll also show you ways you can improve the longevity of your garden ware to debunk the myth of 'pay cheap, pay twice'.
1. Decorate with planters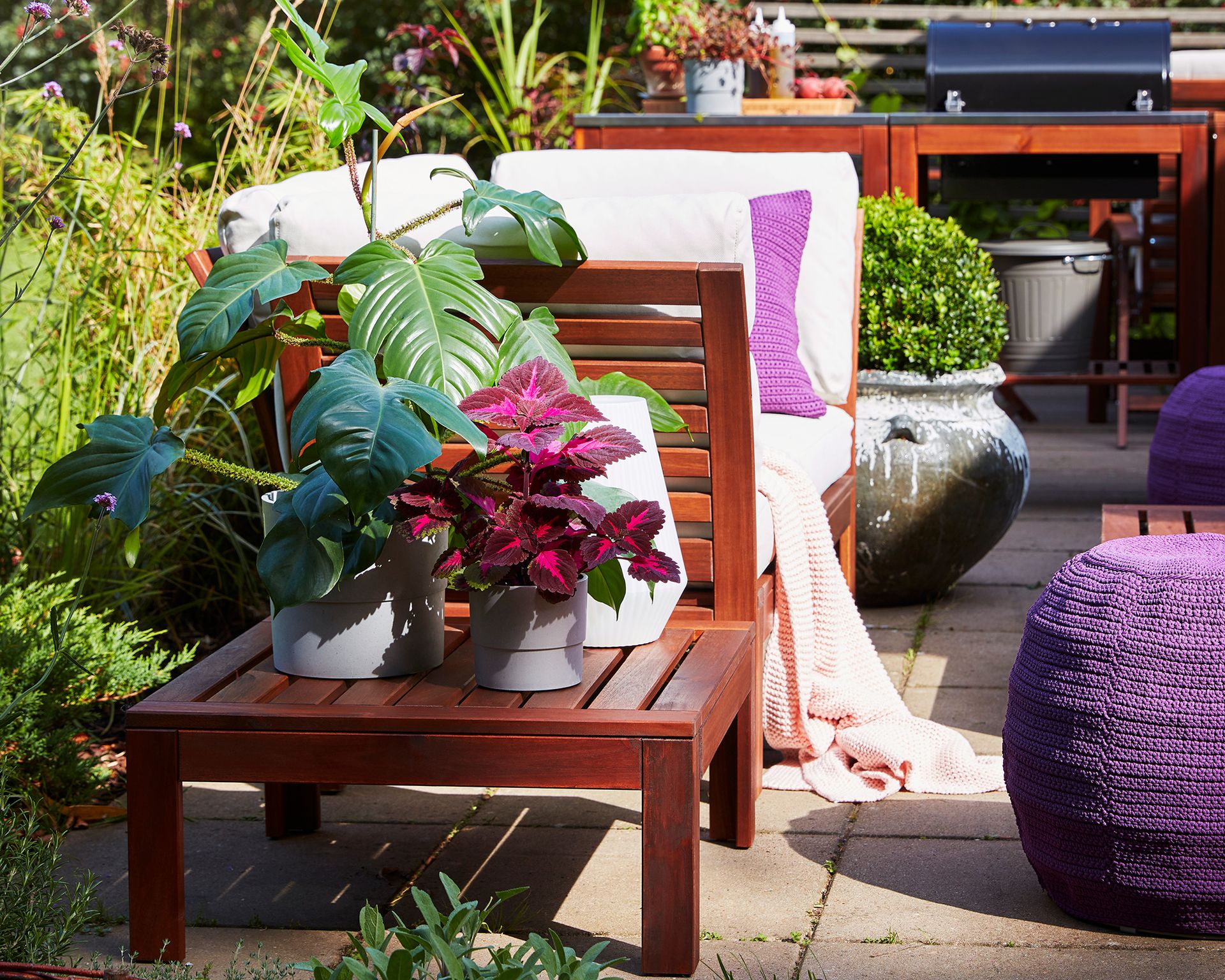 Create a pretty patio space for cheap using potted plants and blousy blooms to add color and interest to a concrete paved or slabbed space. If you're tired of looking at Terracotta planters, consider removing your foliage from these earthenware containers and rehoming them in new (potentially novel) external vases.
You can upcycle practically anything as an alternative planter idea if it can withstand rain, heat, moisture, and humidity. If you're clever with it, your container planting ideas could also double up as a cheap way to screen yourself from your neighbors and create a bit of backyard privacy – saving you from building a fence or screen.
2. DIY your own furniture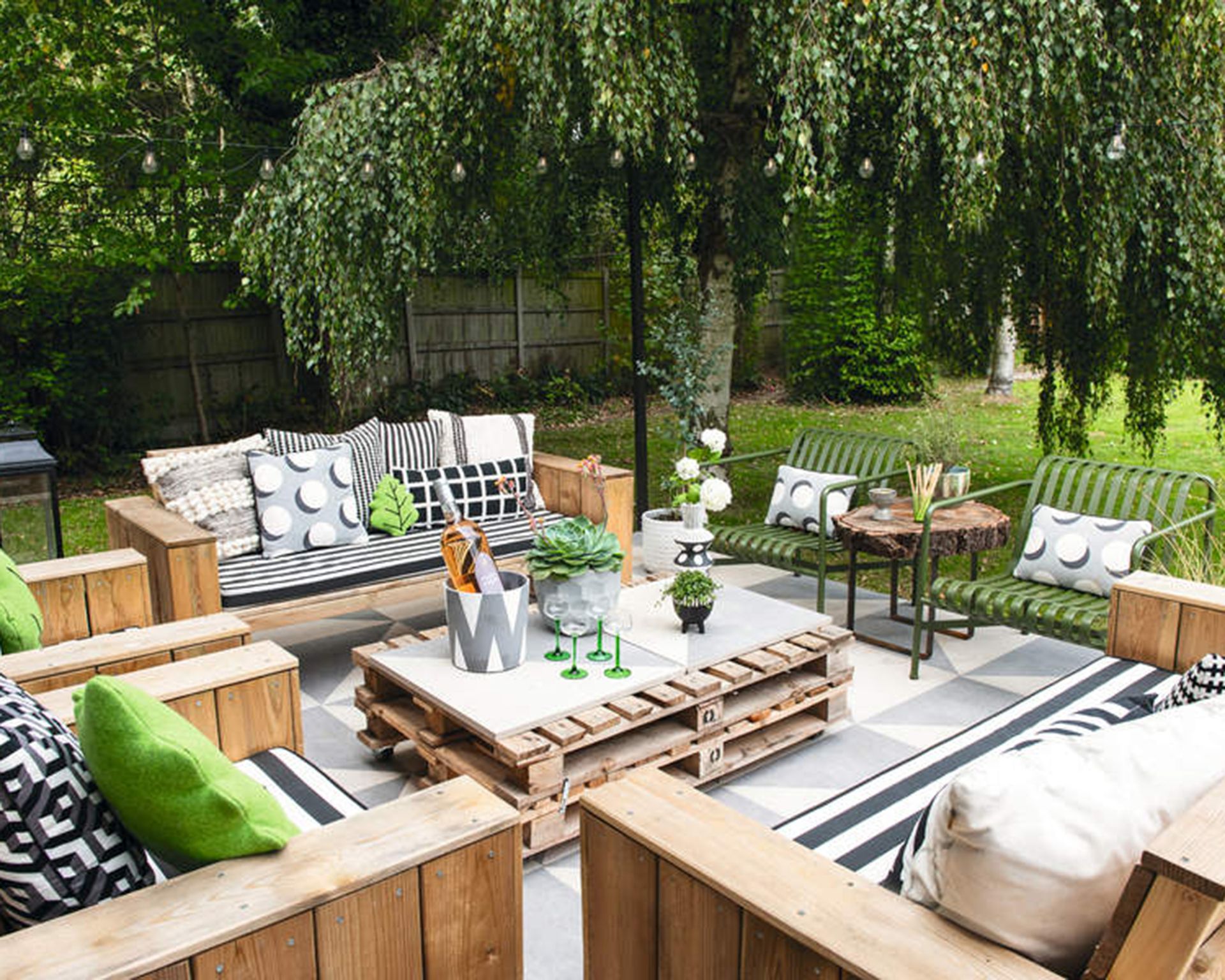 Let's face it: there are loads of stylish stores to pick from when choosing patio dining tables, chairs, and whatnot. But if you don't have deep pockets, you're not exactly going to be sitting pretty.
Even in economic hardship, retailers still stand to make a healthy profit. So if you want to keep more of your cash, consider making your own pallet furniture as one of many personalized budget patio ideas.
Pallet coffee tables are super simple to build and can look super chic if you know how to paint furniture properly. There are some great products on the market to help you achieve a professional look, including Annie Sloan Chalk Paint (opens in new tab) and Rust-Oleum spray paints (available on Amazon) (opens in new tab). 
Alternatively, a DIY outdoor sofa could save you thousands. And, if you get the wood cut to size, you won't need to buy or rent any expensive equipment like an electric saw either.
3. Look for multifunctional furniture to save $$$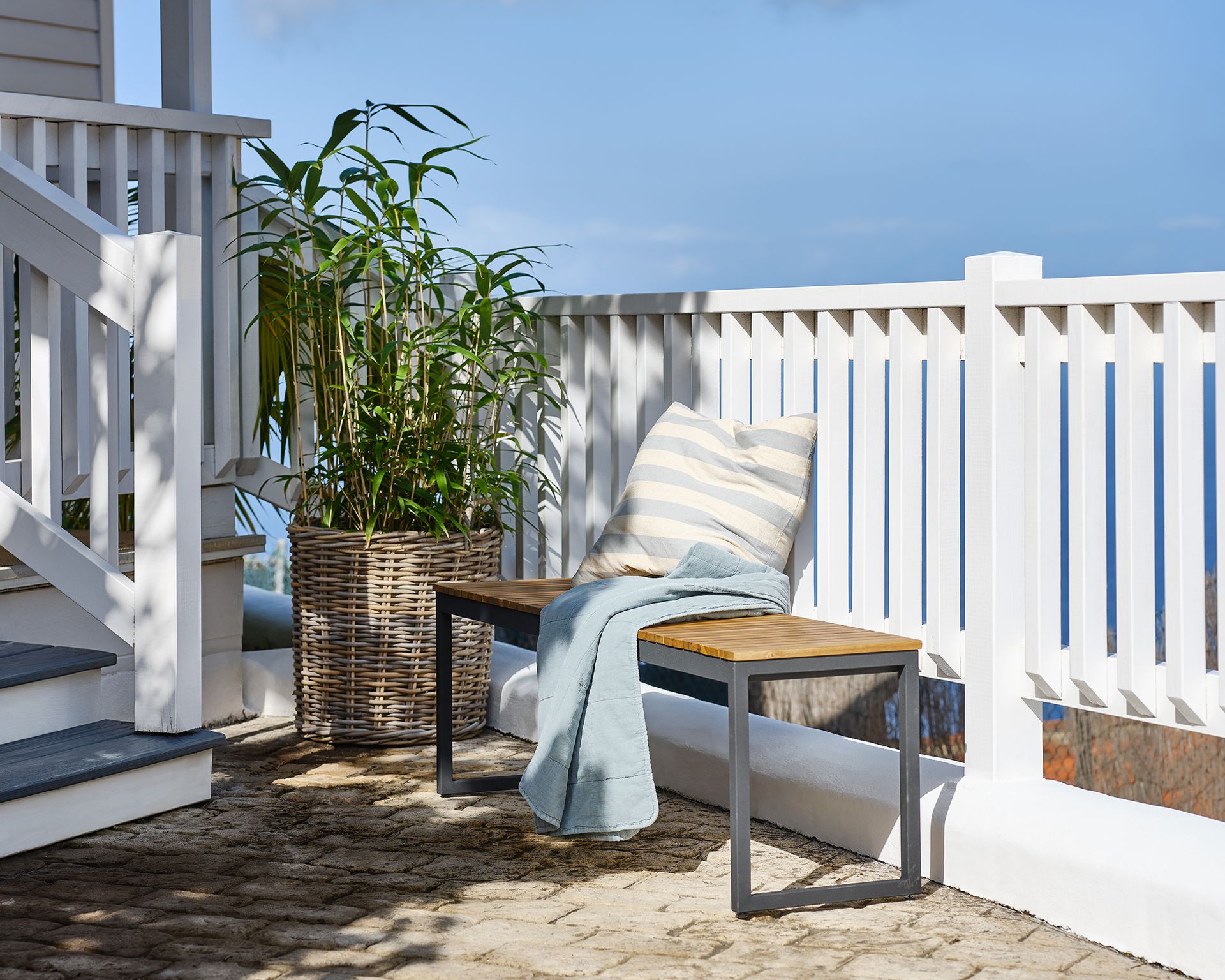 Benches, sectional sofas, poufs, and stools are all super versatile when it comes to decorating a patio. One minute they're a seat and the next they can be transformed into a place to pop your drink, book, or sunscreen.
'Opting for multi-functional furniture, in addition to traditional buys such as a dining set or a lounger, can provide a great budget-friendly solution,' says Rikke Blaeside, design and range manager, JYSK (opens in new tab).
'For example, a stylish stool can be used as both seating and a small table depending on the day's needs, while a garden bench can be used to seat 2-3 people, as a coffee table for food and drinks, or even as a footrest for added comfort when relaxing – just add a cushion or two.'
4. Create a private dining area with area rugs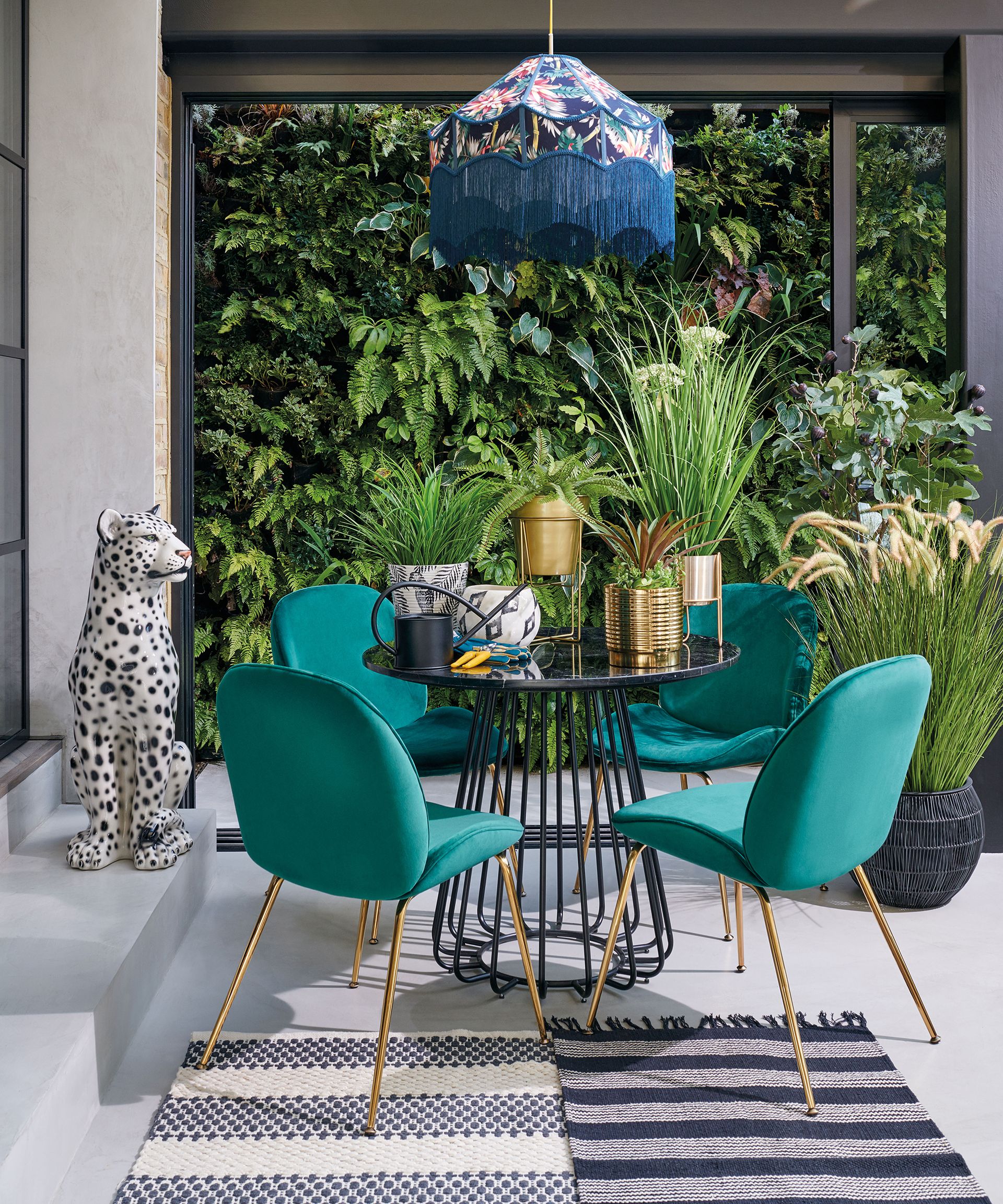 Staying in-in is the new going out when it comes to socializing with friends. So make a grand entrance and lay out the red carpet for your guests. To copy this look by Homesense (opens in new tab), position two runner rugs near your patio dining set, et voila, a VIP dining area that costs very little to style.
'One of the simplest ways to make your outdoor space feel more opulent is to consider the comforts that we wouldn't usually expect to find outdoors,' says Ali Manser, merchandising manager at Harbour Lifestyle (opens in new tab).
'For example, if you already have a seating arrangement, why not add in an outdoor rug? The additional solace of not having to place your feet on a cold patio tile creates a sumptuous experience, and a stylish aesthetic, that will work wonders in your garden without having to splash out on a full new set.'
'Choose a rug that coordinates with your existing furniture, and ensure you select one with hardwearing, weatherproof materials for a truly indulgent feel.'
5. Add a pop of color with outdoor cushions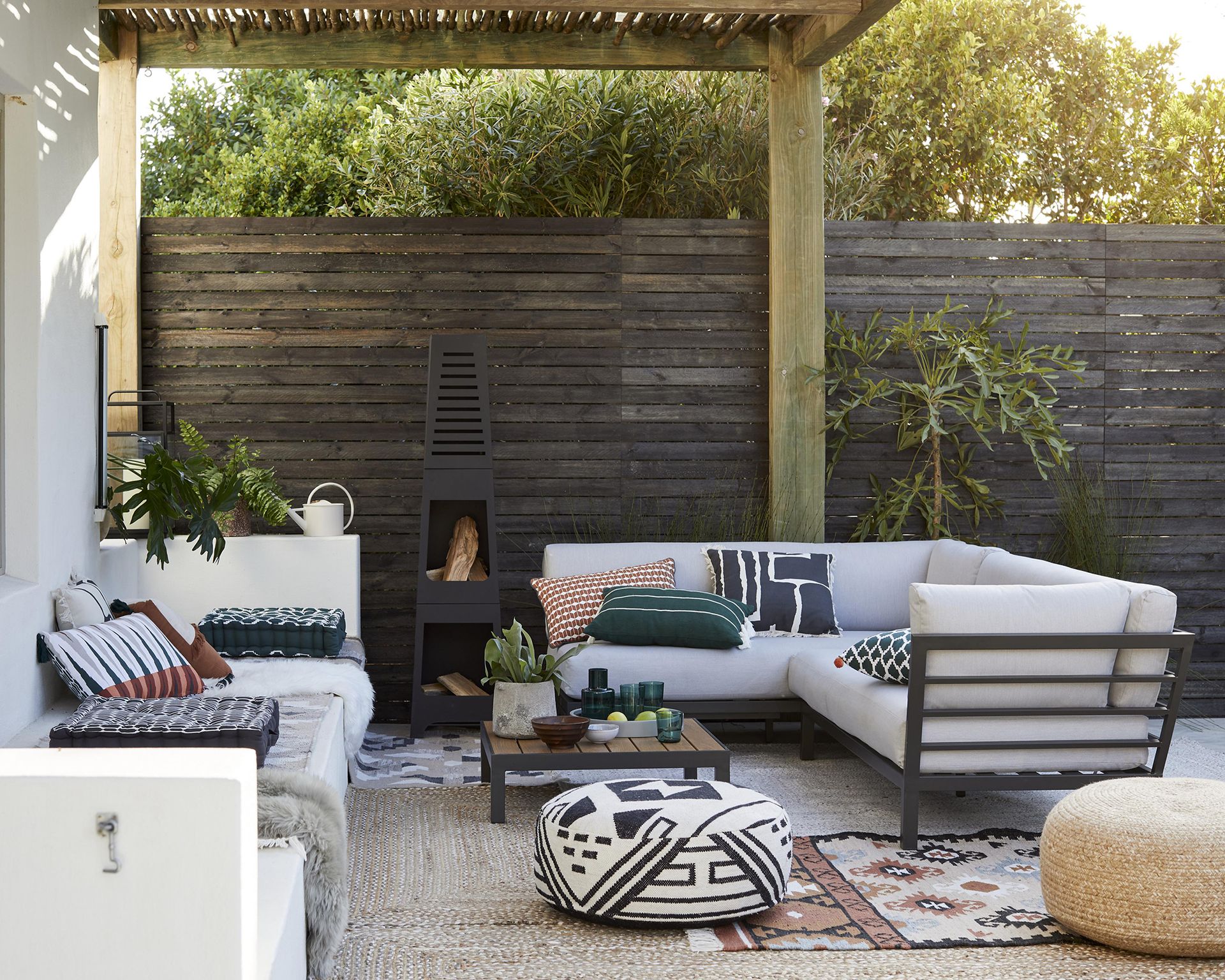 'If you are happy with your current outdoor furniture setup, don't forget that adding elegant accessories can enhance your space further to make it feel more put-together and welcoming,' says Manser.
'For example, adding throw cushions to your outdoor sofa set will help to create a lush yet cozy ambiance for your guests, providing both comfort and additional visual interest.'
'Choose throw pillows that harmonize with your current setup, but be bold and don't be too matchy! Choose a pattern with mutual color palettes, such as a botanical pattern if you have existing neutral-toned furniture.'
'Be sure that the pillows you choose are weatherproof, breathable, and fade-resistant – you don't want your pillows to become damaged after just a few uses. Remember, quality materials and manufacturing will always end up saving you money in the end, as the items won't have to be replaced so frequently.'
6. Keep porous possessions covered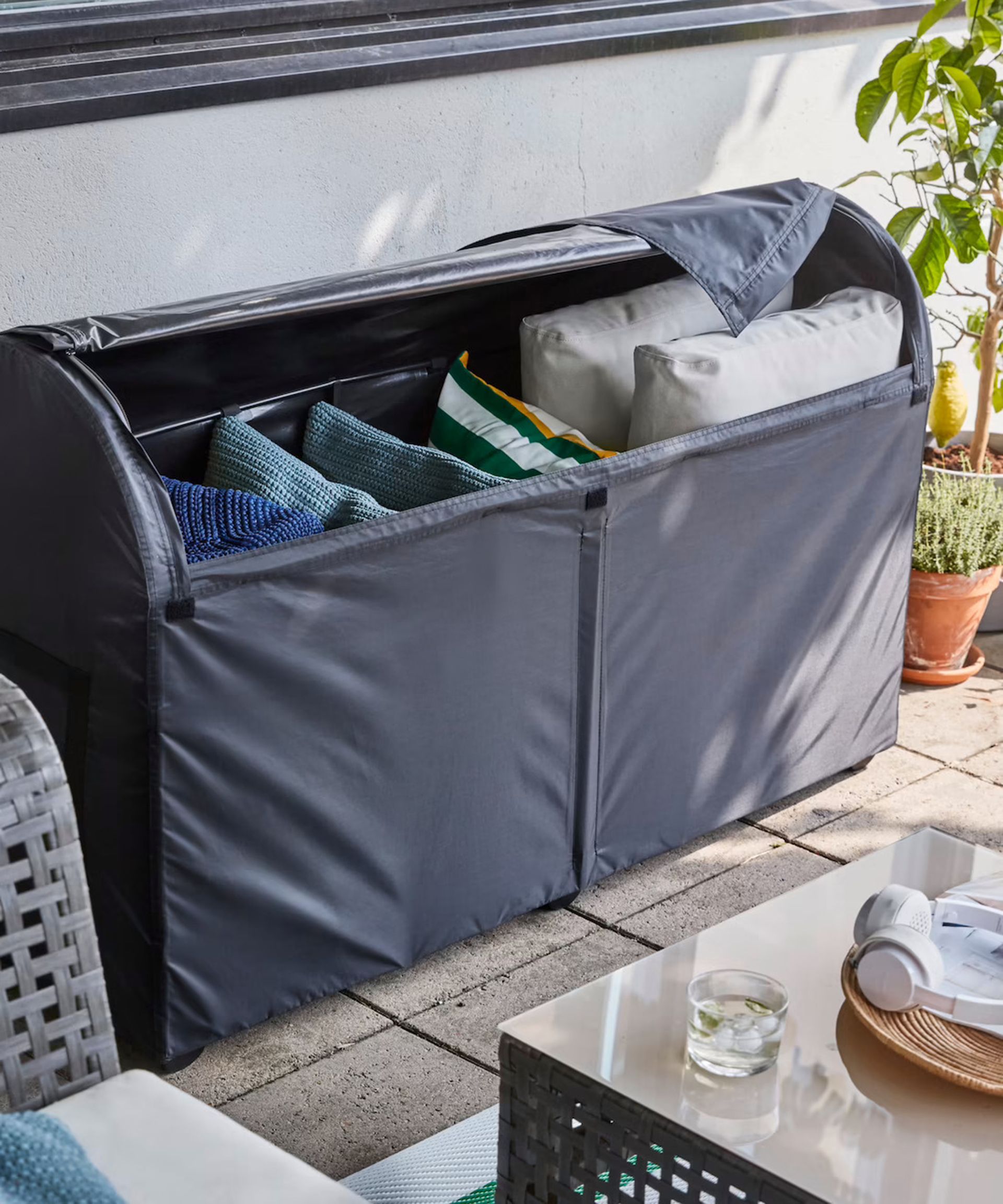 It's all good and well buying entry-level outdoor ware, and it's true that these pieces can last just as long as something with a higher price tag… If you look after them properly.
Save yourself time and money by stowing your outdoor cushions away from the elements after using them. While you should clean your outside pillows now and again, a good storage system will stop dirt and mold from forming so regularly.
And while we're evangelizing about the importance of keeping backyard buys protected have you ever thought about if your garden furniture is waterproof? Should there be even a glimmer of doubt, it's worth paying the price for a cover. Lowe's sells patio furniture covers which start from about $15 (opens in new tab). 
7. Take shade and stay safe in the sun with a parasol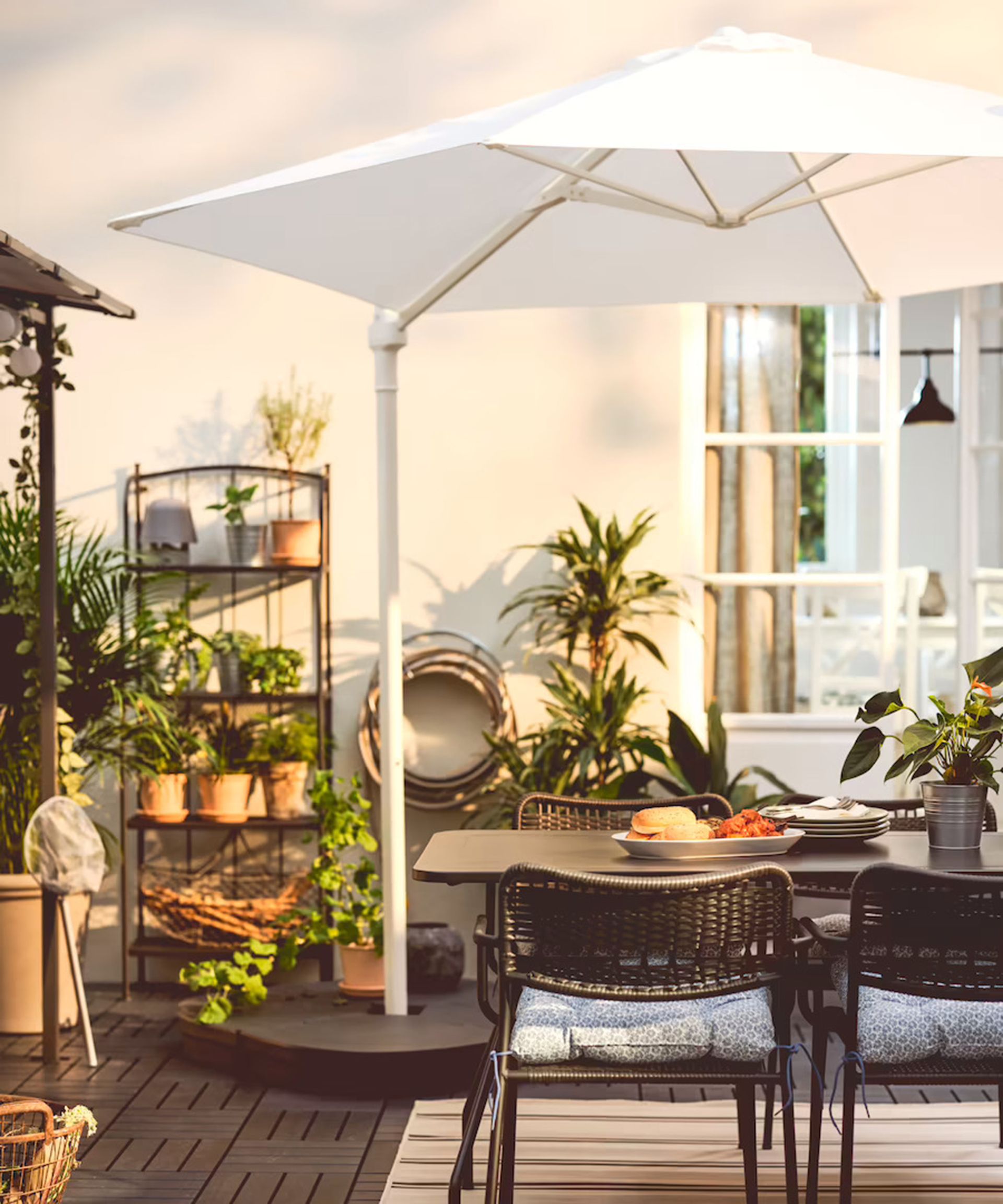 Many of us love to sit outside on a sunny day to top up our tan and enjoy the warm weather. But if you don't respect the sun's UV rays… your time outdoors can be costly to your health. Sunburn and heat stroke aren't exactly cute, so make sure you're prepared with one of the best garden parasols.
Even the cheaper options (for example this HÖGÖN (opens in new tab) hanging brolly from Ikea) have a UV-stabilized coating to resist fading, plus you can keep the Nylon in good nick (and remove any bird poop) by placing it in your washing machine.
'If you're looking to create a holiday vibe, there is nothing more reminiscent of a sunny, sandy coastline than a parasol.' says Manser.
'Parasols are excellent additions to your outdoor space, as they are not only aesthetically pleasing but also pose multiple uses to improve your day-to-day alfresco living.'
'From providing shelter if the unpredictable weather becomes drizzly, to creating shade when the sun comes beaming down in the heat of summer – parasols can enhance your garden to ensure you get the best use out of it, 365 days of the year. For a chic modern look, opt for a parasol that has a wooden pole, and a canopy that coordinates with your existing furniture.'
8. Create a romantic setup with lighting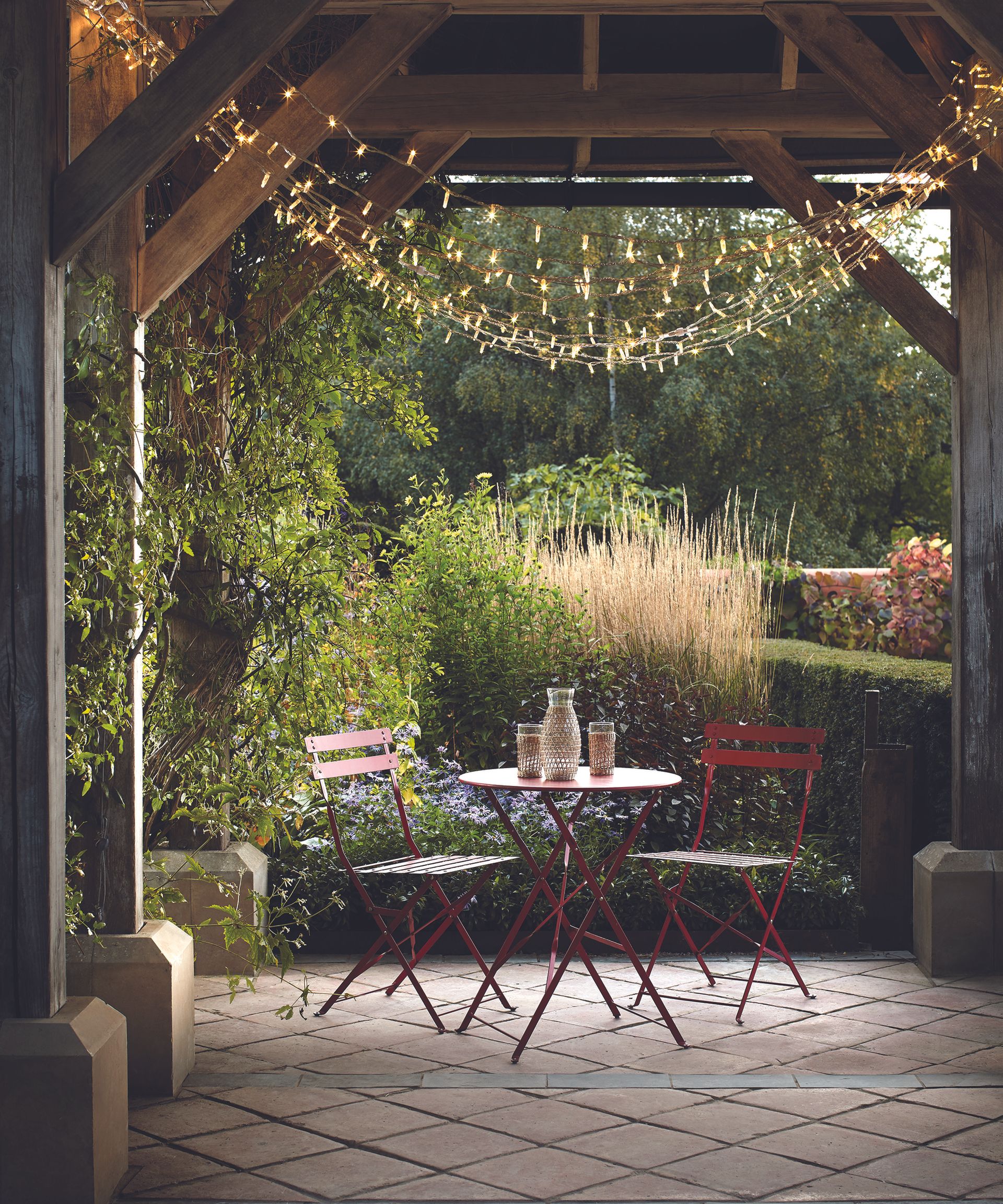 We can't all afford those fancy, Instagrammble restaurants with cute courtyards. And even if we could, we'd be starving by the time our name got to the top of the waiting list because of their exclusivity.
So why not create an intimate dinner spot in your backyard? All it takes is a cheap bistro set and some of the best outdoor string lights (we like these from Lights4Fun (opens in new tab)). But, if you haven't got anywhere to hang these lights high, they also sell plenty of other ideas for garden lighting, including outdoor lanterns (opens in new tab) and realistic-looking flameless candles on Amazon (opens in new tab).
'Using lights in a warm tone will help to create an inviting atmosphere in a typically cooler environment, while also allowing you to add further decorative touches.' says Rikke Blaeside, design and range manager, JYSK (opens in new tab).
And Manser says: 'When it comes to designing an outdoor space, lighting tends to be overlooked,'
'Although it may not be needed during the daytime, as soon as the sun begins to set, your guests will be thankful that you aren't expecting them to sit in the dark, or move indoors. So, to give your space a lavish vibe, why not incorporate solar-powered lanterns?'
'Contemporary and elegant, solar lanterns are the ideal lighting solution, and accessory, for your patio. Place them in a corner, or at the edge of a furniture piece, for an angular look that feels chic during the daytime, and cozy when the stars begin to shine.'
Now all you need to do is provide the food and the company… We can't do it all for you.
9. Dot some (stylish) mosquito repellents around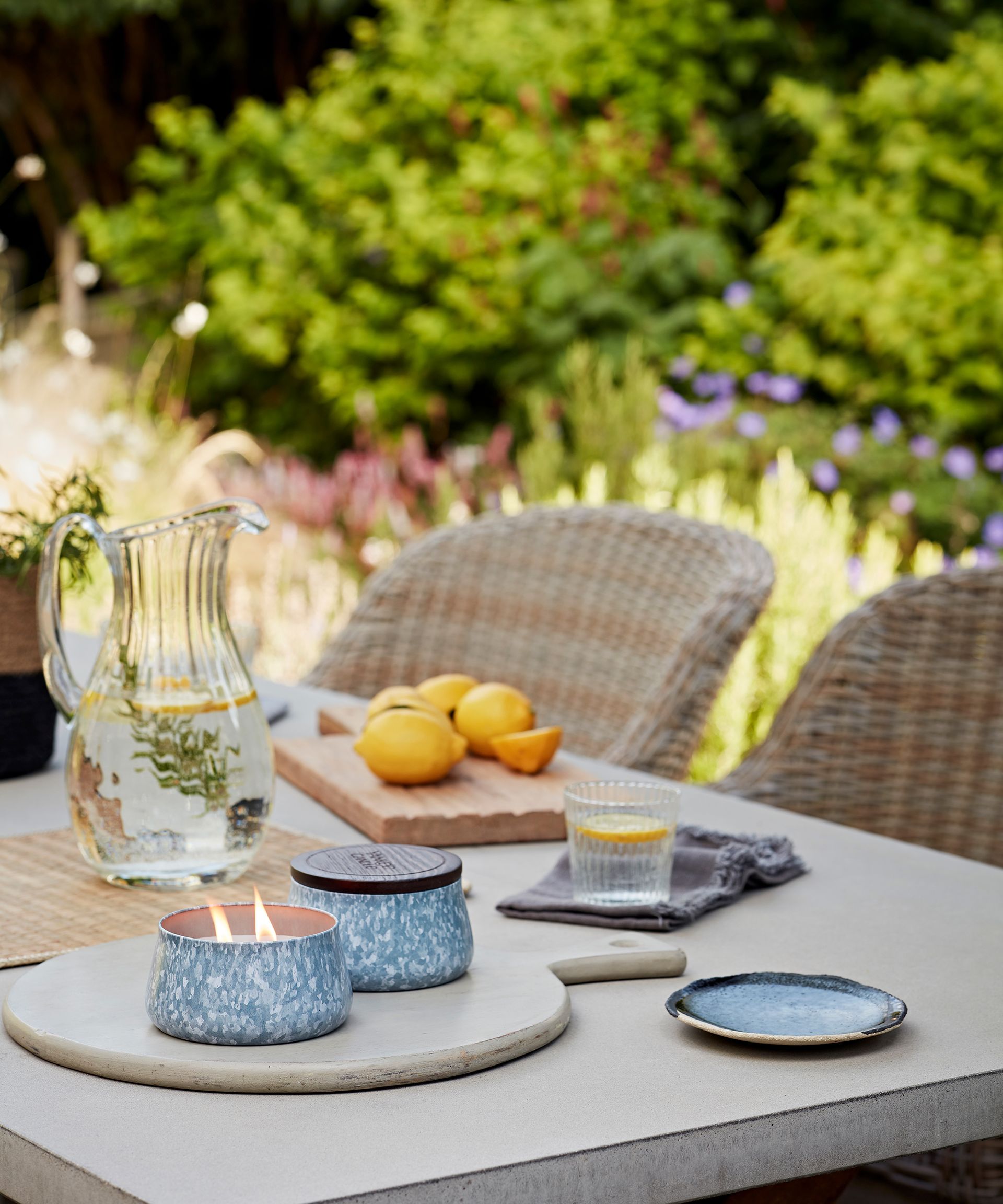 A patio is an idyllic place for alfresco dining. But there's nothing more annoying than swatting flies away from your food and getting eaten alive by mozzies. Get rid of mosquitoes in your yard and create an ambiance with the best candles, designed to deter these pests.
Any home fragrance containing citronella should stop these gnat-looking insects from gate-crashing your garden party. But it'd seem a bit weird to bring a reed or essential oil diffuser outside. So if you don't want to decorate your patio with those cheap-looking tea lights in metal cases, upgrade your pest control to something more stylish.
The Yankee candle outdoor collection (available on Amazon) (opens in new tab) contains essential oils that deter these bug-sucking bugs, and you'll be pleased to know that they aren't expensive either.
10. Use a patio cleaner to revive your space
OK, so it's not all about fancy furnishing per se, but cleaning a patio will make your outdoor area look much more expensive. The best way to go about this is to use the best patio cleaner that you can afford.
Mold Armor's Deck, Fence, and Patio Wash with Hose-End Adaptor can be found on Amazon (opens in new tab) and fitted to your best garden hose, making it a super affordable product if you don't want to splash out on a market-leading pressure washer.
Alternatively, you can use an eco-friendly cleaner that's suitable for outdoor use. The experts at Method say: After sweeping and removing weeds, a humble brush with soapy water goes a long way for some garden TLC – by mixing an all-purpose concentrated cleaner, like Method's dreamy jasmine and cypress wood (opens in new tab), with warm water, it can be gently scrubbed to remove any obvious stains.
'Rinse and repeat with clean water, and finish with a hard-bristled brush to give any slabs a once over, remove any harder-to-budge remnants of dirt, and rinse with clean, cool water.'
How can I furnish my patio for cheap?
'Creating an inviting outdoor space does not have to come at a large expense,' explains Rikke Blaeside, design and range manager, JYSK (opens in new tab).
Adding in smaller, decorative items and creating a warm atmosphere with lighting and accessories can be just as effective as having large furniture items while being budget-friendly. Consider incorporating furniture and accessories that are not traditionally associated with the outdoors, such as soft furnishings. 
Bringing interior décor items such as these along with extras like mirrors, clocks, and rugs outside is a great way to elevate an outdoor space. Whether you have a spacious terrace or a small patio, a purposeful exterior can help take your outdoor space from bland to beautiful. When shopping for patio furniture it's best to consider how you wish to use the space and opt for furniture that can be both functional and stylish. 
Garden trolleys are also a great patio pick. An easy-to-move trolley can be utilized when hosting guests as a great way to serve food and drinks, and also make perfect areas to create spots of greenery such as herb gardens with different levels for varying plant sizes.