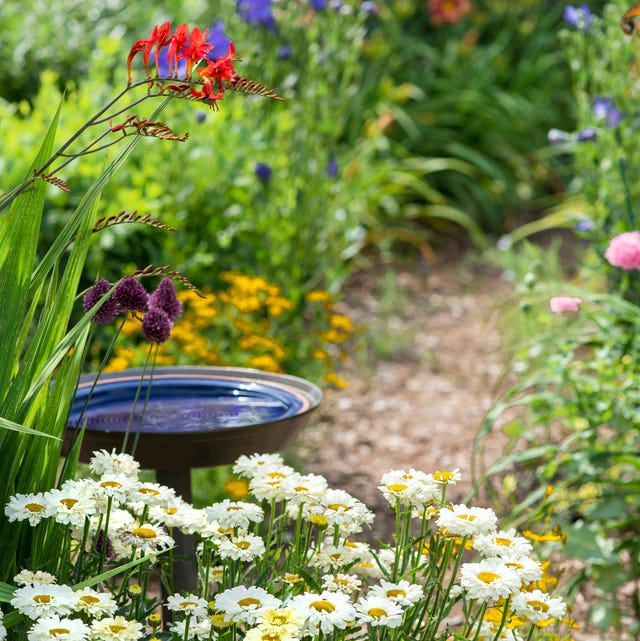 Gail ShotlanderGetty Images
Spring is on the horizon which means more time spent in your garden, encouraging wildlife to your outdoor space, and creating an outdoor living room to relax and entertain in.
​​Gardens are often neglected during the colder months, so are in dire need of a good spring clean when the weather warms up. To get ahead, there are a few easy jobs you can take on right now – including tackling weeds, reviving the lawn, pruning plants and edging garden beds – to maximise the potential of your outdoor space.
'Many of us love to declutter our homes and freshen up indoor spaces during the spring, but gardens and outdoor spaces shouldn't be forgotten,' say the experts at Garden Buildings Direct. '​It is worth the effort – there's nothing more satisfying than a neat garden space to go with a clean home.'
Here's a 10-step garden spring cleaning guide to help you get started…
1. Review your garden
It's essential to review your space and the current layout. Is there anything you want to change or remove? And are there any new additions you'd like to make? Whether furniture (like a hanging egg chair or day bed) or new planting zones (like a gravel path or potting station), reviewing your space and making a plan is crucial to making sure no money is wasted.
2. Tackle the weeds

'Catching and removing weeds in spring is necessary to prevent them from growing out of control,' say the team at Garden Buildings Direct. 'Instead of a hoe, use a hand fork to dig the roots out as soil can still be fairly moist in spring months and leaving any of the plant in the ground can lead to re-rooting.'
3. Edge garden beds

Grass can easily creep out into beds during winter months, and so springtime is an optimal time to remove it. The soil is normally damp and once weeds are removed it should be fairly easy to spot and pull up.
4. Prune branches and plants
Spring is an ideal time for plants to start growing, and you can encourage this by pruning them. 'It is best to wait until temperatures are consistently above 10 degrees celsius as insects like native bees and lacewings will hibernate in branches and stems until temperatures increase,' the experts advise.
5. Prepare garden accessories
Your ornaments or plant pots will be out in the elements during winter so give them a good wipe. This includes garden furniture, even if it's been in storage, as it can collect dust and become a spider's new home.
6. Clean hardscape surfaces

Paving stones can collect moss and become muddy over winter months, so keep them in tip-top condition by using a pressure hose to wash them down after sweeping any excess dirt off. It'll look as good as new.
7. Revive the lawn

'Grass can grow brown and patchy during winter, so sow seeds into the ground in the places the lawn is suffering and wait patiently. Once it grows back, mow the grass to a consistent level and keep it maintained. Check the forecast before cutting, as wet grass can damage your lawnmower,' explain Garden Buildings Direct.
8. Brush leaves

Whilst the build up of leaves in flower beds is good for soil and keeping weeds down, it's important to brush back thick layers that might be on top of plants. Once you collect the leaves, you can add them to an existing compost pile, or create a new one.
9. Create compost

And on that point, a compost pile is a practical addition to any garden and gives you an easy way to use all your garden waste. 'After chopping and cutting, lots of matter can be left over and decomposed into compost. Use a pile, pit or bin to make your own. It's handy to gently sprinkle water over it to keep it moist,' suggest Garden Buildings Direct.
10. Plant new plants
Spring is the perfect season to start planting again and refresh your space with gorgeous, colourful blooms. Summer-flowering bulbs like gladioli and lilies are great choices to dazzle the garden with colour in just a few months' time.
Follow House Beautiful on TikTok and Instagram.
---