The best cleaners for hardwood floors serve a variety of purposes—from deep cleaning, and multi-surface formulas to gentler, eco-friendly solutions that are safer for you and the environment.
Hardwood floors are gorgeous and timeless — but without proper care and maintenance, they'll lose their shine and charm over time. Routine cleaning coupled with the occasional deep-clean when you're working through a spring cleaning checklist (or similar) will leave your floors like new, whilst also protecting them from future damage. This effect is further enhanced by applying one of the best hardwood floor cleaners for your desired use. 
Below are seven hardwood floor cleaners we've tried ourselves and can recommend. Just remember that most cleaners won't be effective unless you sweep your wood floor first. We suggest picking up one of the best cordless vacuums for hardwood floors to help with that task.
How we chose the best cleaners for hardwood floors
In putting together our guide of the best cleaners for hardwood floors, we took the following criteria into consideration…
Ingredients: Are you seeking an all-natural solution (ideal if you share a home with kids, pets, and people with allergies)? Also, are you aware of which ingredients to avoid if you want to avoid stripping the finish of your wood floor? (Hint: stay away from highly acidic ingredients like ammonia or vinegar.)
Ease of use: Can you simply spray-and-wipe, or does the floor need to be pretreated first? And, is a special type of mop needed in order to use the cleaner?
Purpose: Do you need a wood floor cleaner to tackle a specific job — for instance, deep-seated dirt or pet-related stains? Plus, would you prefer a multipurpose formula that can be used on other types of flooring such as tile or laminate?
Smell: Many manufacturers add an artificial scent to their cleaners in order to make them more appealing upon drying — but how sensitive are you to smells?
Cost: Are you willing to pay more money for a premium product, or are you seeking a budget-friendly option that still gets the job done effectively?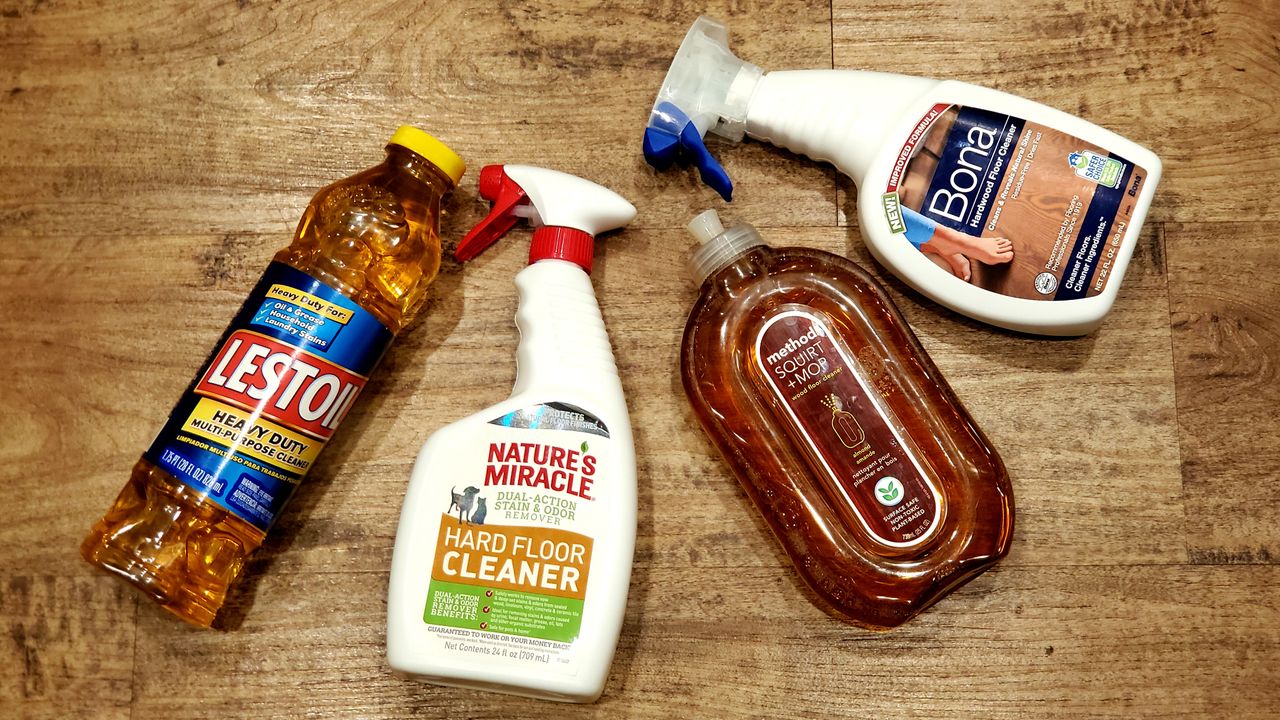 The best cleaners for hardwood floors to buy in 2022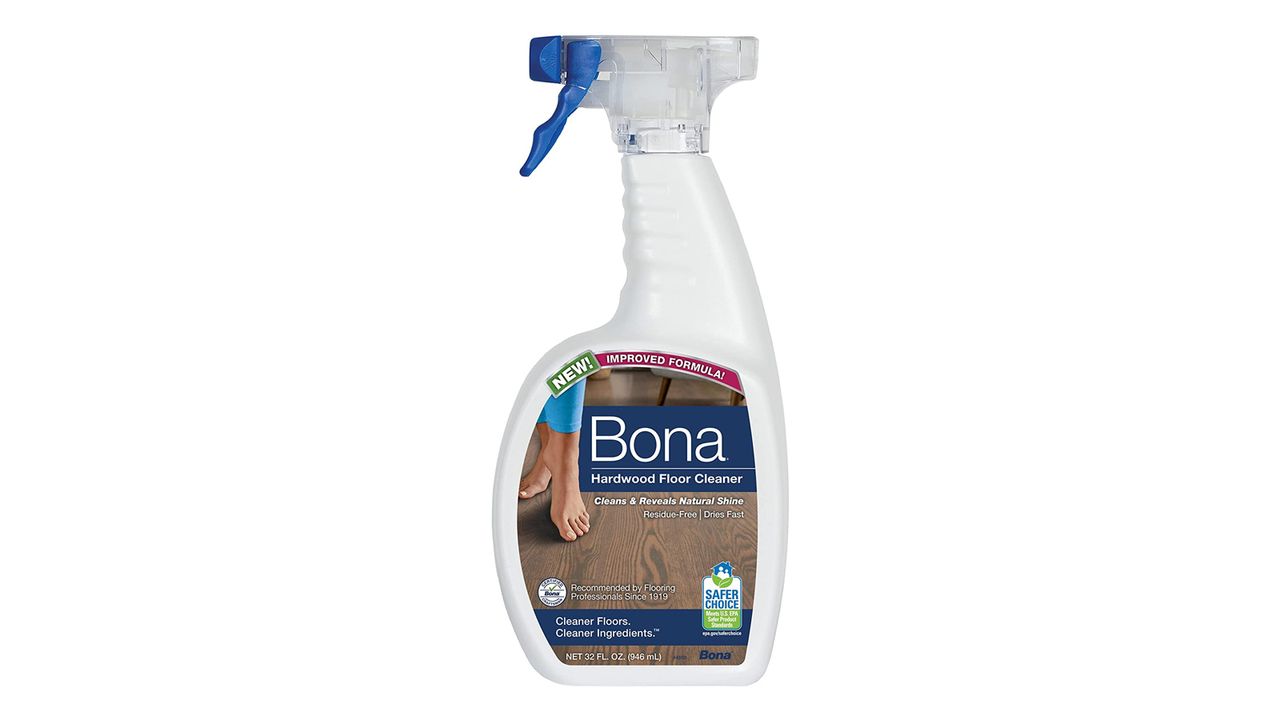 Bona Hardwood Floor Cleaner has been a go-to in our household for years. It's a quick-drying formula that's simple to apply: just spray and wipe. It's capable of picking up all sorts of dirt and grime but we especially find it effective for collecting dust. Moreover, regularly using Bona on our hardwood floors has left them looking as lustrous as the day they were installed.
Bona recently changed its formula to a water-based solution that's safer for the environment which makes it an excellent choice for households with kids, pets and, well, human beings in general. It's also unscented so there's no need to worry about triggering allergies or dealing with lingering chemical smells. However, since it is a gentler formula you'll need to make sure you spray enough of it onto your surface for optimal results. And considering the higher-than-average cost of Bona, this may not be an economical choice for everyone. 
Still, when it comes to maintaining a gorgeous, streak-free shine with relatively little effort required, there's nothing better on the market right now than Bona Hardwood Floor Cleaner.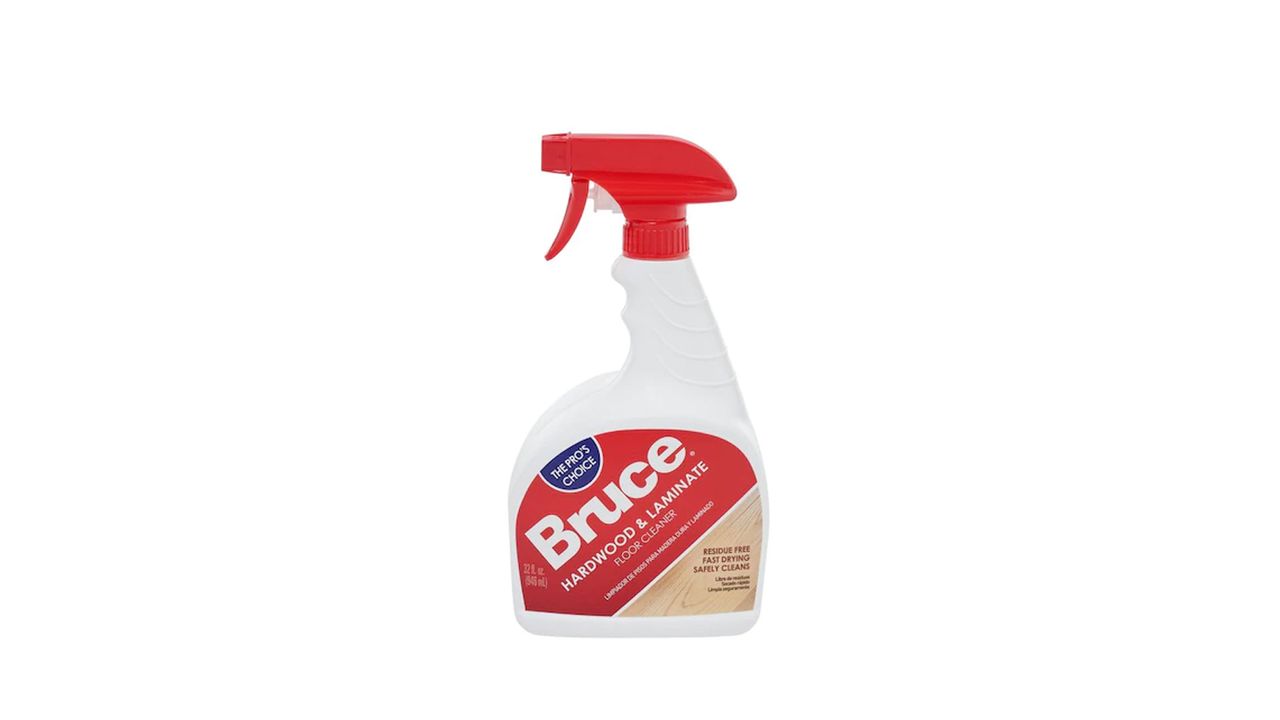 The Bruce Hardwood and Laminate Floor Cleaner comes in a very close second to Bona. Just like Bona, Bruce is a streak-free formula that leaves no residue behind. It's also an unscented, water-based formula that's quick to dry. There's no pretreatment required, either.  Just sweep, spray and mop. Whenever we're out of Bona, we rely on Bruce to leave our hardwood floors looking spotless.
So why is it not at the top of our list? In our experience, Bona leaves a more obvious sheen than Bruce. We also find Bona slightly easier to apply, as Bruce's trigger spray bottle applicator can be fiddly to deal with at times — especially when we're running low on product.
However, Bruce does have a couple of advantages over Bona. First, it's a slightly more economical option with a 32oz. bottle of Bruce costing roughly the same as a 22oz. bottle of Bona. Also, Bruce can pull double duty as a cleaner for laminate so you won't have to purchase a separate product for your bathroom, kitchen, or laundry room floors. Overall, Bruce is a better value for money than Bona, especially if you need to clean more than hardwood surfaces.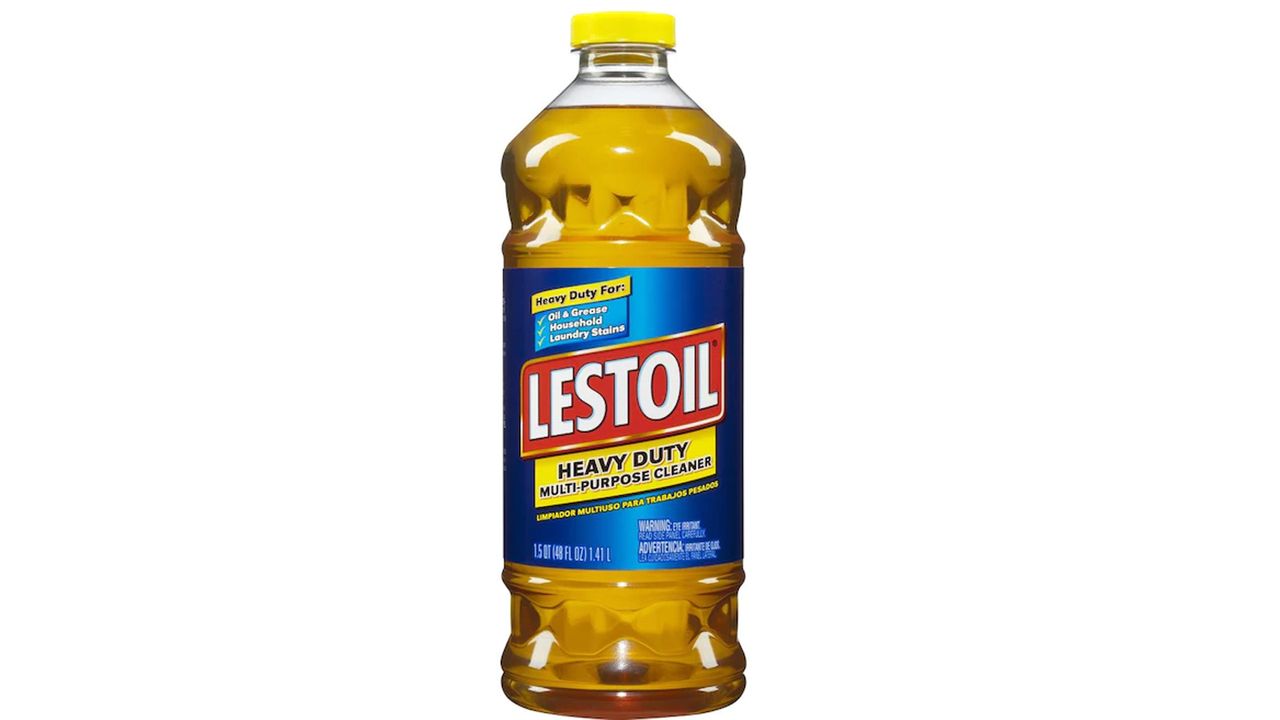 Lestoil was first introduced in 1933 as a laundry cleaner but in the 89 years since it hit the shelves, it's developed a reputation for removing tough stains from myriad materials and surfaces, including hardwood floors.
We use Lestoil to treat the hardwood steps that lead from our front door to the main floor of our house. It's a high-traffic area that develops its fair share of muck. but all of that gross stuff disappears when we clean them with Lestoil. Afterwards our hardwood steps look like they've seldom been touched, but the microfiber rag we use is evidence of just how much dirt we track from the outside. Lestoil zaps all of that up.
Lestoil can be used on surfaces other than hardwood. (For instance, it's excellent at cleaning the grout on our tile bathroom floor.) And it's still a serviceable laundry agent that can also tackle oil and grease on kitchen counters or garage workbenches. But Lestoil is a concentrated formula so you'll have to dilute it well in order to prevent it from stripping the finish of your floors. Also beware that there's a pungent pine scent that takes some time to dissipate. If you can overlook those drawbacks, then Lestoil is your best bet for occasional deep cleaning of hardwood floors.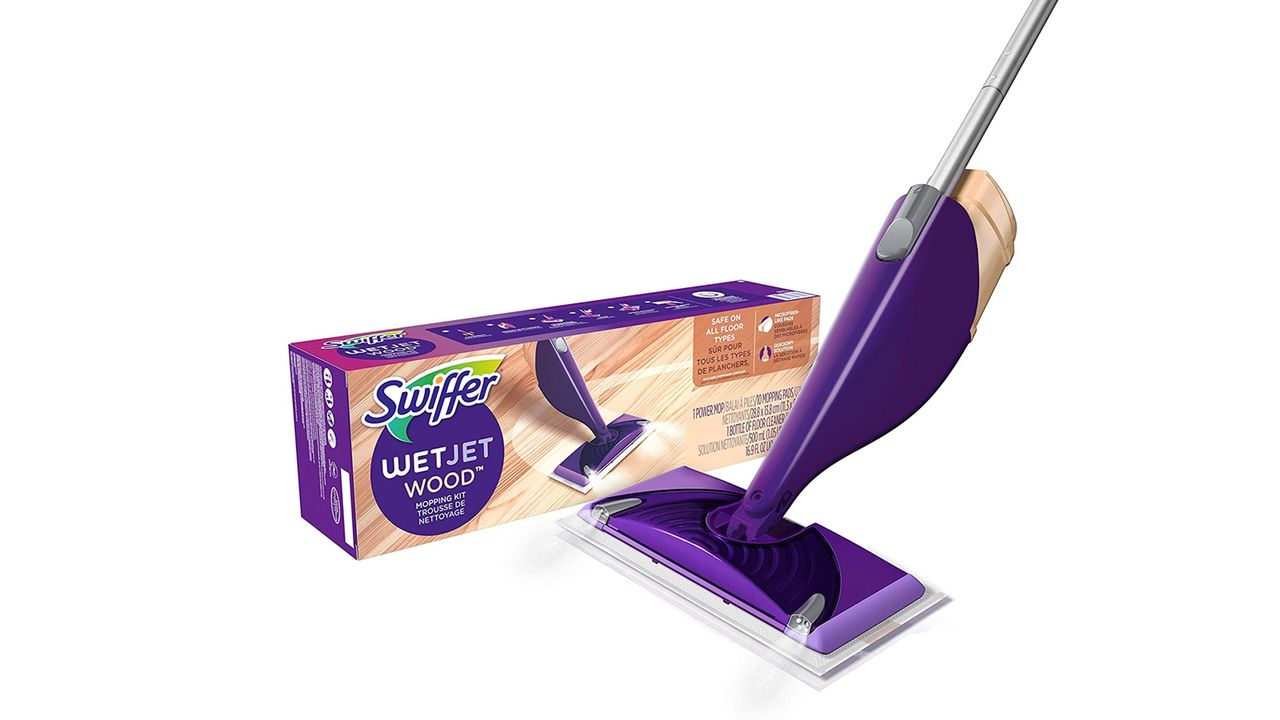 For immediate cleanups—say, you find a small speck of dust you want to eliminate before company arrives—look no further than the Swiffer WetJet Mop Wood Floor Starter Kit. While it's adept at cleaning the whole floor, we think this quick-drying formula is best suited for emergency cases when you need to sop up a spill or vanquish a few stray dust bunnies pronto. 
In order to use Swiffer's hardwood floor cleaner, you'll need to have a Swiffer WetJet Wood Mop. Fortunately, it's super convenient to use — just attach the bottle of Swiffer solution to the mop and press the button on the handle to disperse it via the dual spray nozzles. The starter kit includes the Swiffer WetJet mop, cleaner, five microfiber pads, and four AA batteries so you can get cleaning right away. Refills are readily available and reasonably priced.
You can use the Swiffer WetJet Wood Floor Cleaner for entire rooms but the microfiber pads don't adhere well with heavy use. Plus, the mop runs on disposable batteries, which you'll need to replace often if you clean with it frequently. But those quibbles aside, we think this is the best hardwood floor cleaner for spot treating and touchups between proper sweeps.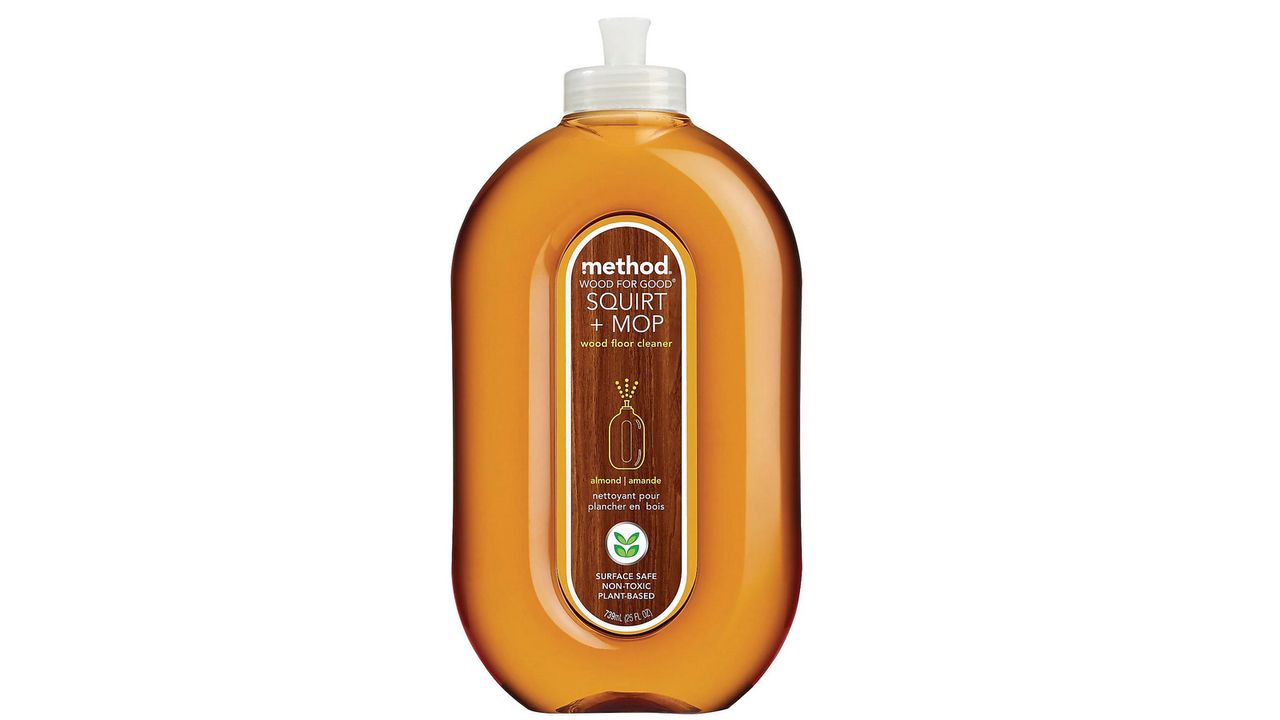 Ingredients-conscious consumers will want to consider the Method Squirt + Mop Almond Wood Floor Cleaner. It contains no harsh chemicals, but is rather formulated with gentler plant-based ingredients that won't erode your floor or pose any potential health problems among your household.
Applying the Method wood floor cleaner is simple with the squirt bottle. Per the instructions, it's suggested you squirt a thin layer directly onto the floor. However, in our experience, we found it too streaky when applied this way. To mitigate that problem, we instead squirt the solution directly onto a microfiber mop. Plus, you'll want to wipe as soon as possible, or else your floor may become somewhat sticky. When we followed those methods (heh…) our wood floors had a nice, even sheen.
There's some debate among shoppers regarding the 'almond' scent of Method's hardwood floor cleaner—some find it resembles baby powder instead. That issue aside, we thought it smelled subtly sweet and not overbearing at all. (Of course, your mileage may vary when it comes to that.)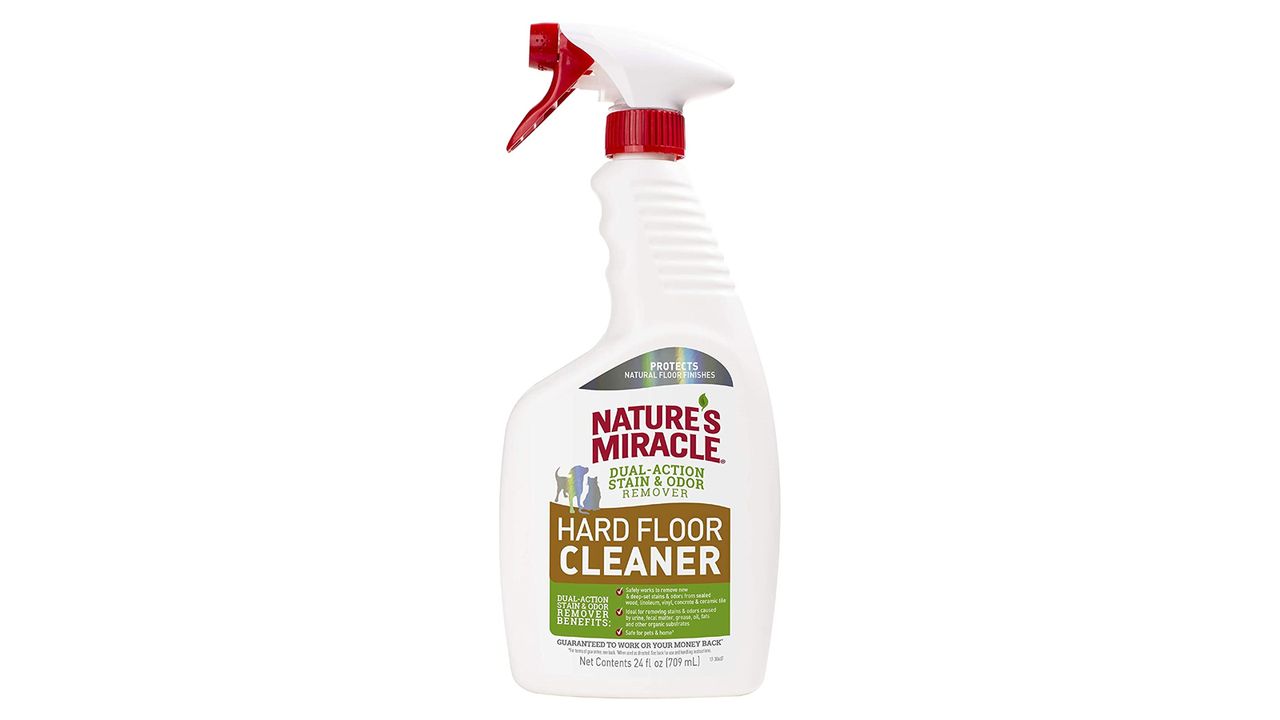 Pet owners seeking a safe hardwood floor cleaner that's safe for use around their fur babies will want to pick up the Nature's Miracle Dual-Action Hard Floor Cleaner. This specialized formula is made to effectively tackle odors and stains from pet urine, feces and vomit. (Just make sure to wipe up any obvious mess before applying.)
This is a hard floor cleaner, rather than a hardwood cleaner. Nature's Miracle is designed for use on sealed wood, linoleum, vinyl, concrete and ceramic tile. If you've various types of flooring throughout your house, this pet-safe floor cleaner will be up to the task. We've only applied it to hardwood after several cat-related accidents and found it did a very good job of eliminating deep-seated stains and smells.
All of this comes at a steep price, however—at least $10 for a 22oz. bottle. And while it does an admirable job of cleaning up a multitude of pet messes, keep in mind that the smell of this cleaner may not always deter pets from doing it again. (If that's the case, it could help to have a secondary method for keeping your dog or cat from defecating in your home again.)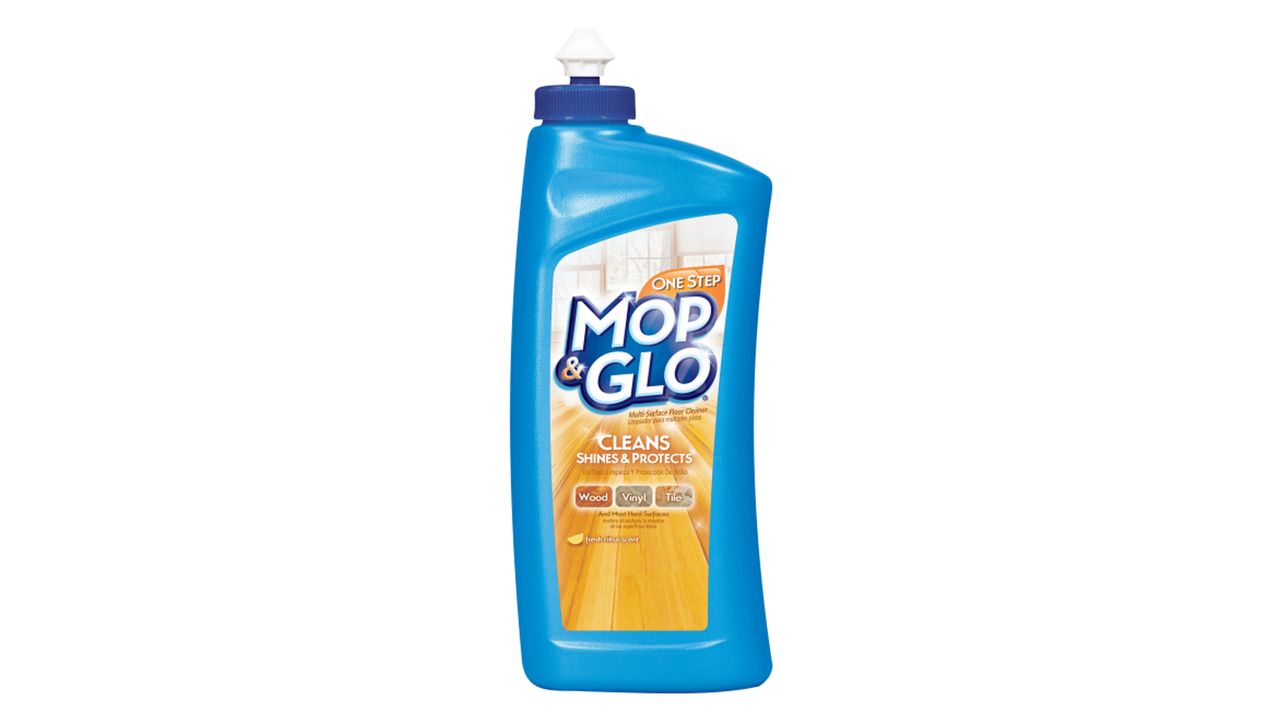 The Mop & Glo 3-in-1 Floor Cleaner is what your floors need if they're beginning to look a little dull. All you'll need to do is squirt a small amount of solution directly onto the floor and clean using a wet mop. (Make sure it's well-saturated to help move the cleaner across the floor more smoothly.) It'll take a little time to dry but we were stunned with how shiny our decades-old hardwood bedroom floors looked after.
The '3-in-1' is a bit of a misnomer, as Mop & Glo is suitable for a breadth of surfaces, including laminate, tile, vinyl, and linoleum. You'll be able to clean the entirety of your home's hard flooring surfaces with this single product alone. It also helps that the citrus (lemon) scent isn't too overpowering, but those who are sensitive to even the slightest of scents may think otherwise.
The Mop & Glo 3-in-1 is supreme at leaving a lustrous sheen but as a cleaning agent, it's only really good for hardwood floors that are only the slightest bit dirty. For a more intense clean, you'll want to precede the Mop & Glo with a stronger formula first
Can I use a wood floor cleaner on all hard floors?
Many formulas made for hardwood floors are also suitable for other hard flooring types — often linoleum and/or tile. Read the floor cleaner's instructions carefully to learn what it can and can't be used on without damaging. As a general rule of thumb, it's highly recommended you test any new hardwood floor cleaner in an inconspicuous area to see if it's safe for your surface.
Tricia Holderman, CEO of healthcare cleaning service Elite Facility System, cautions against using hardwood floor cleaners that contain oils and polishes on non-wood surfaces, as those "could potentially make the hard floors slick." If you're using a single mop to clean multiple types of flooring surfaces besides hardwood, Holderman recommends using separate mops instead to avoid getting wood oil or polisher on a non-wood floor.
If you have other hard floors throughout your home that are due for a good scrubbing, check out our guides on how to clean tile floors, how to clean laminate floors, and how to clean vinyl floors.