In our February roundup, BOH gathers all the expansions and openings to have on your radar.
SHOWROOM SPOTLIGHT:

Inside John Pomp's 'otherworldly' new NYDC space
Philadelphia-based artisan John Pomp always dreamed of creating a whole world made of glass. His new 4,000-square-foot, 12th-floor showroom in the NYDC embodies that childhood fantasy. It's a place where more than 40 new pieces, from bespoke lighting to home furnishings, live behind hand-etched, distressed glass walls and two massive metal doors. "I wasn't here to create another white box," says Pomp, the owner and creative director of his eponymous design studio that is expanding into sculptural furnishings and relaunching its brand. "I wanted to create a full-fledged brand experience from the moment you walk down the hallway. As you dare to enter these big monolithic doors, you are transported into what I'm trying to express as future primitive space."
Inside the showroom, oxidized charcoal floors and limewash variegated plaster walls complement the furniture, objects and lighting arranged in dark, moody vignettes. Iridized glass lights line the walls, illuminating the brand's products and the material interplay between fluid, organic glass and polished metals. "As you walk through the space, the connotations are ethereal and otherworldly, [invoking an] undescribed distant future and undescribed distant past," says Pomp. "Most people display pieces, furniture or merchandise in a white box, and that's not what we're doing here—everything in the showroom is very chiaroscuro."
Amid the backdrop of distressed architecture, oxidized metals and animal hides sit the furnishings, including the Fold sofa system, a 1970s-inspired, 14-piece modular pit sofa with a stainless steel metal cuff; the Rift dining table, which weighs 1,400 pounds and was cooked in a custom-made kiln for more than a month; and the Warp dining collection, an ode to glassblowing and the transitory state of crushed metal. "I am creating an otherworldly place where these materials are acting and reacting to one another," says Pomp. "The art direction is reexpressing a lot of the materiality. This whole showroom looks molten: the sofas, the lights, the metal—they're all puddles of glass."
For Pomp, the NYDC opening is a full-circle moment as a glassblower and artist. "[Everything] you see in the showroom is an expression of how I've redefined and refound myself, and the inspiration is a love letter to when I first fell in love with glass when I was 20," he says. "This is a futuristic utopia that I've created, that I wish existed, where all organic materials are honored, revered and expressed for their beautiful qualities—that's what this place ultimately is."

200 Lexington Avenue, Suite 1201, New York
The Fold sofa system, Rift dining table and the Warp dining collectionMartin Crook
CALIFORNIA

Los Angeles–based home furnishings retailer Olive Ateliers opened a flagship store downtown in the city's art district. The 22,000-square-foot space will operate on a "drop" model, offering a limited and curated selection of imported vintage objects from Turkey, India, Indonesia, Morocco and Greece sold on a first-come, first-served basis upon the announcement of a given collection.

1210 Mateo Street, Los Angeles
Pattern Brands, a holding company that acquires home and lifestyle e-commerce businesses, opened its first physical location with stationery and housewares brand Poketo. Located in Santa Monica, the 700-square-foot store features products from Poketo and other Pattern Brands—including home organization concern Open Spaces, custom home goods business Letterfolk and kitchen tools company GIR. The space will also host workshops and talks with local artists, entrepreneurs and makers.
1233 Montana Avenue, Santa Monica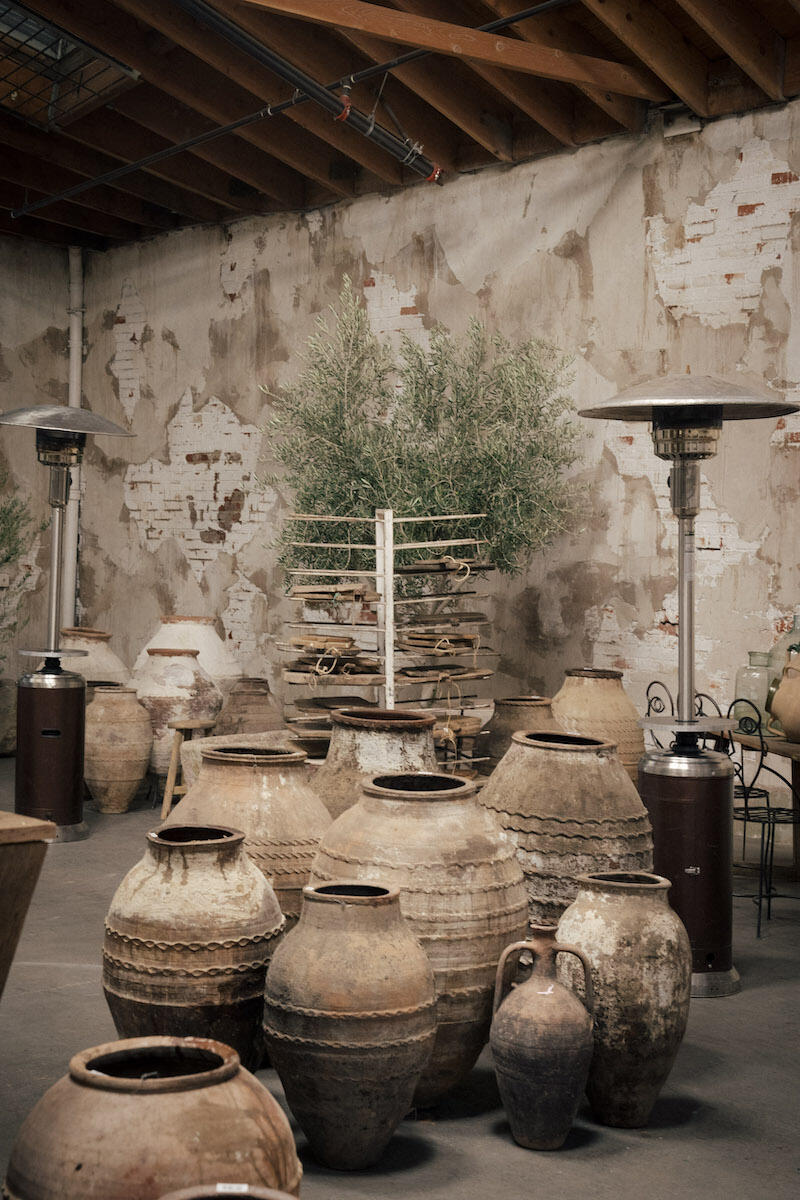 The 22,000-square-foot space will operate on a "drop" modelVincent Elejorde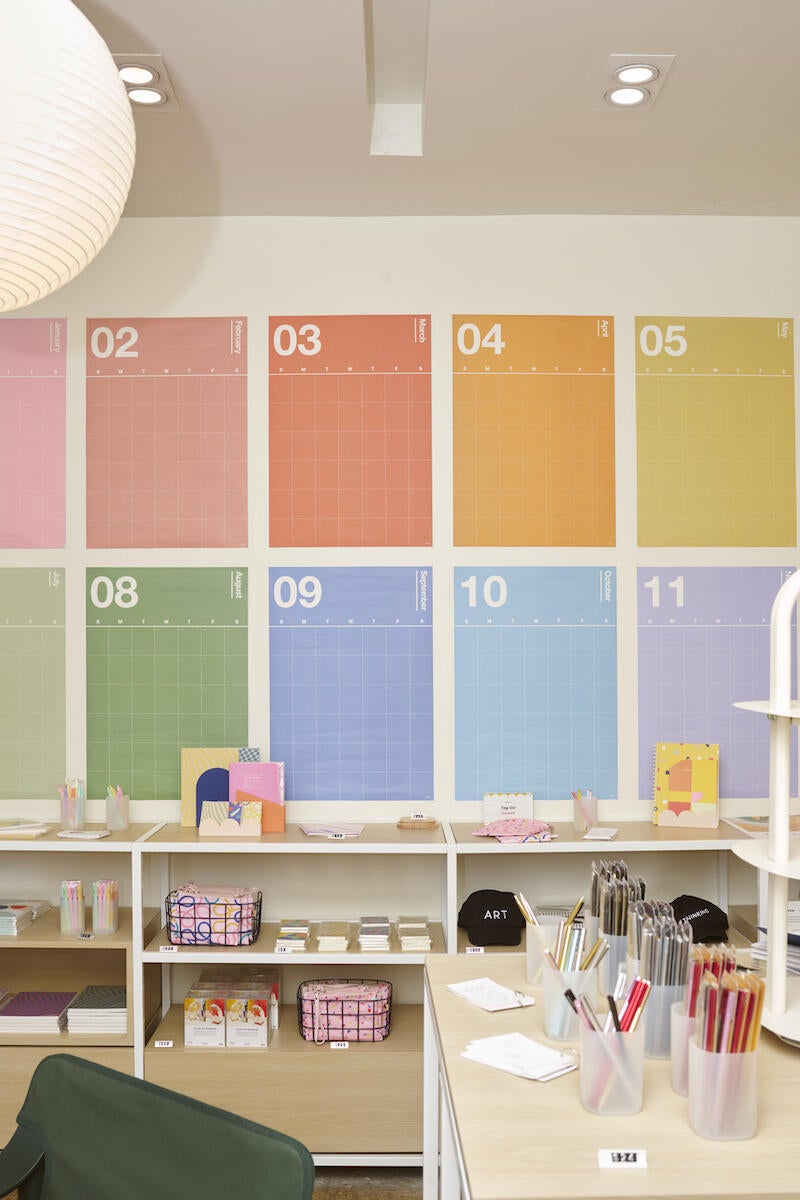 Pattern Brands opened its first physical location with stationery and housewares brand PoketoCourtesy of Pattern Brands
Left: The 22,000-square-foot space will operate on a "drop" model Vincent Elejorde | Right: Pattern Brands opened its first physical location with stationery and housewares brand Poketo Courtesy of Pattern Brands
FLORIDA

European garden antiques company Authentic Provence opened a new 45,000-square-foot showroom, courtyard and garden in West Palm Beach. Located on Georgia Avenue, the new store will feature original 20th-century European furniture, lighting and paintings from Italy, France, Scandinavia and the U.S. Customers can find antique flooring from France and Italy for indoor and outdoor use, hand-carved limestone statues, as well as fountains and antique and hand-crafted garden furniture from Europe.

6100 Georgia Avenue, West Palm Beach
Italian furnishings company Rimadesio debuted a showroom in Miami in partnership with architecture and planning firm Solesdi. Located in the city's design district on the second floor of the Solesdi building, the 1,000-square-foot space will feature the brand's walk-in closets, day systems, sideboards, doors, sliding doors and tables.
3800 NE Second Avenue, Miami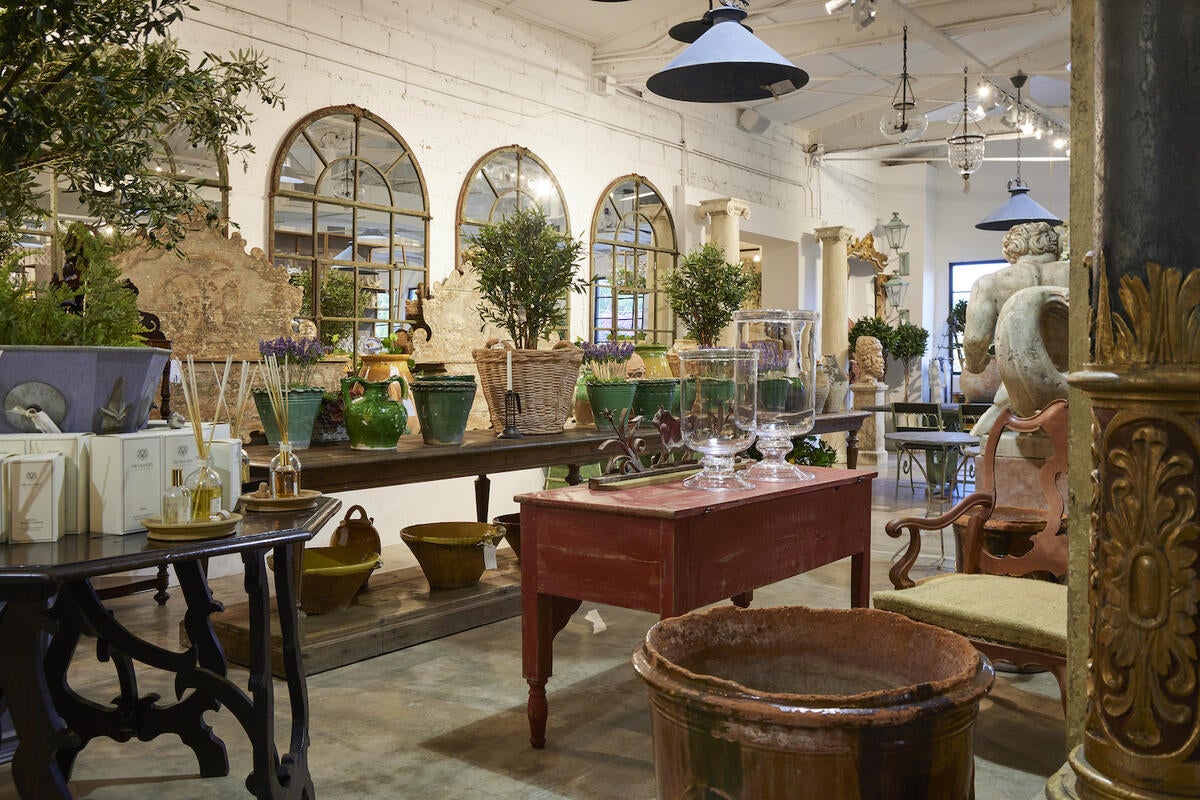 Authentic Provence opened a new showroom, courtyard and garden in West Palm BeachCourtesy of Carmel Brantley Images
GEORGIA

Atlanta-based fabric brand Paul expanded its showroom in ADAC, more than doubling its footprint to 13,500 square feet. As one of the design center's original showrooms, the brand will use the new space to feature additional outdoor fabrics and collections from Dallas-based fabric company Link and New York–based furniture brand Jiun Ho.

351 Peachtree Hills Avenue NE, Suite 121, Atlanta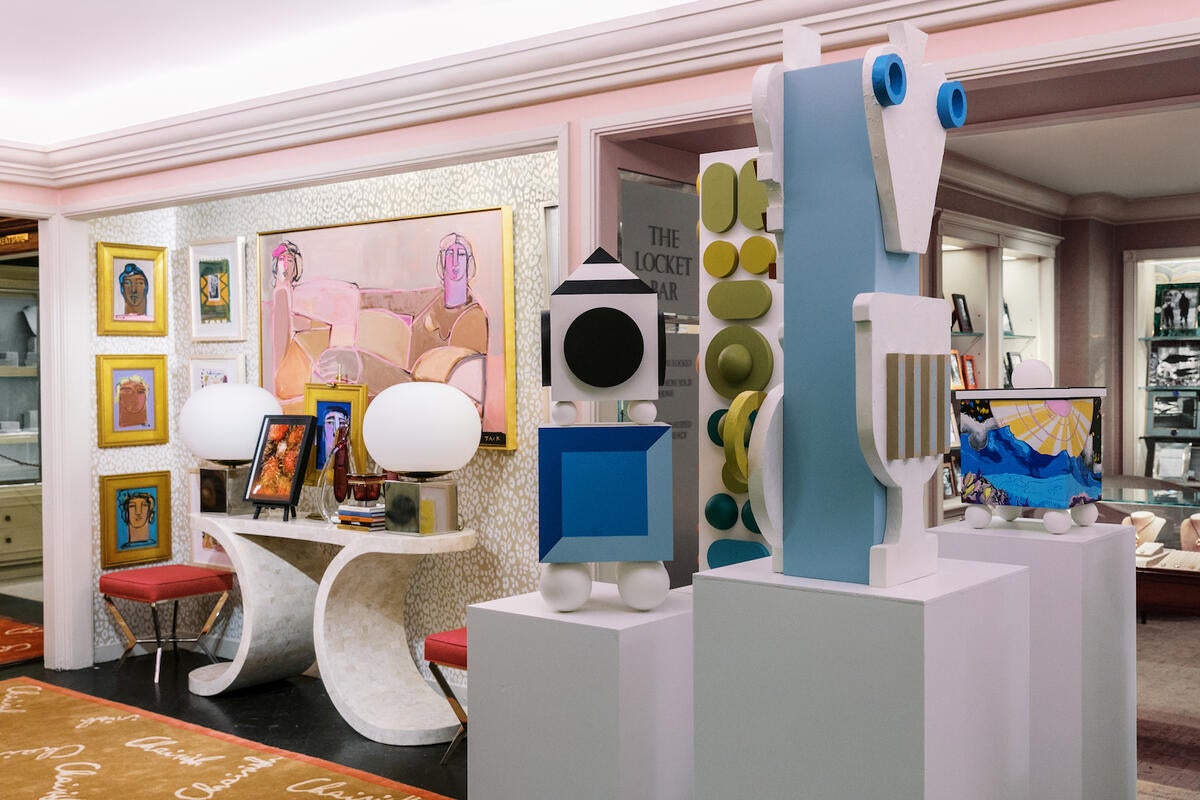 Chairish opened a brick-and-mortar retail experience at Bergdorf GoodmanJudy Pak
NEW YORK

London-based luxury rug company Jennifer Manners launched its American debut showroom at the NYDC. The long, narrow space is designed to instill a sense of "journey through color," where one-sided arches line the length of the showroom to create "rooms" featuring the brand's performance rug assortment, signature scalloped floor coverings and hand-knotted Himalayan wool and bamboo silk pieces from the Pioneer collection.

200 Lexington Avenue, Floor 9, New York
Online home furnishings marketplace Chairish opened a brick-and-mortar retail experience at Bergdorf Goodman. Located on the retailer's seventh floor through April, the gallery features a collection of more than 300 original artworks by Ron Giusti, Happy Menocal, Claiborne Swanson Frank, The Green Vase's Livia Cetti, Bill Tansey and fashion illustrator Manuel Santelices. Presented in five themed vignettes—Popping Off With Ron Giusti, The Fashion Editor's Apartment, American Craft, The Winter Conservatory and Ode to New York—the pieces are only available for purchase in-store.
754 Fifth Avenue, Floor 7, New York
Italian direct-to-consumer furniture company Klarel launched its first store in Manhattan's Meatpacking District. The 4,000-square-foot ground floor space is located in the residential rental building of real estate development company TF Cornerstone and will feature midcentury-modern-inspired armchairs, office chairs, coffee tables and other products.
82 Gansevoort Street, New York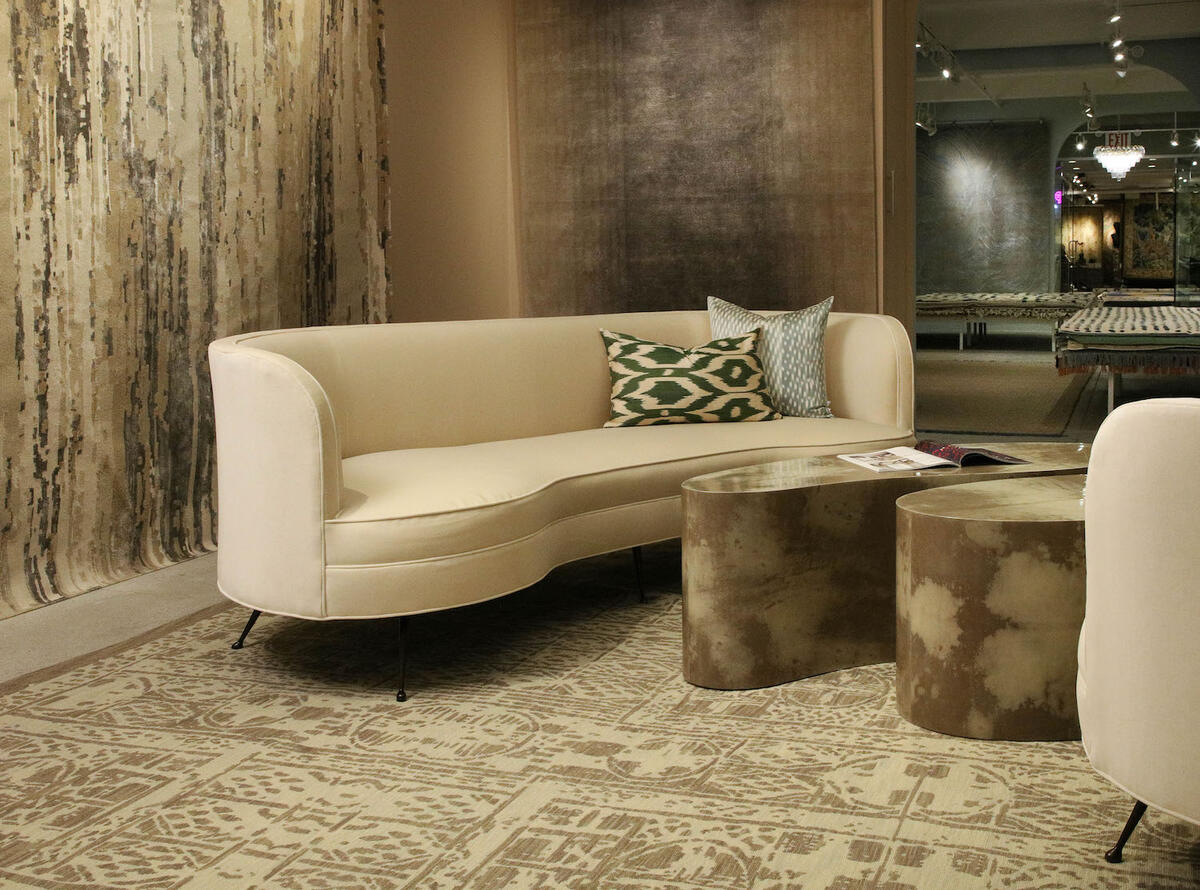 Jennifer Manners launched its American debut showroom at the NYDCCourtesy of Jennifer Manners
INTERNATIONAL

Artist and design collective Masa opened a permanent gallery space in Mexico City. The 1,900-square-foot space is located in a historic colonial house and will feature two inaugural solo exhibitions: "Non-Zero-Sum" by artist and designer Brian Thoreen, exploring unconventional methods of fabrication and the boundaries of materiality; and "The Space Under My Chair & The Music I Was Listening To" by multidisciplinary conceptual artist Mario García Torres, featuring a dialogue about the possibilities of fusing concept and functionality.

Joaquín A. Pérez 6, San Miguel Chapultepec, Mexico City
Homepage image: John Pomp's new 4,000-square-foot, 12th-floor showroom in the NYDC | Martin Crook