Adventure & Experience
|
Hiking
(Image credit: Ben McKechnie)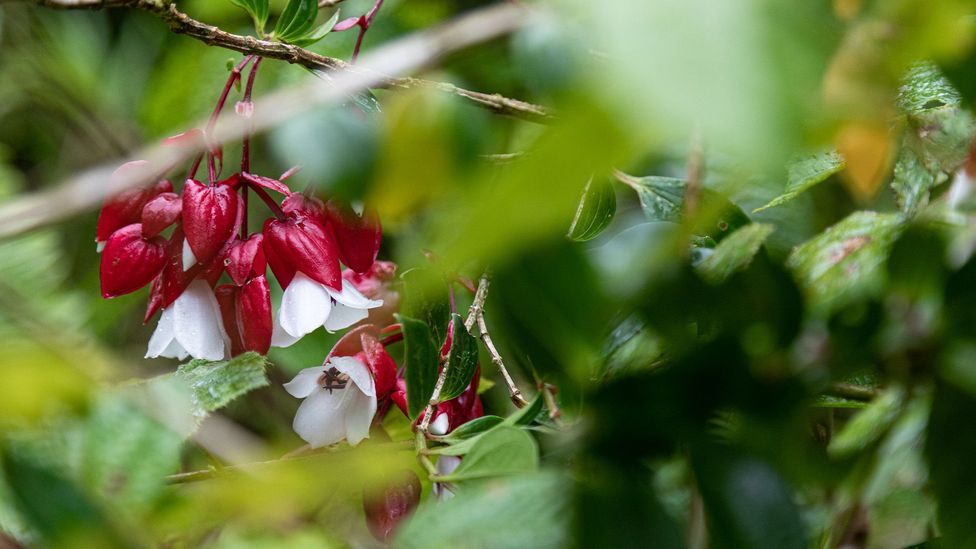 Tagimoucia is so rare that it only grows on one of Fiji's 330 islands, it's found high atop a steep mountain ridge and it blooms for less than three months a year.
I
It was Fiji Day in Suva, the compact capital of the island-nation of Fiji and the South Pacific's largest city. Near a parked taxi draped in light-blue national flags, I turned left off Victoria Parade and into Albert Park. It was here, on 9 October 1970, that then-Prince Charles granted Fiji its independence after 96 years of British rule, which Fiji Day commemorates.
Detecting barbecue smoke, I followed my nose, weaving between picnicking young families and men throwing a rugby ball, to a line of food stalls. Several were selling British-style pork sausages in white buns, while others were hawking more tantalising tandoori-style chicken. Such British and Indian influences are an inescapable part of modern-day Fiji, but they are far removed from the Fiji that I had come to know and love during my time on Fiji's remote island of Taveuni.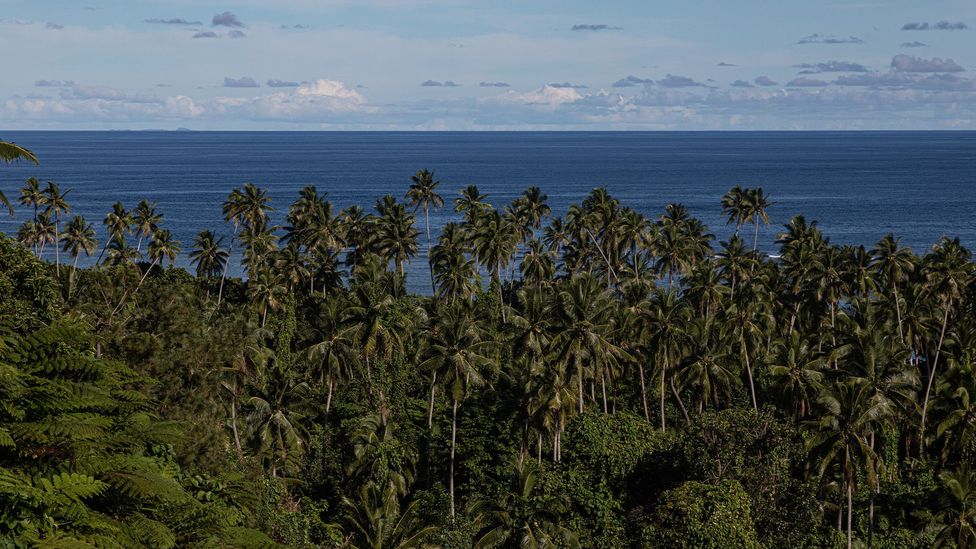 The tagimoucia only grows on one of Fiji's 330 islands, Taveuni (Credit: Ben McKechnie)
A week ago, in search of an extremely rare flower called the tagimoucia (pronounced tahng-ee-mow-theea), I travelled to Taveuni – Fiji's "Garden Island". The tagimoucia is Fiji's endemic and elusive national flower, as well as one of the rarest flowers on Earth. Its bright crimson and white petals grow in clusters, and from a young age, all Fijians are taught that the disparate colours symbolise a beautiful but tragic love story between two disparate people – a sort of Fijian Romeo and Juliet that has captured the country's imagination.
Yet while the tagimoucia features prominently in Fijian folk and popular culture, many Fijians may have only seen the bloom in pictures – in 2013, an image of the tagimoucia was used to replace Queen Elizabeth II on the front of the Fijian 50-dollar note. Of Fiji's 330 islands, the tagimoucia only grows on Taveuni, and it's only found on a mountain ridge beside a difficult-to-access, high-altitude lake, where it blooms for less than three months of the year.
Because of its uniqueness, the tagimoucia has come to be seen by Fijians as something of a national treasure as well as a symbol of good luck and fortune. On graduation days in Suva, the flower is commonly requested by high school and university students, who place it in their graduation garlands. In 2021, Fijian pop star KKU devoted an entire song to the tagimoucia, and the music video shows him travelling to Taveuni in search of the flower before dancing on the beach with it behind his ears.
I first heard of the tagimoucia while searching for the most challenging trek in Fiji and was immediately intrigued. So, after a few days on Fiji's second island of Vanua Levu to get over my jetlag, I set out in search of this most elusive plant.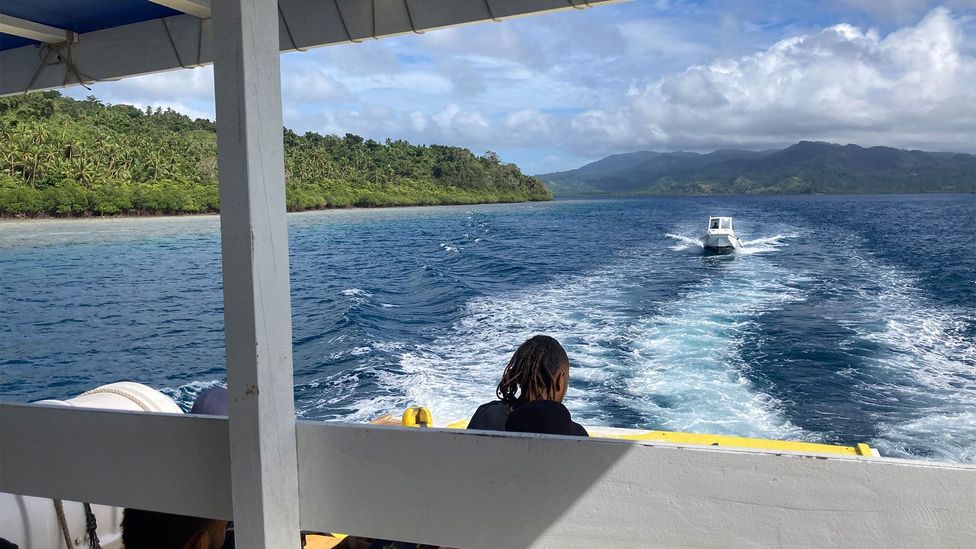 A ferry whisks travellers from Savusavu to the island of Taveuni (Credit: Ben McKechnie)
I boarded a bus for a two-hour ride through the central mountains of Vanua Levu to the southern coastal town of Savusavu, where I would catch the ferry to Taveuni.
As we crossed the glistening Somosomo Strait to Taveuni, my eyes were drawn upward to the mountain ridge in its centre, where the tagimoucia hides on and around Des Voeux peak (1,195m). Upon arriving, I took a taxi to the main village of Somosomo to meet my hosts for the next four days: a local couple named Amoreena and Tabua Tikoilawaqa.
Amoreena introduced me to her 80-year-old mother, Filomena Mitchell. When I told Mitchell that I hoped to see the tagimoucia, her eyes lit up: "It is smaller and more delicate that you would expect! I've seen the tagimoucia twice. Both times were in 1965 when I was a nurse posted to a nursing station on the east coast. Back then, it was easier to go up from that side. You'll be going up from the west. It's a tough hike – go carefully!" she urged.
Meanwhile, Amoreena told me the famous legend of the tagimoucia.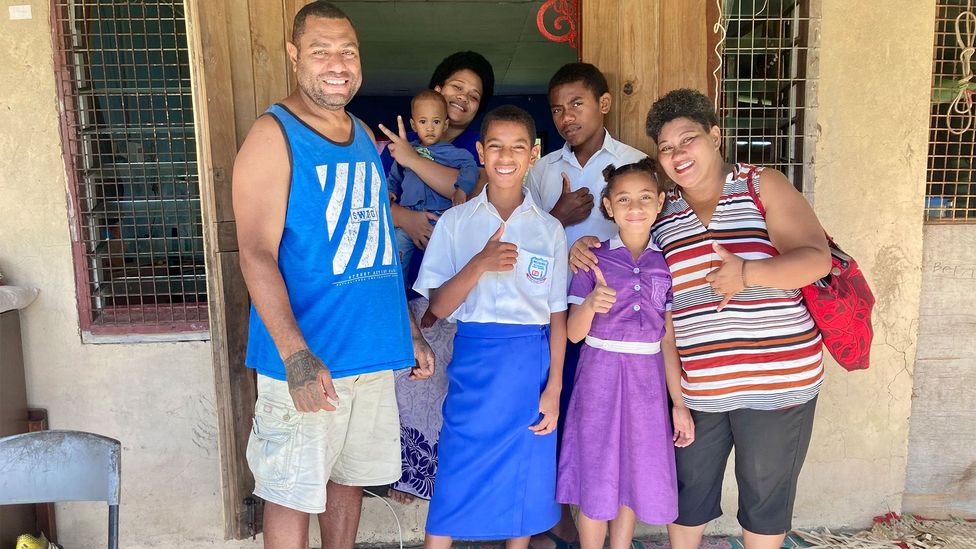 Amoreena and Tabua Tikoilawaqa are originally from the island of Qamea (Credit: Ben McKechnie)
"Tabua and I are from Qamea, the small island that lies off the coast of Taveuni's north-eastern tip. Long ago, the tribes of Somosomo and Qamea were at war. In a case of forbidden love, the Somosomo chief's daughter had promised her heart to a Qamea warrior, while her father had pledged her hand to another. The Somosomo chief found out and ordered the Qamea warrior killed. The girl climbed to the peak of the island, distraught, and lay down in the dirt, scratching and kicking in devastated throes at the thought of losing her lover. This [digging] is how Lake Tagimoucia was formed, and her tears became the first tagimoucia flowers. As the Qamea warrior was killed, the two main colours of the flower came to represent two lovers who have been separated by death in Fijian culture." 
Know before you go
In Fijian culture, one should offer kava powder as a gift upon arriving in any tribal village in order to enter and be seen by the elders. This is an ancient rule that applies to both Fijians and visitors. As more people have come to Tavuki to request to see the tagimoucia, the villagers started charging five Fijian dollars in place of the bag of kava, as money is of greater benefit to the community.
The tagimoucia (Medinilla waterhousei) is a species of flowering liana – long-stemmed woody vines that can climb trees to the canopy in search of direct sunlight. From the thin vine that sprouts from the volcanic soil of Taveuni's mountainous interior, 30cm-long clusters of crimson and white tear-shaped petals droop down – two distinct parts of the same flower. It is believed that the plant needs a very specific composition of volcanic soil, as all attempts to transplant the vine to other Fijian islands and countries have failed.
The next day, I took a car to the village of Tavuki, where the Des Voeux peak trailhead starts. Local tribal traditions dictate that before setting off in search of the tagimoucia, anyone – Fijians and visitors alike – must ask permission from village elders. Amoreena had told me I needed to find a man named Samuela Vagoni, and I soon spotted the bald man with a goatee hammering a nail inside a tiny hut. 
Vagoni puffed out his chest, cleared his throat and said, "By the power vested in me by the village elders of Tavuki and Somosomo, I Samuela Vagoni have the authority to request from you the sum of five Fijian dollars [£1.85] to pass this point and ascend to see the tagimoucia." With the formalities over, we continued chatting. "I'm here from 08:00, but some people go up earlier to avoid paying. I just charge them 10 Fijian dollars on the way down!" he said with a grin.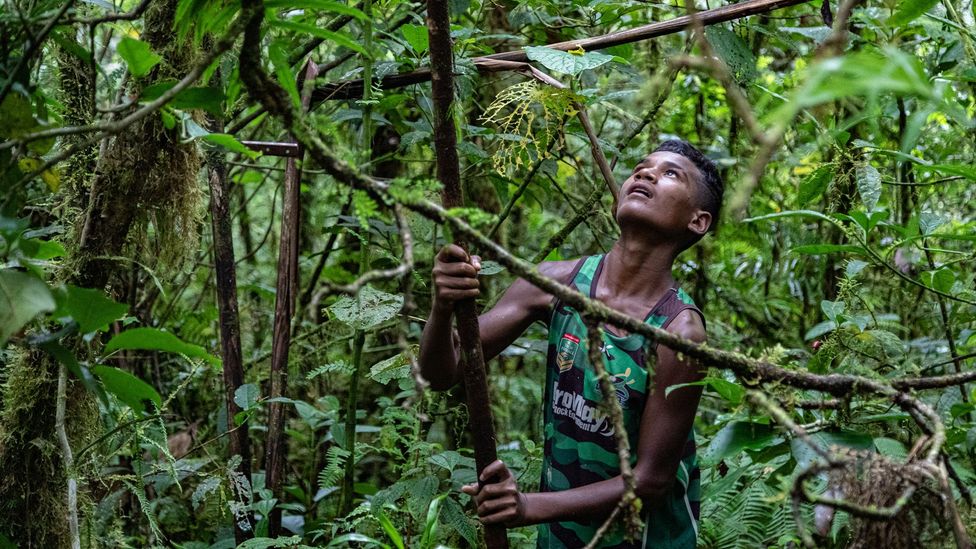 Village elders recommend hiring a guide for anyone trying to see the tagimoucia (Credit: Ben McKechnie)
Vagoni also told me that I'd be foolish to ascend the mountain without a guide. "The first three-quarters of the way up, you'll be on the steep service road to the Des Voeux phone tower, but then you must cut into the rainforest on an unmarked track to have any chance of finding the tagimoucia. There's thick fog and it's always raining," he said. "At best, you don't find the flower. At worst, you get completely lost and we have to send police and a village search party."
I asked Vagoni whether this worst-case scenario has happened before. "Frequently!" he said. "Just two weeks ago, a group of seven Fijians went up without a guide and got lost in the cloud. There was a search-and-rescue mission. What a mess!"
Luckily, I was in the market for a guide, and we agreed on the sum of 50 Fijian dollars (£18.60). Vagoni returned 10 minutes later with Saki Talemaivesi, his 16-year-old relative, and we set out up the service road.
I've hiked Kilimanjaro and made it to the Everest Base Camp. However, I quickly discovered that Taveuni's extreme humidity and the trail's unrelenting steepness make ascending Des Voeux astonishingly tough. I needed to stop to rest every 10 minutes, which allowed me to gaze out over the sweeping views of Somosomo Straight and back towards Vanua Levu.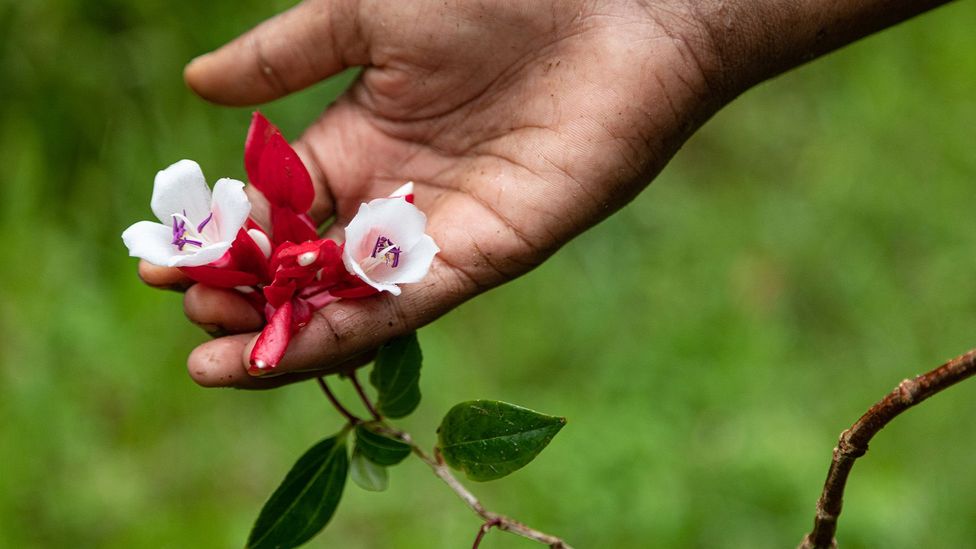 The tagimoucia represents a sort of Fijian Romeo and Juliet that has captured the country's imagination (Credit: Ben McKechnie)
An hour later, Talemaivesi told me to wait while he darted into the forest. "Come on! This way!" I heard him shout after a few minutes. I followed him onto an unmarked jungle trail, ducking under fallen trees and scaling other obstacles. After 30 minutes, he pointed up at the canopy excitedly. "Look! The tagimoucia!" he shouted. I couldn't believe we'd found it – I also couldn't see a thing, as my glasses were completely steamed up. I asked whether there was a way to hook the vine down to look at the flower up close without cutting it. Talemaivesi obliged, and I finally had a peek at this rarest and most elusive of flowers.
Mitchell was right: the tagimoucia is small, like the tip of an adult's thumb. I examined the flower's two distinct parts – a crimson outer shell, from which a white flower with a purple crown and yellow filaments burst, as if it was trying to escape. Then, I went in for a sniff, but was surprised to find that the tagimoucia has almost no scent whatsoever. And as I gazed at it, I realised the journey to get to this incredibly remote spot had been as exciting as finding the flower itself.
After a sudden downpour, we squelched back the way we came. The rain continued for hours all the way down the mountain, and by the time I made it back to Somosomo where the Tikoilawaqas and Mitchell were waiting, I looked like a drowned rat.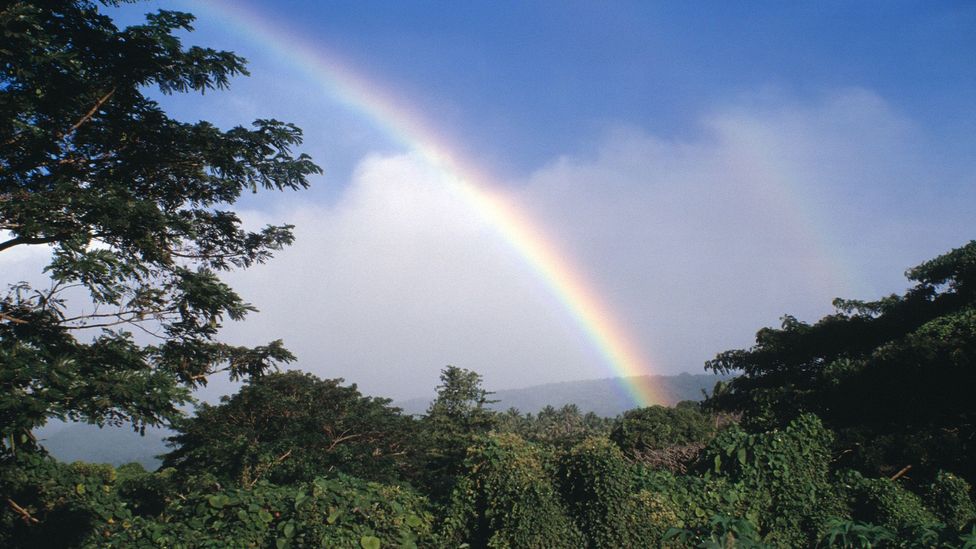 Locals say it always rains along the trail to see the tagimoucia (Credit: Horizon Internal Images/Alamy)
Finding the tagimoucia on any attempt is far from a given, so the family were thrilled to see my pictures. My visit had coincided with the annual migration of lairo (red land crabs), which occurs for a few days around the full moon in November. Amoreena announced that to celebrate there would be a dinner of freshly caught lairo with coconut milk and lime juice, served with steamed taro. The acidity of the lime and sweetness of the coconut balanced the earthy bitterness of the crabs, and I felt my energy being restored.
As I flew back to Suva two days later, I glimpsed down and saw the service road, peaks and rainforest where I had trekked just two days ago. I thought back to something that Mitchell said to me over a plate of crispy fried breadfruit. When I told her that I couldn't detect any scent to the tagimoucia flower, she laughed and said, "Oh, you're half right, I suppose. The tagimoucia does have a smell though – a strong, beautiful one. It's just not here on Taveuni."
Seeing my perplexed look, she explained her version of the famous legend. "We're from Qamea, where the tagimoucia is originally from. Hundreds of years ago, our tribe's chief gave the flower as a gift of peace to the Somosomo tribe. This is how it came to Taveuni. But the smell did not go with it. Even today, the scent lingers there on our island Qamea. It's especially strong in the evening."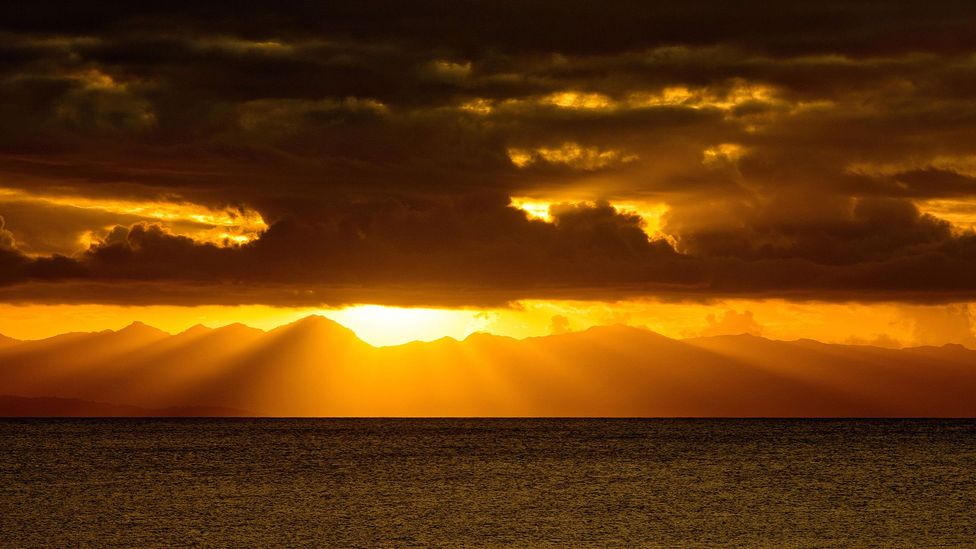 Some say the scent of tagimoucia lingers on Qamea (Credit: Wirestock Inc/Alamy)
Mitchell took a swig of hot lemongrass tea and continued. "One time, in the '60s, I remember being in a boat in the dark, somewhere between Qamea and Taveuni. The smell of the tagimoucia's sweet perfume suddenly drifted out to sea, surrounding us in the boat. I remember thinking, perhaps this is the time the Somosomo girl and the Qamea warrior used to meet."
On Taveuni, I sensed the boundaries of history, legends and fantasy tend to blur. But, on my last night on the island, I stood on the shore and looked out across waves lit by the moonlight. Breathing slowly, I strained my senses and tried to catch a trace of the tagimoucia. Now, if I told you that I think I caught a whiff, would you believe me?
— 
Join more than three million BBC Travel fans by liking us on Facebook, or follow us on Twitter and Instagram.
If you liked this story, sign up for the weekly bbc.com features newsletter called "The Essential List". A handpicked selection of stories from BBC Future, Culture, Worklife and Travel, delivered to your inbox every Friday.