Spring cleaning is the time to tackle deep cleaning jobs that improve the appearance of your home, and ensure that neglect doesn't cause permanent damage to big-ticket items like appliances, fixtures and floors.
If deep cleaning tile and grout floors, or carpets and rugs, is on your list of spring cleaning tasks, we've got all the resources you need to do the job. We also created a guide to the correct cleaning and maintenance of hardwood, engineered hardwood and laminate floors.
Rounding out this guide is our collection of vacuum, carpet cleaner and mop reviews and recommendations; if this is the year you invest in or upgrade your floor care tools, our product reviewers will help you select the best option for your home and lifestyle.
Even with regular cleaning and care, tile and grout floors can become dingy as foot traffic drives dirt, dust and grime into porous grout. If the thought of deep cleaning grout has you imagining hours spent scrubbing with a toothbrush, fear not — there is a technique that takes the heavy lifting out of deep cleaning grout, by using a solution made of oxygenated bleach that does most of the work for you.
Our top pick in a review of mops, the O-Cedar EasyWring Microfiber Spin Mop combines a hands-free wringing bucket with a lightweight, triangular mop head that's perfect for both mopping and spot-scrubbing on any surface.
Cleaning and maintaining hardwood, engineered hardwood and laminate flooring is straightforward, but there are things to avoid when it comes to caring for them. Cleaning methods that will permanently damage these flooring types abound on the internet. To help break down how to care for hardwood, engineered hardwood and laminate flooring, we spoke to experts about what tools and cleaning solutions to use — and what to avoid.
Thanks to the Hoover CleanSlate Pet's 7-inch vacuum head and compact design, you won't have to sacrifice performance for portability.
Regularly cleaning and maintaining carpet and rugs will keep them looking their best. There are also some things to avoid when it comes to caring for carpets. To help break down how to care for your carpeted flooring, we spoke to experts about how and how often to vacuum, how to spot treat stains as they happen and what to do when carpets and rugs are in need of a deep cleaning.
Treat deep, set-in pet mess stains with this professional-strength stain remover and odor eliminator.
Pets can do a number on your home, and that's especially true of flooring. We asked pet experts — groomers, vets, celebrity pet experts and the pet parents on our staff — what cleaning products they cannot live without and rounded up the very best products to address just about every mess your pet could make.
We tend to think first of vacuums when it comes to cleaning up loose pet hair, but brooms play an important role too — especially with big jobs like spring cleaning. The trick when selecting a broom for sweeping hair is to go for one with rubber bristles rather than a traditional brush broom.
Named the best upright carpet cleaner overall, the Hoover SmartWash+ is built around simplicity, thanks to its automatic carpet spraying system.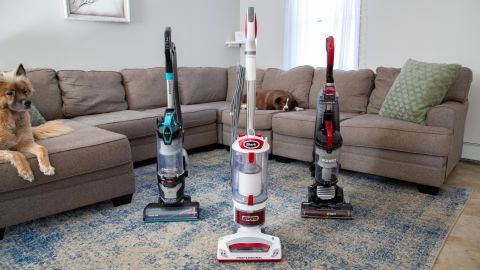 The Miele Classic C1 Turbo Team is powerful, maneuverable and built to last. Its six suction speeds and great tool loadout make it great, even pleasant to use, for hard floors, low carpets and rugs, upholstery and dusting.
With impressive power and the ability to tackle cleaning tasks on surfaces ranging from high-pile carpet to hard floors, the Dyson V11 Animal is the most capable cordless stick vacuum we tested.
The Black + Decker Dustbuster is the easiest to use, charge and empty of all the handheld vacuums we tested, with a large-capacity canister and convenient built-in attachments that make it convenient and versatile enough for any small cleanup.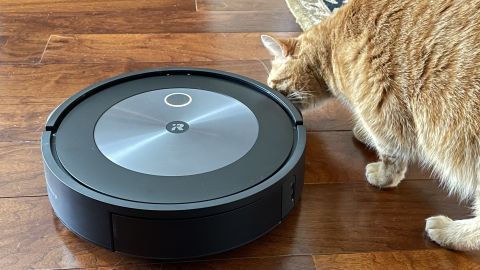 This is the best robot vacuum you can buy right now, with simpler mapping, more cleaning power and smarter features than anything else we tested.
The compact, inexpensive iRobot Braava Jet 240 is simply the best robot mop for the money. While it doesn't have the smarts of more expensive models and can't do double duty as a vacuum, its efficient design and simple pattern-based navigation deliver impressive cleaning.