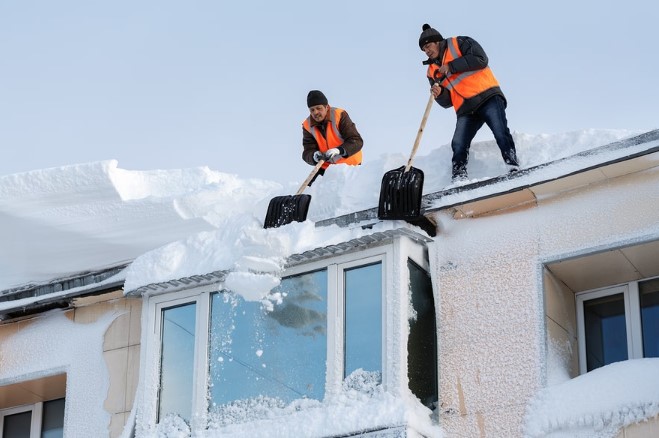 Winter might mean rainy days on the sofa or snow fun outdoors, but chilly temperatures and challenging weather conditions can play havoc with your property. As your roof has nowhere to hide during rain, wind, and snow, it can often pay the highest price during the cold seasons.
Unfortunately, the damage can impact your property's appearance while affecting your health and comfort in the home. Learn about the most common winter roof problems and how to fix them.
Damage from Ice Dams
Snow is fun and beautiful until it destroys your property. Unfortunately, this is a real issue for many homes across America and must be rectified as soon as humanely possible.
An ice dam develops when snow falls and indoor heat rises to the attic, causing the warm roof to melt snow in patches. It then flows down the gutters until it reaches an area below freezing, turning the melted snow into an ice slab inside the gutters and on the roof eaves. As a result, it traps water on the roof, placing weight on your property and loosening its shingles.
Protect your property from serious damage by organizing an emergency ice dam removal. The longer you wait, the more likely your property will experience unwanted roof leaks and damage.
Damaging Winter Winds
Aggressive winds can cause considerable damage to your roof, as they can rip the shingles off when reaching high speeds. If your roof is in tip-top shape, the shingles are likely to remain in place. For this reason, older properties are more likely to struggle with this problem, which can strike every season, but it is more likely during fall and winter.
Broken or lost roof shingles can cause various property issues, such as:
A colder property
Reduced energy efficiency
Prevent the problem from striking by avoiding walking on your roof and hiring a roofer to replace old shingles. Also, review your garden following high wind speeds to spot any loose shingles on the flooring, which you must replace as soon as possible.
Fallen Tree Branches
Strong winds cannot only pull shingles off your roof, but they can cause tree limbs to fall onto your home, causing a serious threat to you and your loved ones. Also, the threat is much bigger during an ice storm, as the weight from significant ice may cause branches to snap and even bring down the tree.
Stop the problem from striking by wrapping any tree trunks near your exterior. It will insulate the trees during bitterly cold temperatures while stopping deer or rodents from nibbling or rubbing against a tree, which can happen during cold temperatures.
Poor Property Insulation
If your home feels cold during winter despite turning up your thermostat during the day, poor insulation in your attic is likely to blame. Good insulation and ventilation will protect your home's temperature, ensuring you and your family feel warm and cozy during winter. Review your insulation and resolve any issues right away.