With spring around the corner, you might be thinking about a backyard renovation, or just the ways make socializing, lounging, and dining in gardens, patios, and terraces better. 
Good patio furniture can last a lifetime if you look after it, so choosing styles that are ahead of the curve will ensure that your choices outlast the latest design trends, too. So what does the best backyard furniture look like in 2023 and beyond?
From vibrant, bold colors, to sustainable materials and modular shapes, we asked designers and style experts for what's inspiring them when furnishing outdoor spaces. Here's what they said. 
Aditi is an experienced homes writer and editor. She has written hundreds of articles for various international titles helping readers make the best home design choices, and spends her days interviewing interiors industry experts to bring the latest ideas to her readers. For this piece she spoke to the world's best designers to find out the latest outdoor furniture trends. 
10 outdoor furniture trends to know about 
1. Teak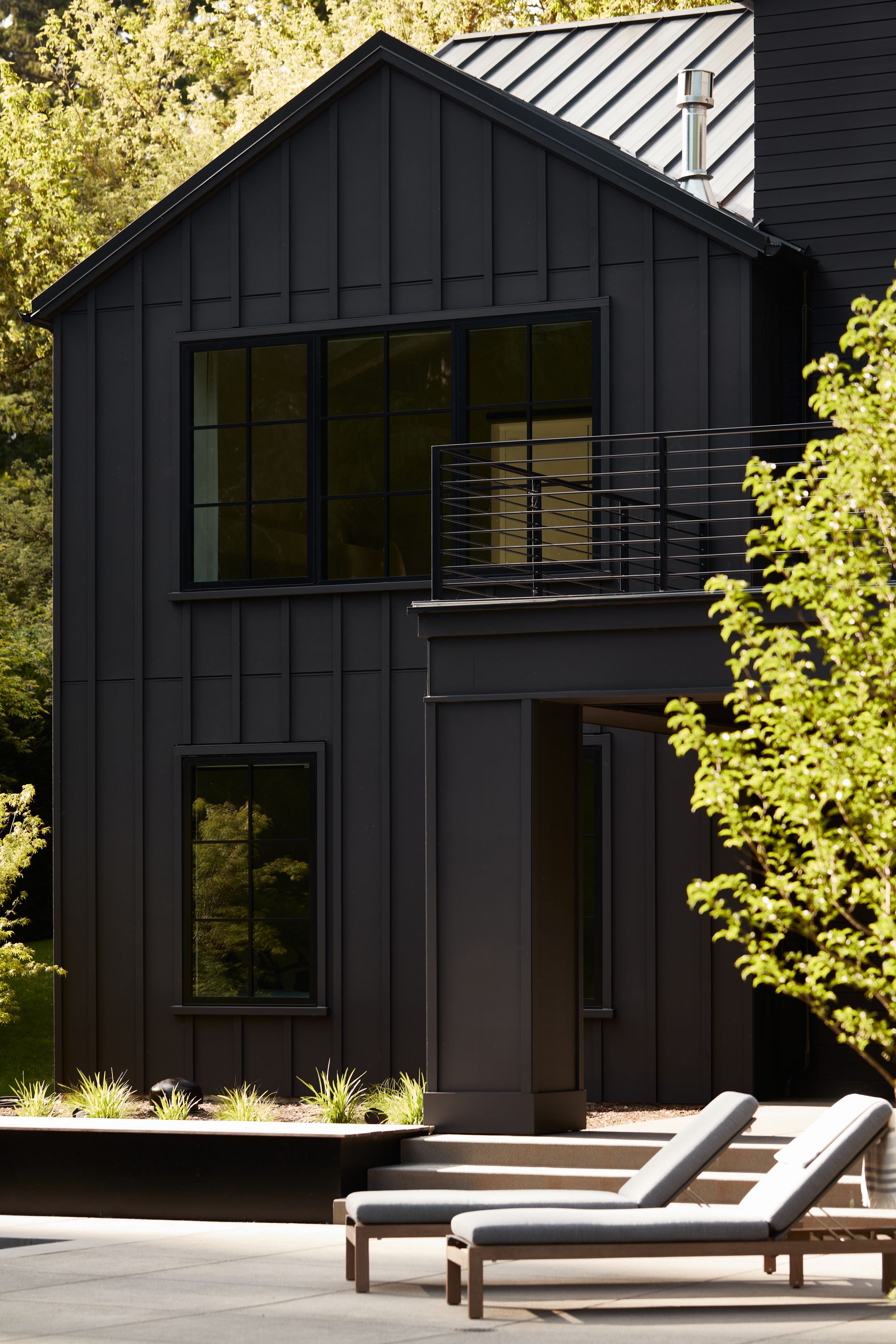 Wood is a timeless choice for your backyard, and when it comes to the best wood for modern outdoor furniture, nothing beats teak. This material can withstand all weather conditions, and its inherent natural oil easily repels water and snow, keeping it from warping, cracking, or becoming brittle.
What also sets it apart is that teak is low-maintenance. It doesn't need to be painted or varnished. Over time, the wood develops a lovely patina, while subtly greying, and retains a timeless look, but you could apply a natural teak sealer, like this from Amazon (opens in new tab), in case you want it to look new and fresh always.
'In terms of comfort, a teak outdoor chaise lounge is easy to maintain, is weather-proof and can be napped on; placed on a patio or deck,' says Lisa Staton (opens in new tab), founder of Lisa Staton Design. 'Then for added comfort, throw in a deep, thick cushion made out of indoor-outdoor fabric to drain and dry quickly.'
2. Low chairs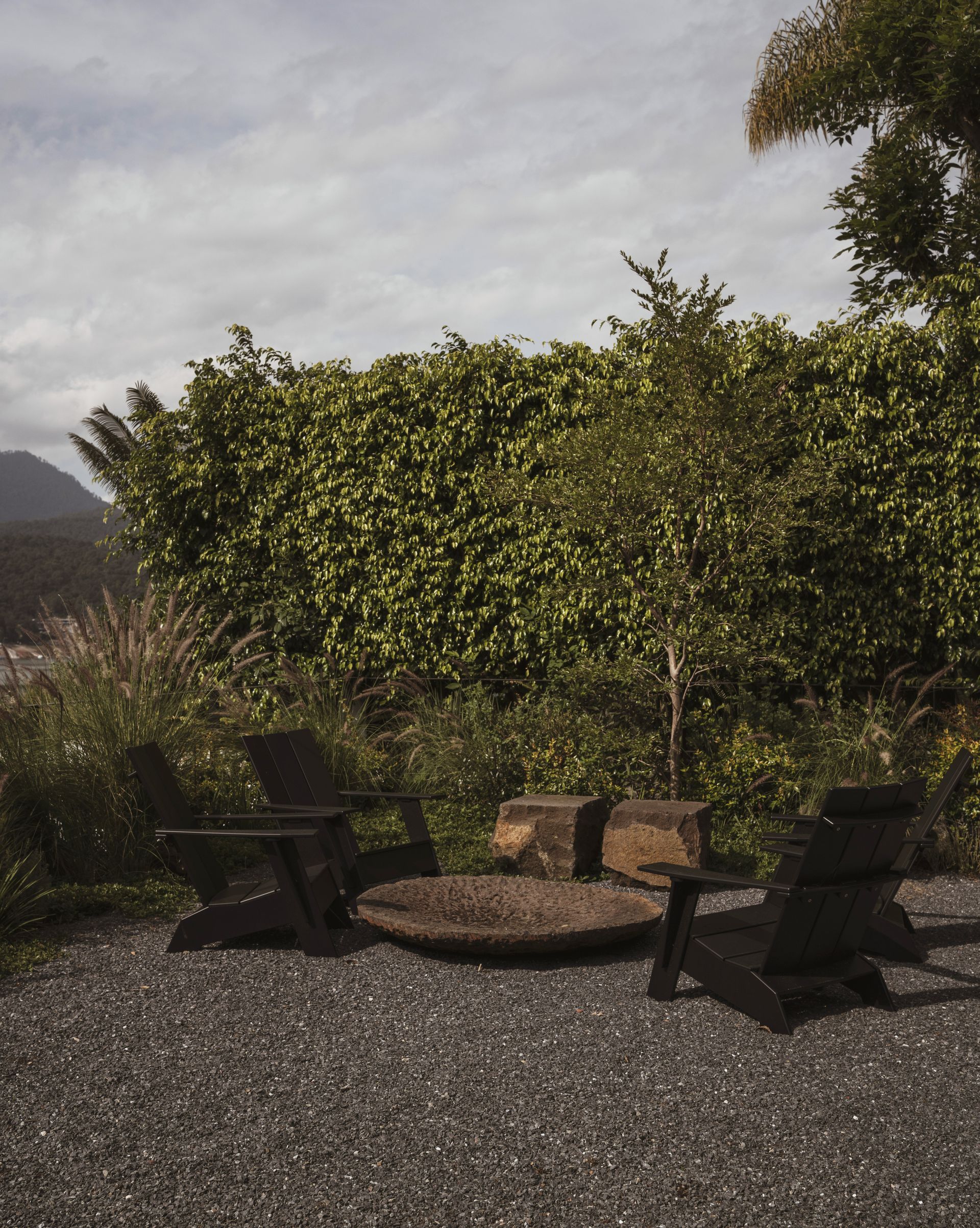 Low, "adirondack" chairs may be a big interior design trend but they're the perfect pick for outdoors, too. These chairs have a distinct look with a modern, minimalist backward-sloping seat. The design is inherently relaxing with good support for your back and base. The chair has wide arms, and while it is close to the ground, you could pair it with an ottoman or footstool for good leg support. These are available in a variety of materials like teak, aluminum, HDPE lumber, and injection-molded plastic, ideal for indoor and outdoor use.
'The outdoor furniture you buy should fit your specific needs and planned usage,' says Ellie Mroz (opens in new tab), founder of Ellie Mroz Design. 'If you are looking for a more casual and intimate space, adirondack chairs on the lawn with some string lights are always classic.'
3. Indoor-outdoor furniture pieces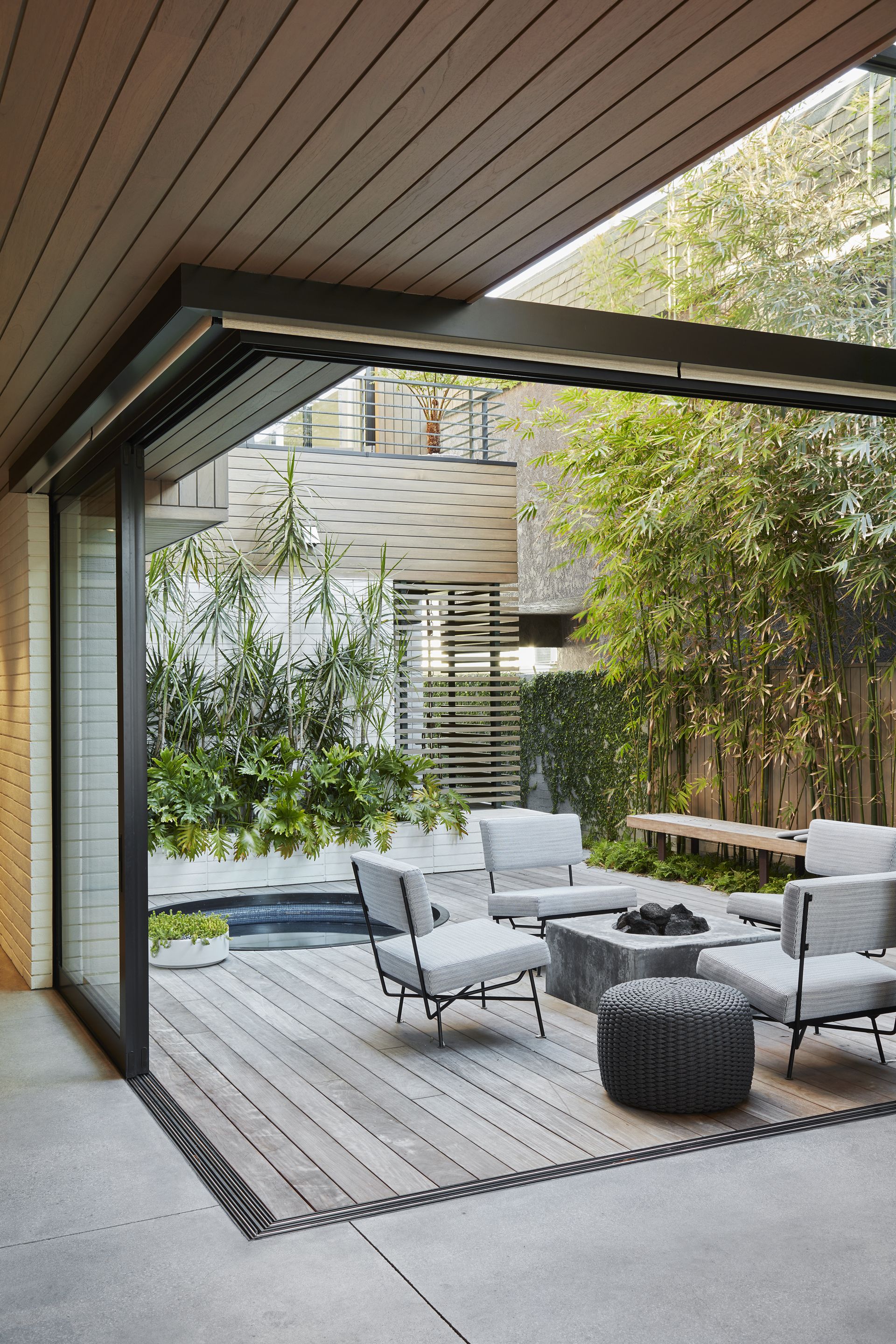 In recent times, designers have treated patios, courtyard gardens, and terraces like extensions of our interior living spaces, and furnishings have followed suit. This year too, brands and manufacturers are launching several collections that mimic high-end living and dining room furniture that will be equally at home in the outdoors.
It all helps to create a space that embraces the indoor-outdoor trend, like this stylish courtyard. 'The dining room and kitchen are connected to the sunny patio by corner pocketing doors,' says Michael Lee (opens in new tab), founder of Michael Lee Architects. 'We chose a floating bench for the corner, and placed a fire pit and chairs, all becoming a part of the indoor-outdoor space, while the bamboo screen creates privacy and coziness in the high-density beachside neighborhood.'
4. Concrete and natural stone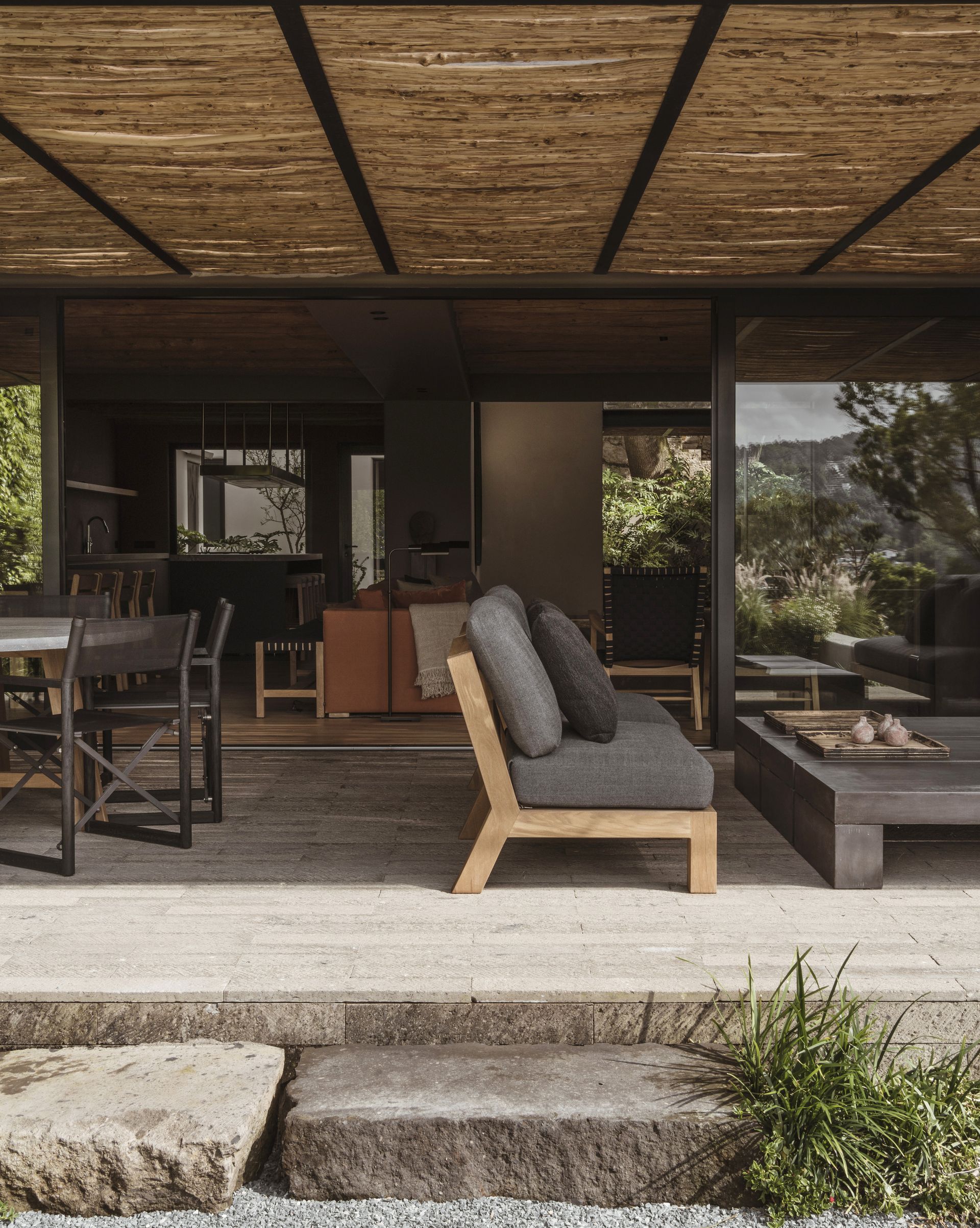 Natural materials are a timeless garden trend, but materials rough and rustic materials like concrete and metal also stand the test of time, too.. 'For outdoor furniture, I always like to use a mix of furniture bought from stores or brands, and custom-made pieces with materials that can resist the different climate changes, like teak, concrete, aluminum, stone,' says Mariana Morales (opens in new tab), founder of Direccion. 
'When creating an outdoor space, some great weather-proof materials are concrete and Dekton (opens in new tab),' suggests Linda Hayslett (opens in new tab), founder of LH.Designs. 'Concrete is great for outdoor spaces in the sense that it can last and blend in with any style and elements. Stone naturally is weatherproof as it already comes from nature. But if you're looking for something more interesting and special, Dekton (quartz) is also a great material for outdoor use that can be out in the sun as it's an engineered material, meant to handle the outdoors. It resists heat and UV rays as well as cold weather and ice.'
5. Lightweight furniture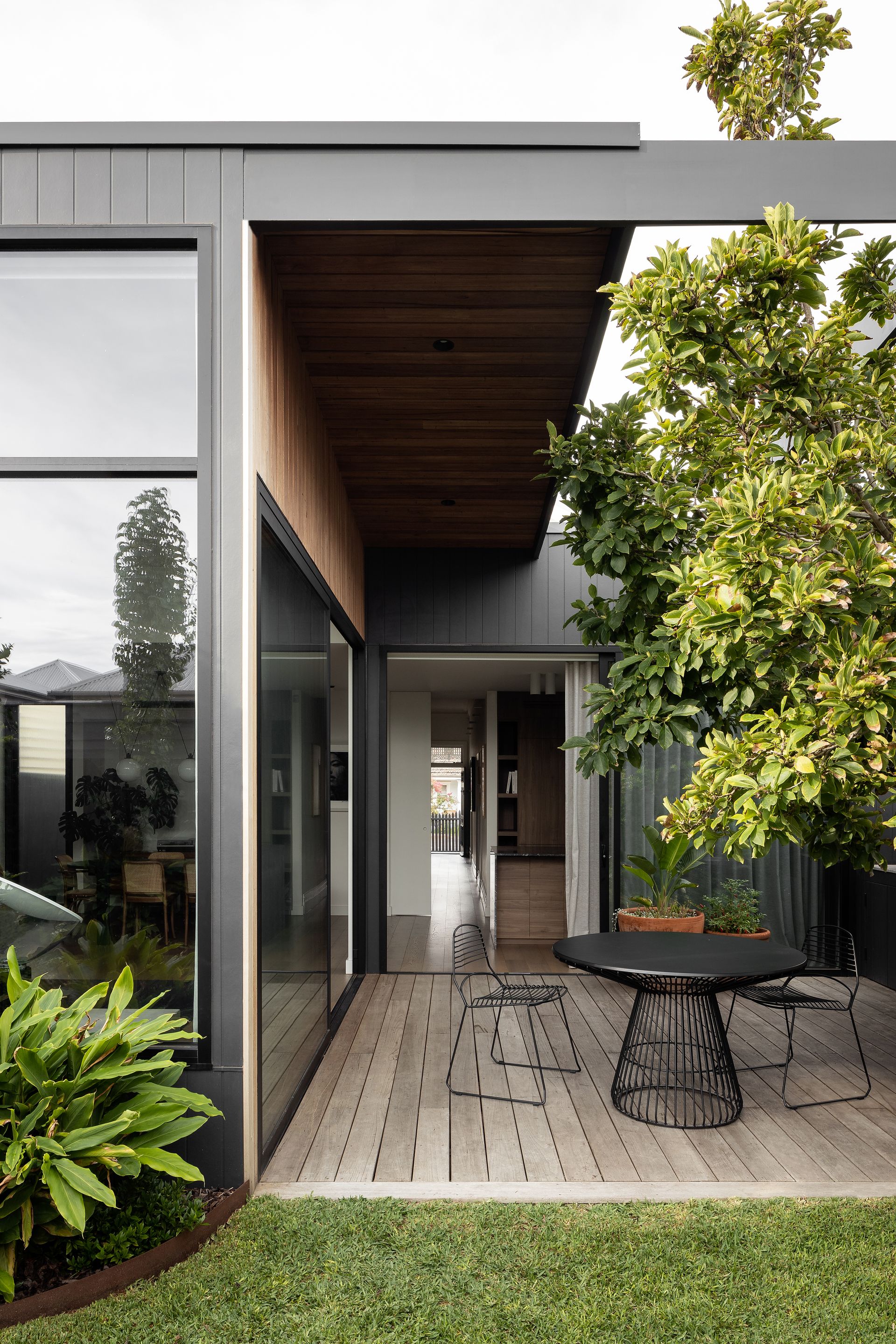 Furniture with low-impact frames, colors, and aesthetics is another hot trend that gives your outdoor space a modern and breezy feel. After all, do you want your patio furniture to obscure the view of your carefully landscaped backyard? Think of compact chairs and tables made in powder-coated steel or wrought iron so it is rust-resistant and maintenance is easy.
Chairs and stools in these materials are excellent for smaller spaces like a terrace garden or a vegetable garden where you simply need to spend a few moments tending to your flora and vegetables. You can mix and match them with your cushions to create the perfect place to relax and enjoy the sun.
6. Hanging chairs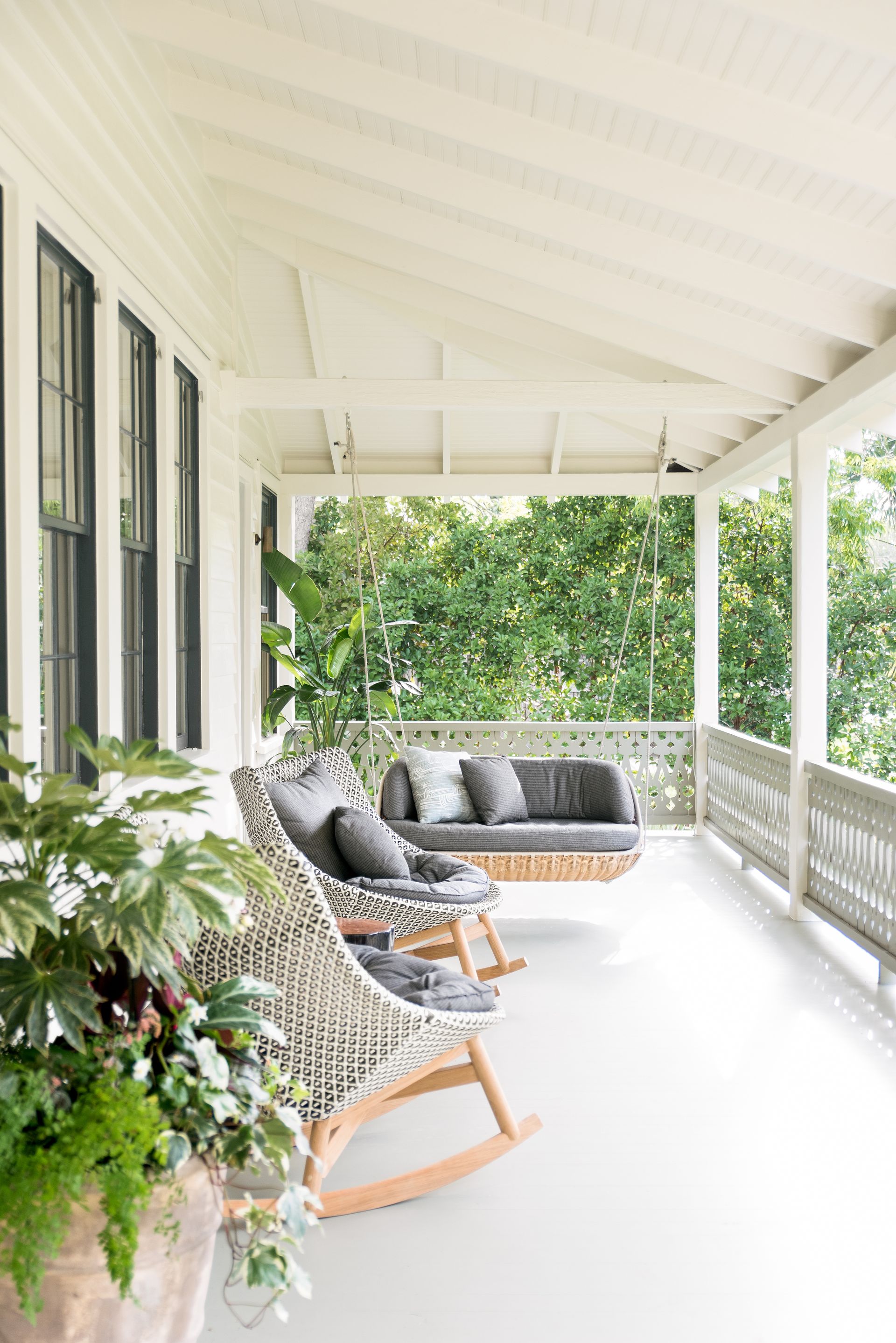 If you loved the swings as a kid or have fond memories of swaying in a hammock, then this outdoor seating idea is for you. Hanging porch chairs have been a trend for a while, but year after year, new shapes, styles, and even materials have taken center stage, showing us the ideal piece to hang every spring/summer. 
'If you are looking for a place to read or have some quality alone time, nothing beats a cozy and coastal hanging rattan chair,' says Ellie. You can also go for woven hanging chairs shaped like mini tipis, suspended from trees or poles. For a more intimate, cozy outdoor living room set up, go for a hanging bed that points to a more tropical feel, and provides ample room for multiple people to sit on, or a space to nap during lazy afternoons. 
7. Outdoor textiles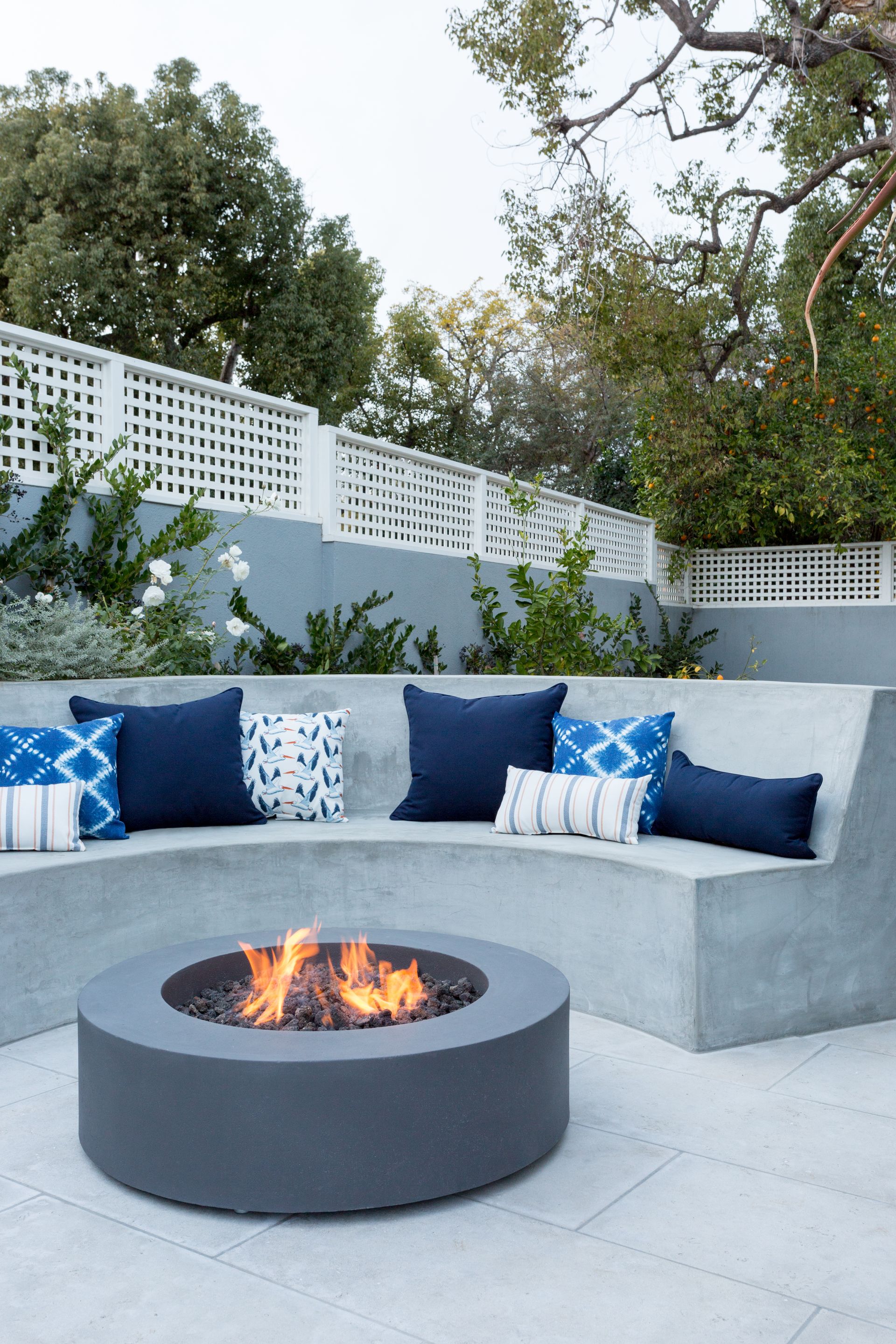 Another way to embrace the indoor-outdoor trend is to design an outdoor space that doesn't hold back when it comes to textiles. Make your balcony garden or patio a more welcoming space with pillows and rugs made in woven acrylic fabrics. You could also go in for marine-grade fabrics that are made in a tighter weave and have a heavier finishing process than most outdoor fabrics. This material is a little stiffer, but built to endure rough weather and conditions, so will last you many years.
'In terms of outdoor upholstery, man-made fibers such as coated polyester, acrylic, and olefin both wear better than natural fibers and are also resistant to moisture,' says Ellie. 'Look for brands that carry the 'Sunbrella (opens in new tab)', 'Perennials (opens in new tab)' or 'Inside Out (opens in new tab)' labels as these are good indications that the fabric will tolerate harsh outdoor conditions. We also recommend stain-resistant fabrics because the point of outdoor furnishing is to enjoy it, not worry about it.'
However, if the maintenance of fabrics is something that makes you squirm a bit, especially if you live in a tropical country or a city that experiences a lot of moisture and rain, you could keep pillows to a minimum.  'One thing I do advise every client to think about is the practicality of choosing furniture with no cushions,' says Steve Ritchey, founder of Seed Studio. 'This can be less appealing for certain projects or some clients, but often is the most practical option in cities such as San Francisco with very moist and foggy ocean air.'
8. Curving shapes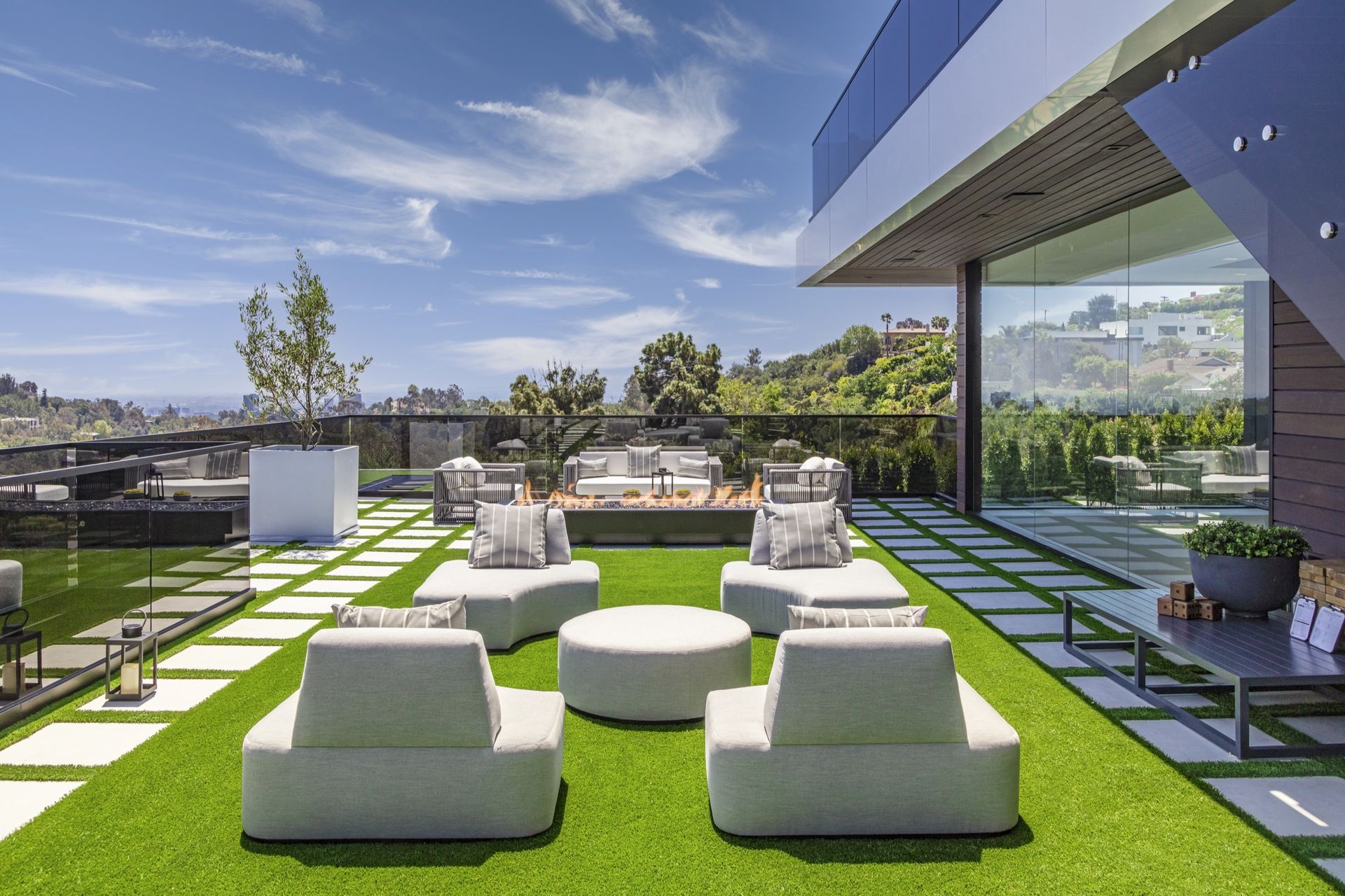 Homeowners and designers have been in love with curves for some time now. While the curved sofa trend has been at an all-time high since last year when it comes to outdoor seaters, the love for rounded edges is strong as well. 
Gentle, sculptural forms that create a cocooning effect are ideal for creating an intimate spot in nature. These stylish pieces made in the weather-resistant weave are both new and comforting, adding calmness to the outdoors. 
9. Outdoor sectionals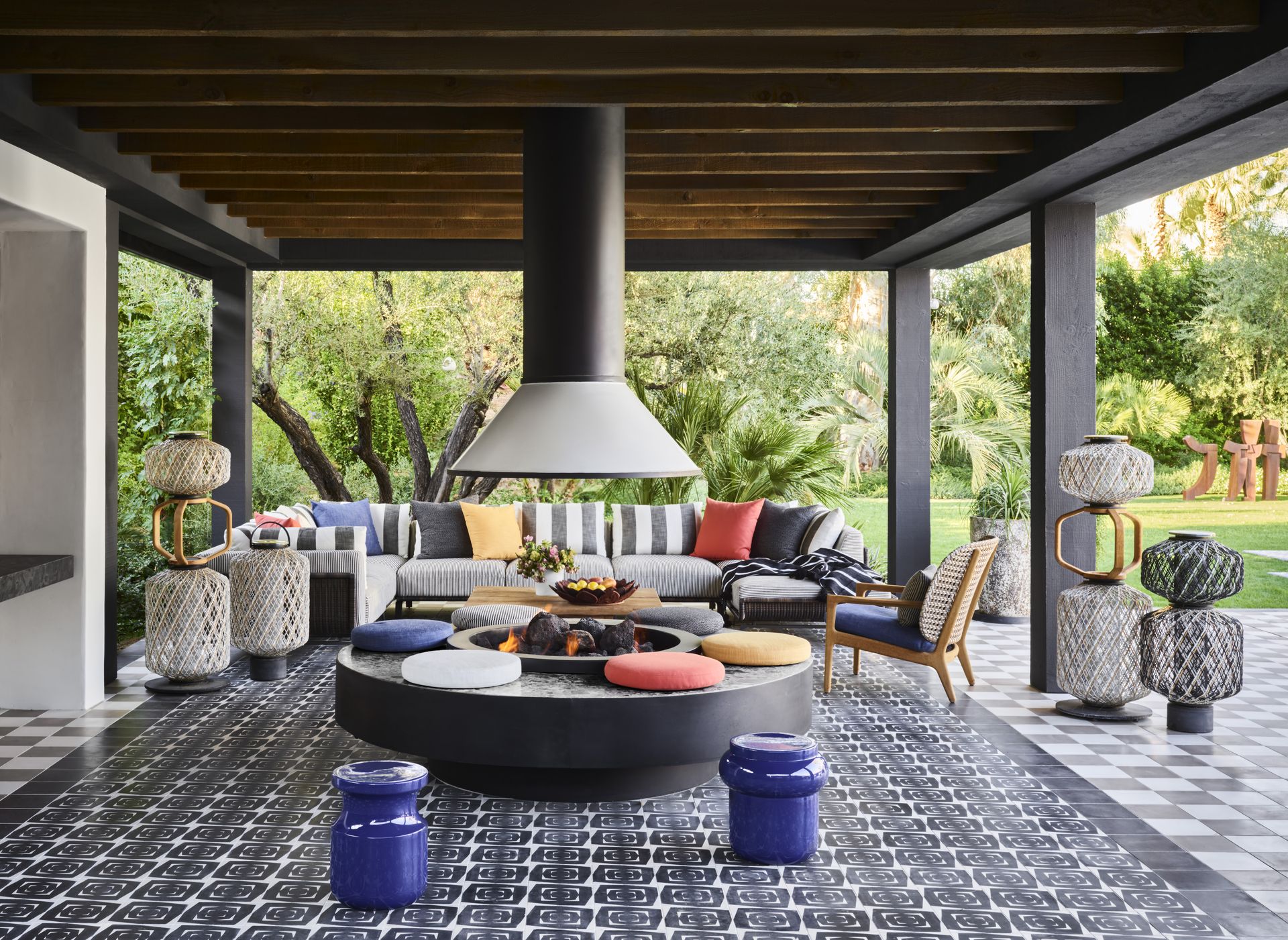 For a small backyard or a garden, you want to make sure your seating is comfortable, sociable yet snug. A good choice is a sectional, that is trending for both indoor and outdoor use. While it may seem like a large, bulky piece of furniture, its size is its strength. 
Since these tend to dominate a space and offer the majority of the seating, they generally don't need extra chairs or seats around them. However, if your outdoor space is quite narrow, point the longer end of the sectional against one side and balance the other with two individual chairs.
It also offers the sort of versatility you need when chasing the sun, or looking to duck into the shade. 'Comfort, whether inside or out, starts with flexibility,' interior designer Kristen Pena (opens in new tab) of K Interiors in San Francisco, explains.  'Creating a seating area that is easy to use with multiple seating options is key for outdoor use. The ability to cozy up and move around with the wind or the sun is important.  Soft textiles that feel good on your skin are a must.'
To further cozy up the setting, perhaps design a pergola above, and add pretty lanterns to complete the setup. 'A heating source and or shade, as needed, and a view top off the experience,' Kristen adds. 
10. Pop colors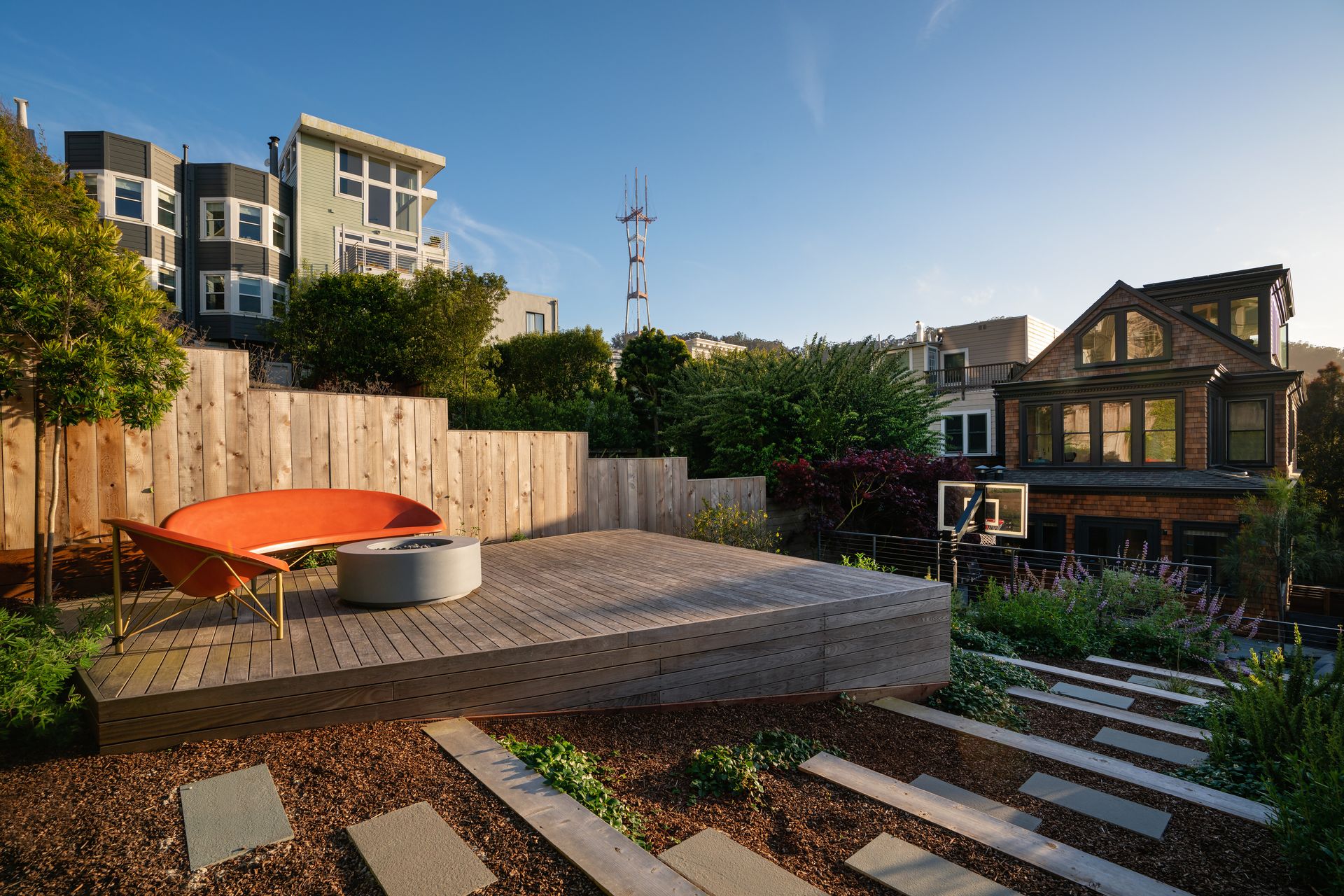 While earthy tones will always have a place in the outdoors, designers are also looking towards the resurgence of color in interior design, especially with pop-colored shades of blue, orange, and pink. These seaters can be used as accent pieces, adding to a backyard deck or garden space.
Consider all-weather wicker, wood, or acrylic seaters in bold shades. You can also purchase furniture in customizable shapes. Add a few pillows or throws and you're on-trend.
What kind of furniture can stay out all year?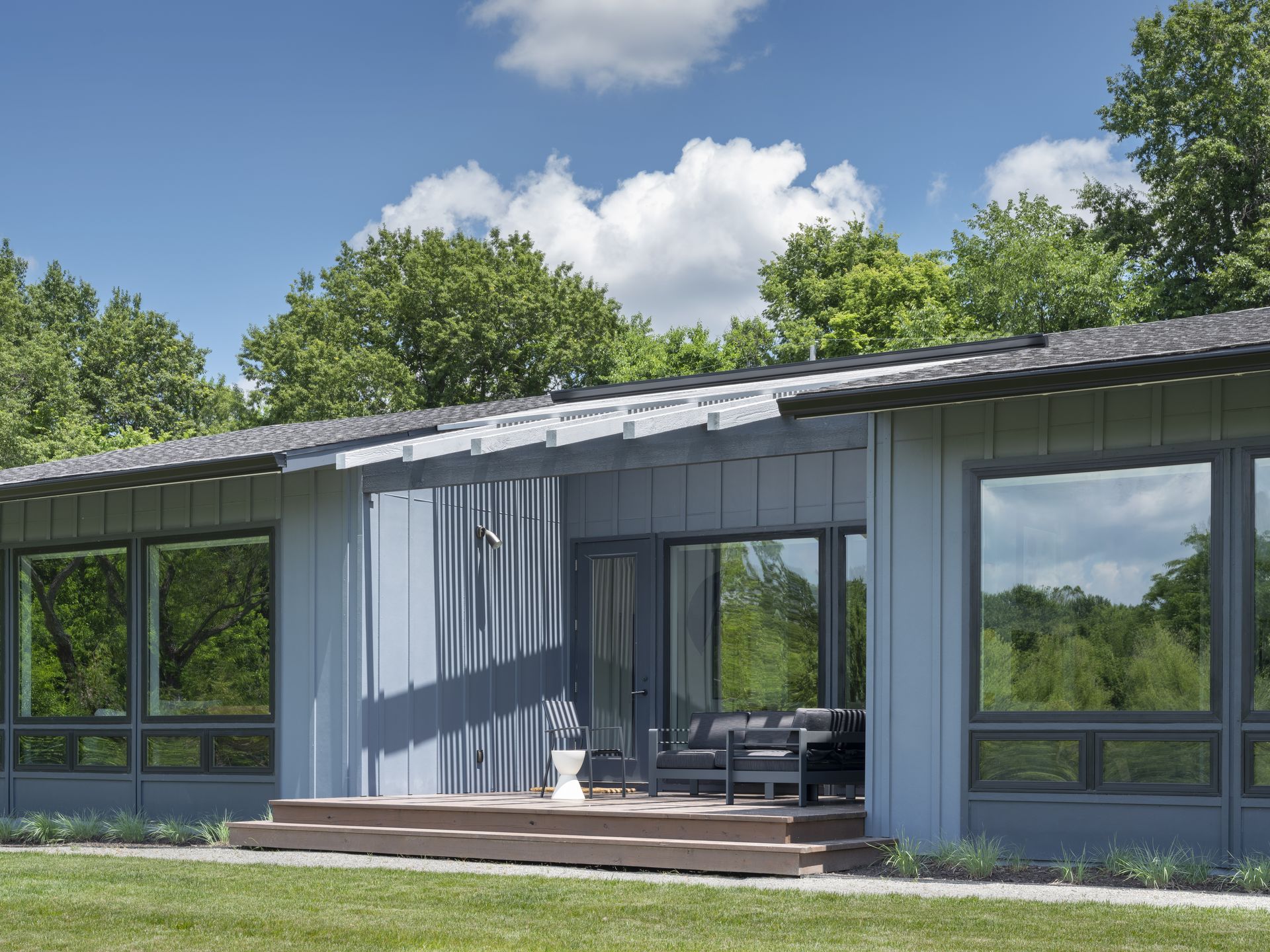 If you're keen to have a permanent outdoor living room or socializing spot all year, you want to make sure you invest in the right materials. Think of aluminum, plastic, concrete, and teak. These are strong, durable, and can withstand rain, snow, hail, and storms.