You can design an entirely different look for your garden at night using clever lighting landscape ideas to create beautiful new effects. The trend is for washes of light that enhance, add drama and illuminate, elevating an ordinary planter, water feature or some simple steps into something extra special.
If done well outdoor lighting can become an art form in itself. But it's not a case of having as many lights outside as possible. Instead think about what exactly you want to illuminate and how best to do it in a way that feels sophisticated and adds to the ambience of your outdoor space. 
Soft, subtle lighting that's well positioned can be used to focus on a few key elements and highlight different textures and contours, while a more theatrical style of lighting let's you switch things up a level if you want a little more impact than simply a low-key glow.
So if you're looking for lighting landscape ideas to introduce washes of beautiful light to your backyard get inspiration with our expert suggestions.
Lighting landscape ideas
'Lighting is a revolutionary way to extend the use of your garden as well as creating a beautiful and inviting look,' says award winning landscape designer Kate Gould. 'The simple flick of a switch can bring your garden to life. Electric lights are the most flexible way to illuminate your garden but you could also consider candles, which provide a lovely soft light with a gentle movement.' 
Whether you are looking for backyard lighting ideas or to illuminate a front yard, do as much as you can to make the lighting you install flexible but also reliable. 'Use the best fittings you can afford and have them installed by a qualified electrician,' recommends Kate. 'If you decide to use electric lights outside you will need to think your plans through as well as implement them carefully.'
1. Transform a gazebo with a warm glow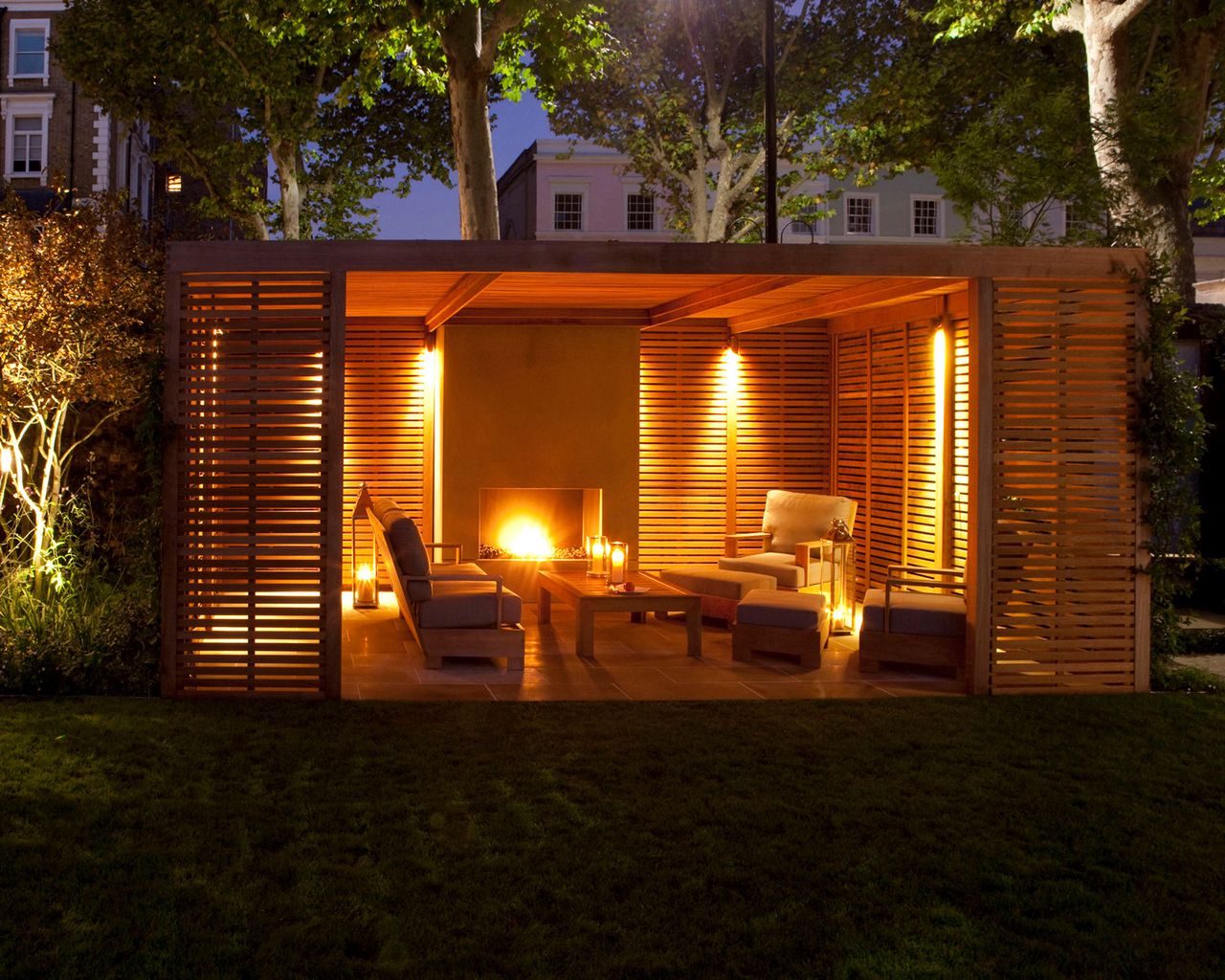 A gazebo or pergola becomes a real focal point at night if lighting is used to enhance its best features. A mix of internal and external lights can work magic when it comes to integrating lighting landscape ideas.
'An external gazebo or pergola gives shelter so you can enjoy the garden throughout the seasons, particularly if it has a fireplace within it for extra warmth, says lighting designer Sally Storey, creative director of John Cullen Lighting and author of the influential Inspired by Light. Fire is an additional element to factor into your lighting design, particularly if you're looking to add glow.
In this garden design by leading landscape architecture and urban design practice Randle Siddeley a timber structure has been lit using wall lights to skim down the posts. Low level atmosphere is created by candles in freestanding lanterns. Surrounding the pergola, spike lights are used to enhance multi-stem trees, which also have pendants hanging from the branches to add a touch of magic at night.
2. Light up oversized planters for a stylish look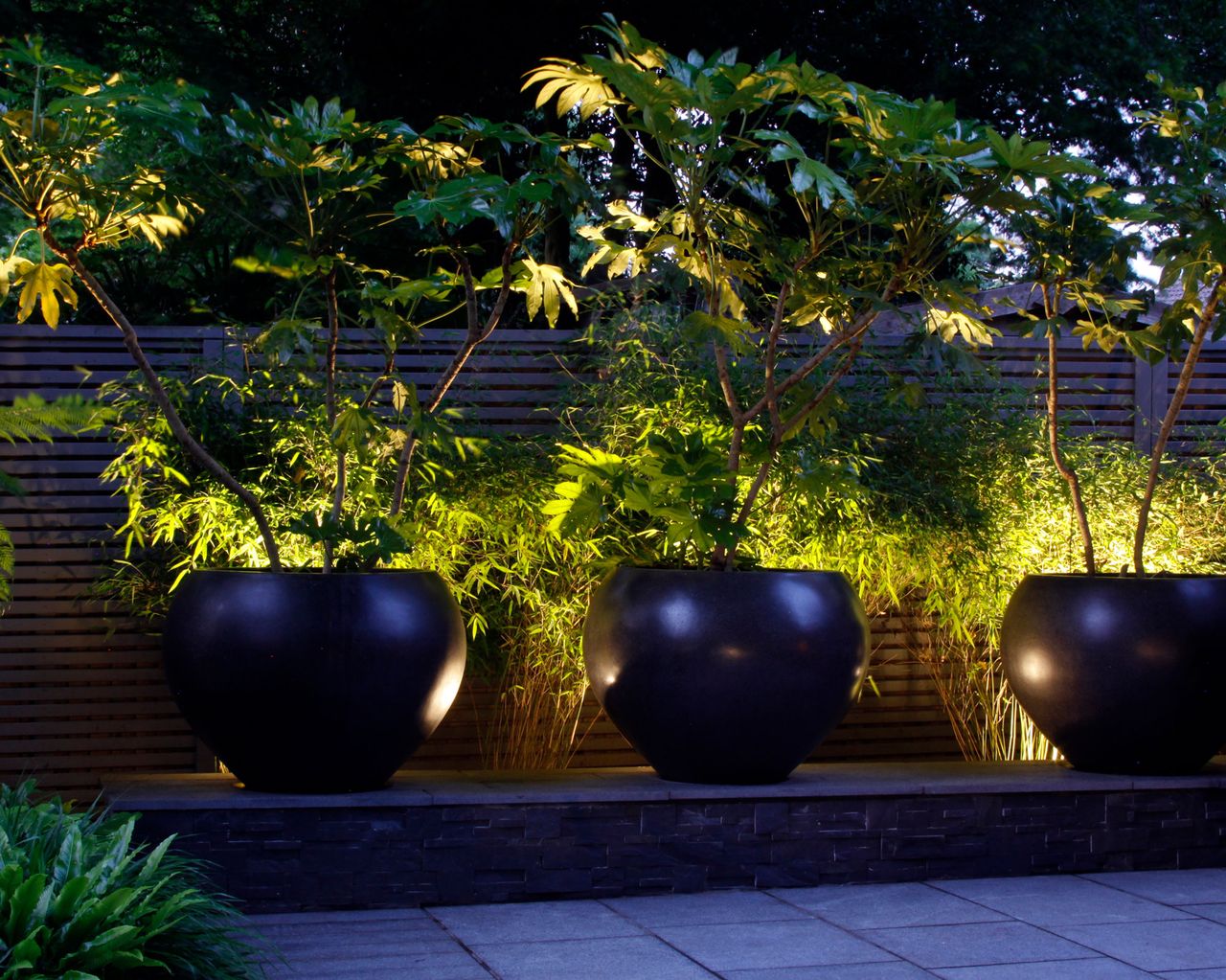 Lighting huge container gardening ideas means they become so much more than simply somewhere to put your plants. Instead they are transformed into eye-catching installation pieces with every detail thrown into perspective. 
'These oversized pots are backlit for a dramatic effect, and planted up with the lush architectural plant Fatsia japonica,' says award winning landscape designer Mandy Buckland of Green Cube Landscapes. 'Here we've used LED 1 watt spotlights positioned on the ground and angled in a way that creates an attractive wash over the pots and plants.'
The planters sit on a pedestal, and raising them off the ground like this works like staging to create added drama in a small space. Behind the pots is an informal hedge of clump-forming Fargesia, a graceful bamboo with an elegant, exotic appearance that's perfect for adding movement and texture to borders and containers, and also looks stunning lit at night.
3. Turn steps into an illuminated feature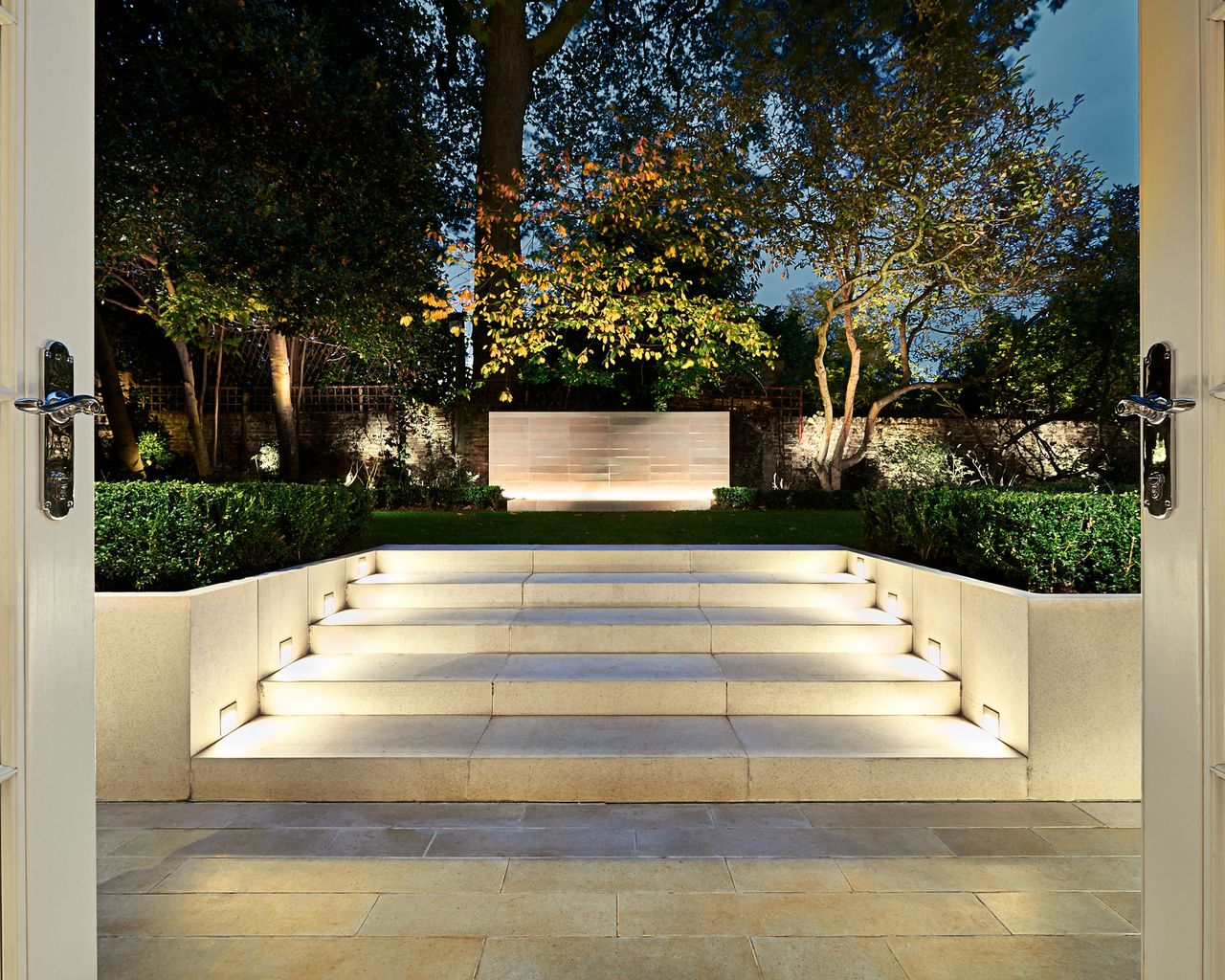 As night falls lighting landscape ideas can be used to illuminate steps both for practical and aesthetic purposes. Low level lighting offers a soft and relaxed approach, and means the steps are easily accessible in the evening.
'The intention with this project, which is in a residential road near London's Regents Park, was to emphasise the impressive sweep of Portland stone steps using mini low-level lighting,' says Piero de Marchis, director of architectural lighting design company Detail Lighting. 
Lighting steps in this way also draws the eye to the rest of the garden and a stunning central feature wall. 'The far perimeter was lit with a 'spreader' light, a type developed for lighting hedges and walls,' explain Piero. 'This emphasizes the depth of the garden. The water feature is then lit at the base of the wall to make a main focal point.'
4. Use special effects for lighting a pool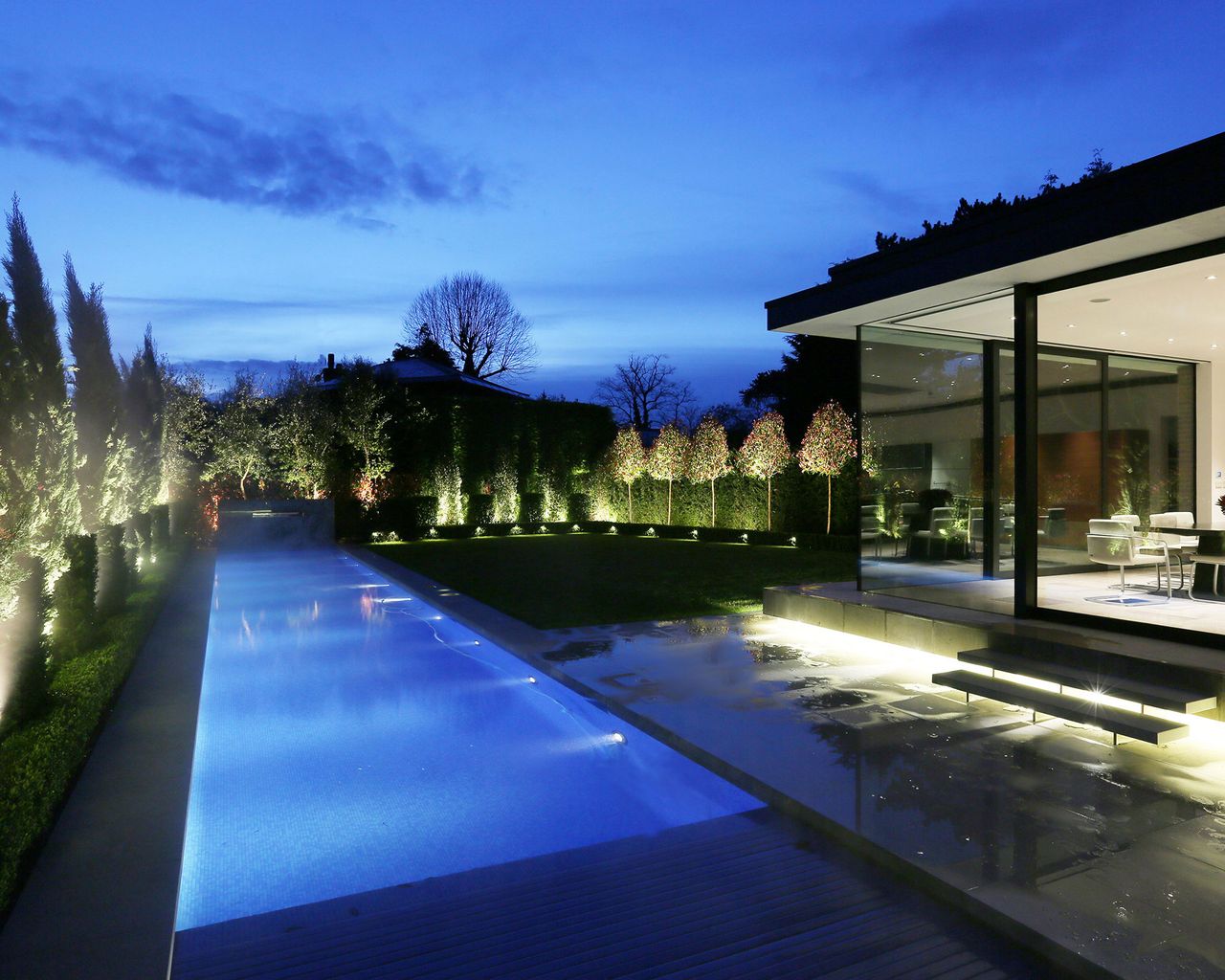 Water can be cleverly illuminated to create the most enchanting night-time effects, so turn to pool lighting ideas for both pools and ponds. Submerged lighting placed below the water level introduces a stylish wash of light that enhances the lovely blue depth. Lighting the surrounding elements helps to stage the pool as a focal point in the whole garden design too rather than just as an isolated feature.
'Lighting a garden creates a magical extra room at night,' says lighting designer Sally Storey. 'In this garden we used a mixture of spiked floodlights and spotlights to light up the perimeter planting and trees. This was combined with lighting inside the pool as well as under the structure of the house, which creates an interesting floating effect.'
5. Style up your deck for entertaining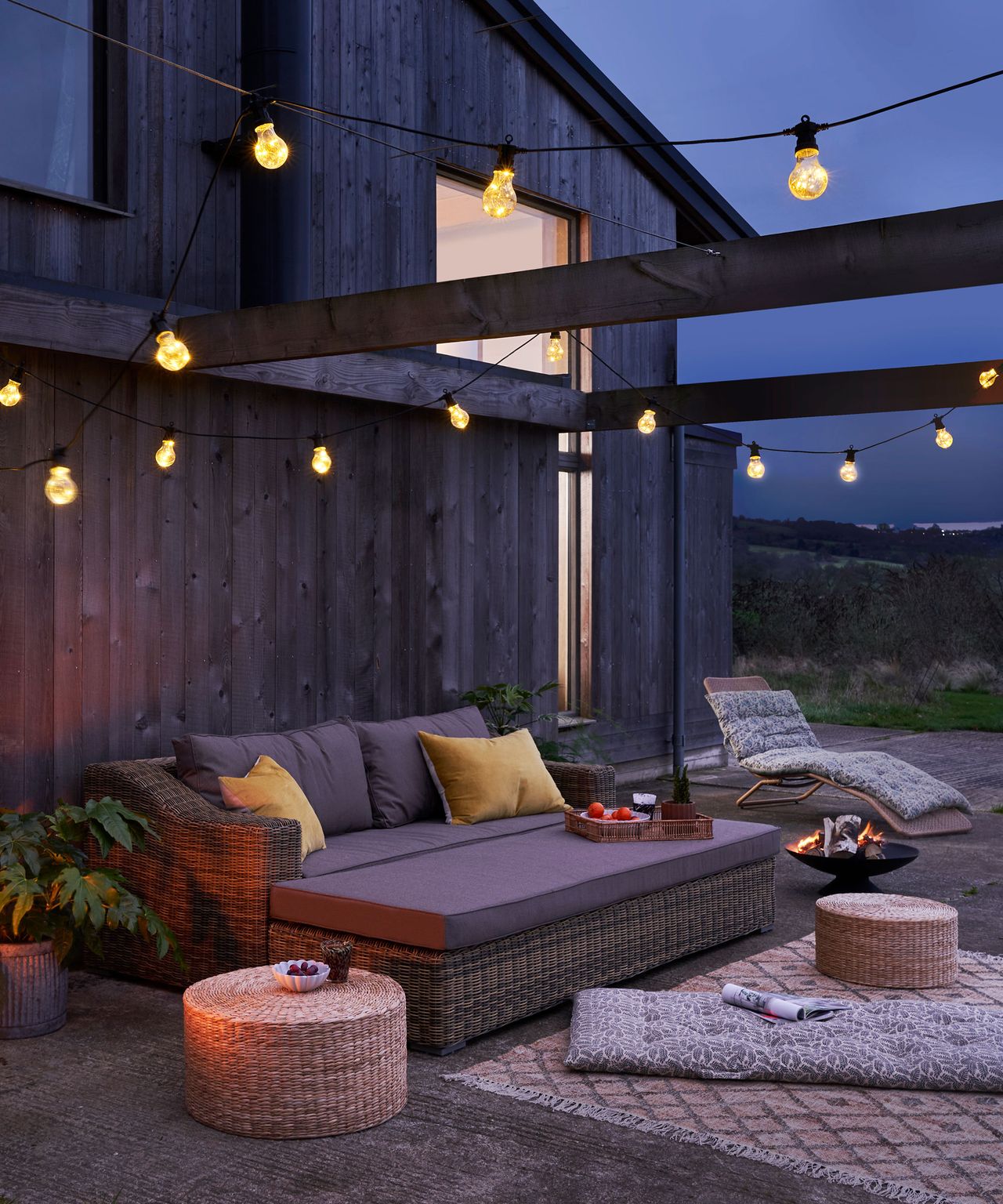 Beautiful outdoor lighting landscape ideas mean you can enjoy the magic of being outdoors year-round as well as late into the night. Adding a fire pit to gather around introduces an extra lighting dimension.
'When planning outdoor lighting consider height, layering a variety of light sources at different heights and levels,' says Joanna Spindler of Graham and Green. 'Solar outdoor lights can be staked into the ground to create an illuminated pathway, with festoon lights woven overhead for an inviting zone to gather beneath. Tealights will cast soft pools of light across a tablescape or seating area while the flames of a fire pit add a cozy feeling.'
Flooding the backyard with bright light from above creates too harsh an effect that can also be detrimental to neighbouring properties. By maintaining areas of shadow you can accentuate the theatrical effect of any garden illumination, and make the night-time experience all the more enchanting. And since deck is a softer material than stone, it makes sense for deck lighting ideas to be subtler.
6. Pick patio lights with an indoor feel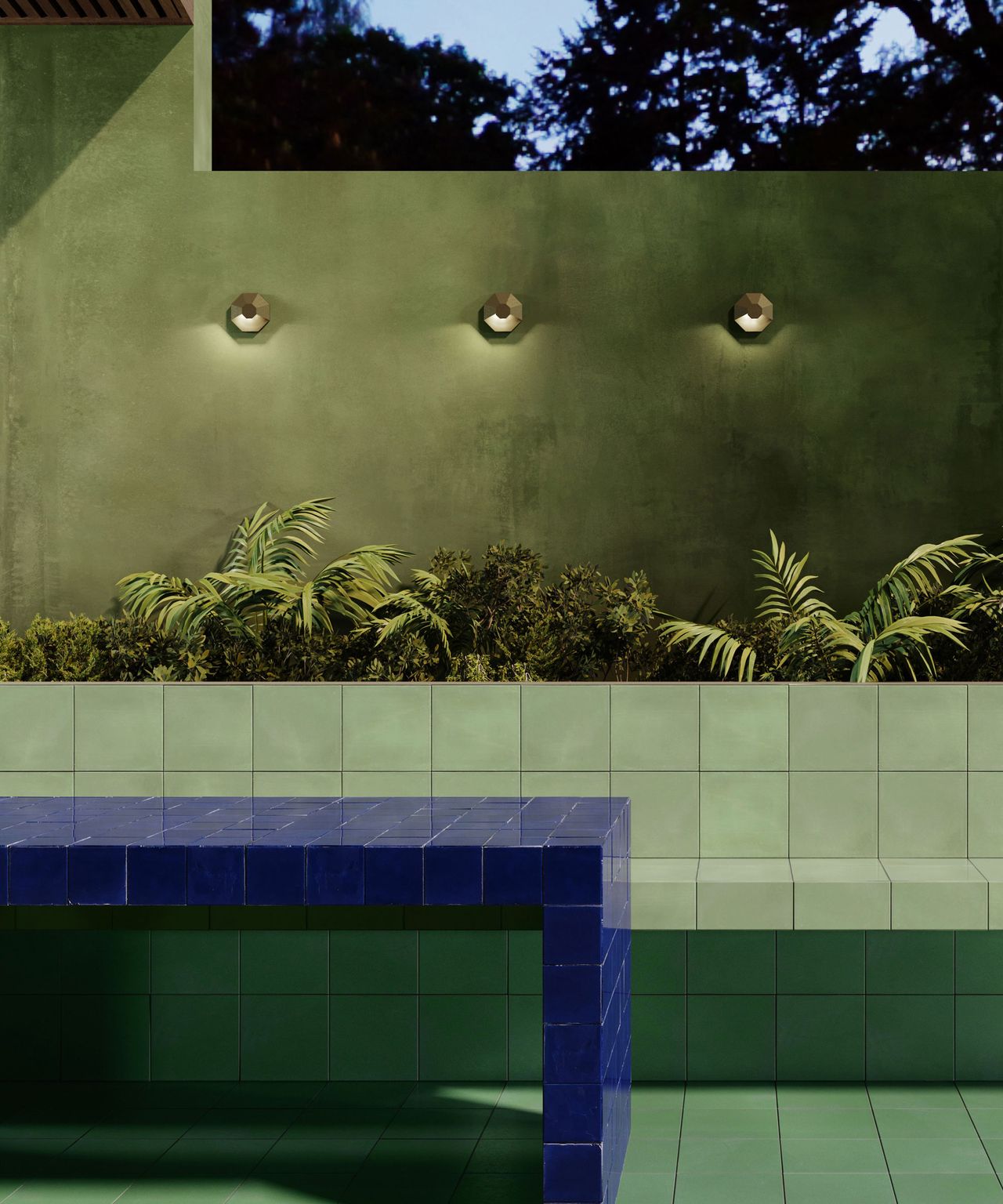 Consider form as well as function when it comes to creating a look that encapsulates seamless indoor-outdoor living with patio lighting ideas. Natural materials with interesting patinas such as weathered bronze, copper and brass are great choices as they're low maintenance, age well and weather beautifully. Avoid cheap fittings such as painted metals as they can deteriorate very quickly when exposed to the elements.
'Warm metallics can be used in any scheme but are an essential component in the new industrial luxe look,' says Charlie Bowles, director of Original BTC. 'Whereas previously, the industrial look was very masculine, a warmth has crept in with designers creating sophisticated schemes incorporating warm metals, natural textures and hand-crafted elements. Brass, copper and bronze are very much here to stay, mainly due to their versatility. It's a look that's rich, glamorous but also edgy.'
7. Pull together a co-ordinated lighting look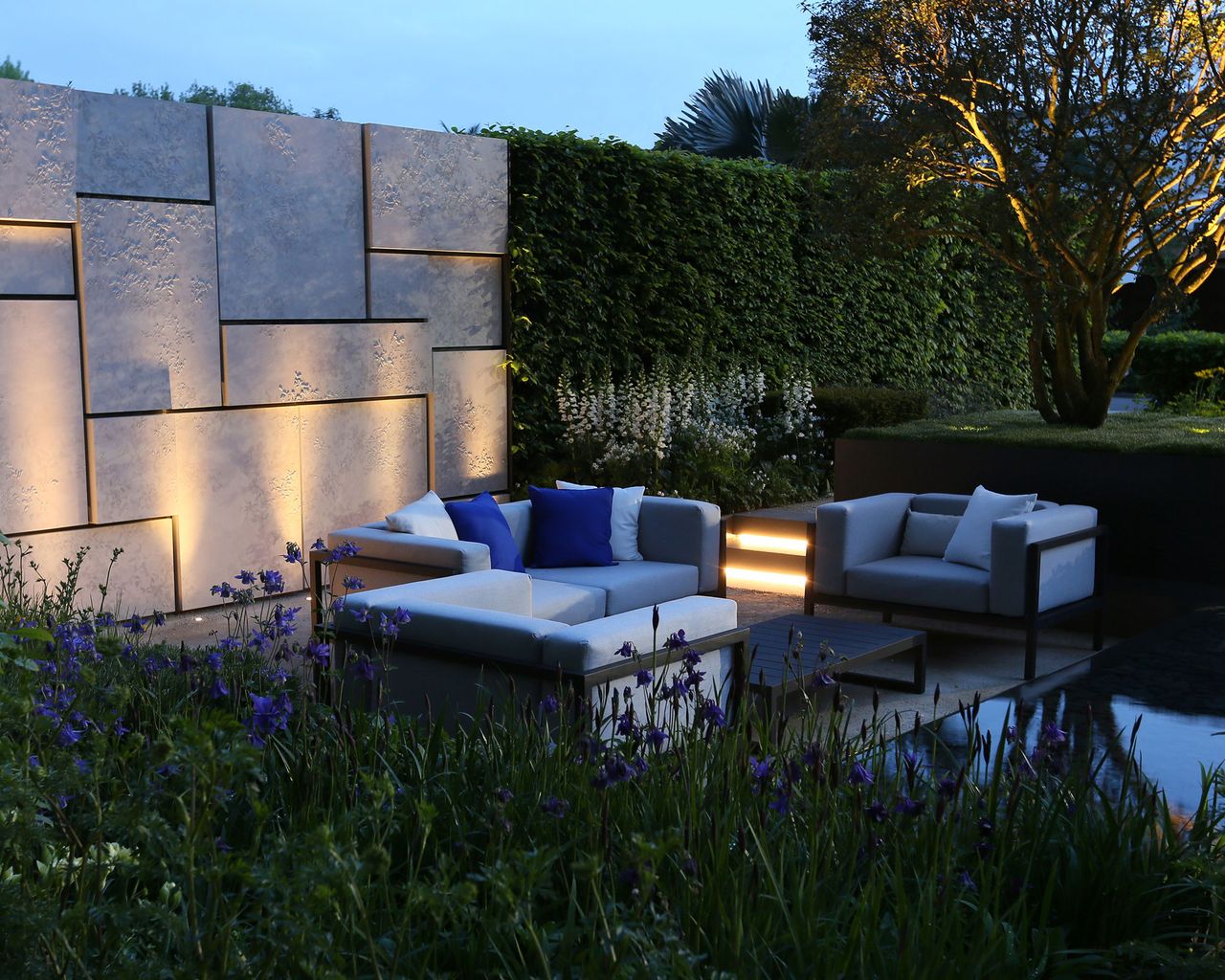 When it comes to lighting your garden, remember that a little light goes a long way at night. Decide on the areas you want to illuminate, and what your key features are and focus on these. For the best results choose a range of styles and applications, from small scale spotlights to large washes of color against a wall.
'In this garden design by Marcus Barnett Studio lighting is used to bring a seating area to life at night,' explains lighting designer Sally Storey. 'The general light is achieved by the dramatic uplight to the staggered textured stone wall using narrow uplights. The steps down to the seating area are lit using a continuous LED linear strip for a warm glow and to create a floating effect to each step.'
Either side of the seating area, dramatic multi-stem trees provide the focus and each of these are lit with spiked lights to ensure they are lit all the way around and provide a magical backdrop. Multi-stem trees are like sculpture so lighting these key features looks super-dramatic.
8. Choose ambient lighting for a water feature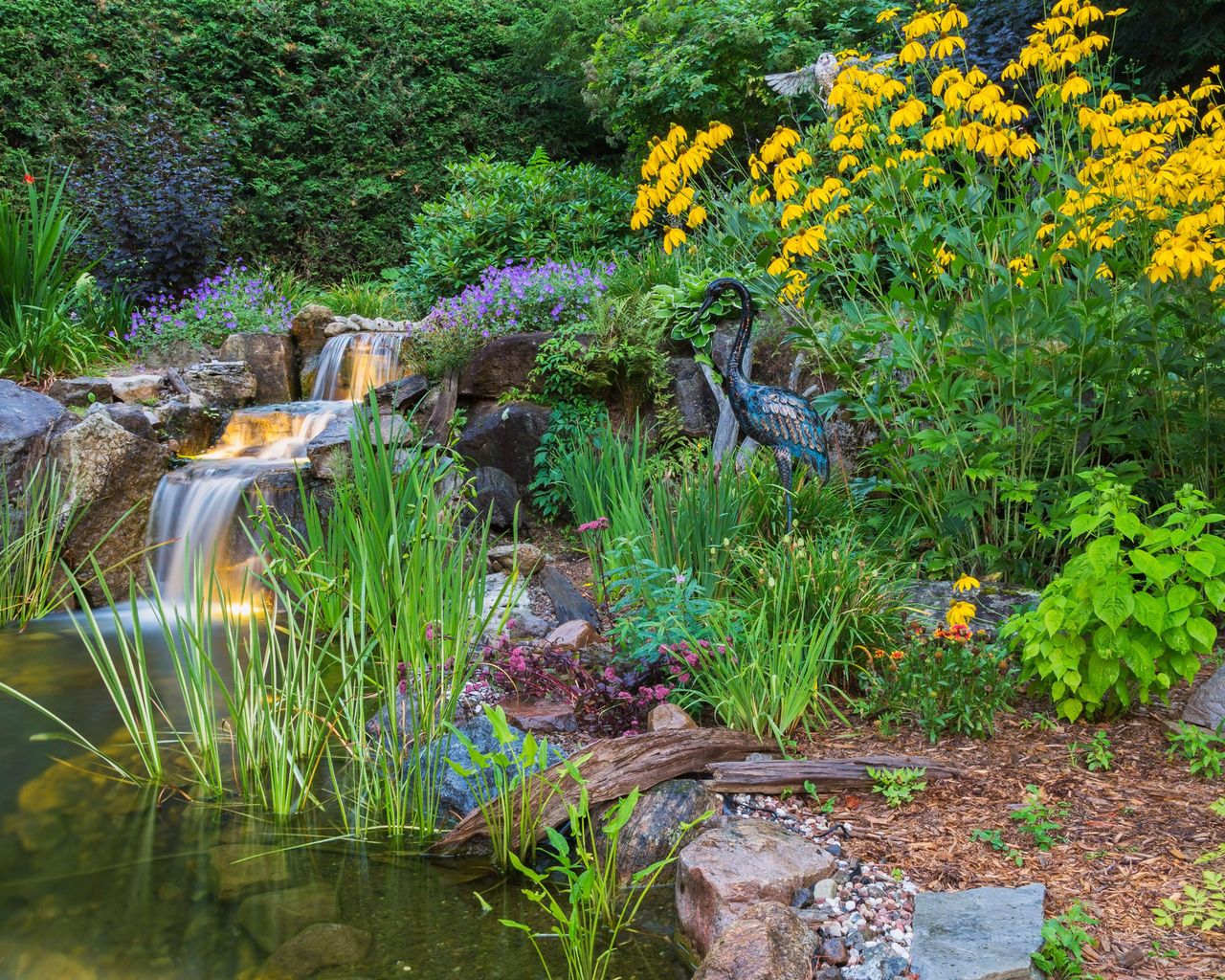 The careful placement of underwater lights can be used to illuminate a pool or fountain with stunning results. In this design a single source of discreet illumination bathes each stage of a tumbling fountain in soft light and produces a set of pretty reflections that turns it into a real focal point.
Fitting a lighting design like this one requires the professional help of a qualified electrician. If you'd like an easier option choose an off-the-shelf tiered freestanding cascade feature with built-in pump and integral LED lights. They can be positioned near the house and are the perfect finishing touch for a deck.
9. Focus on creating zones with lighting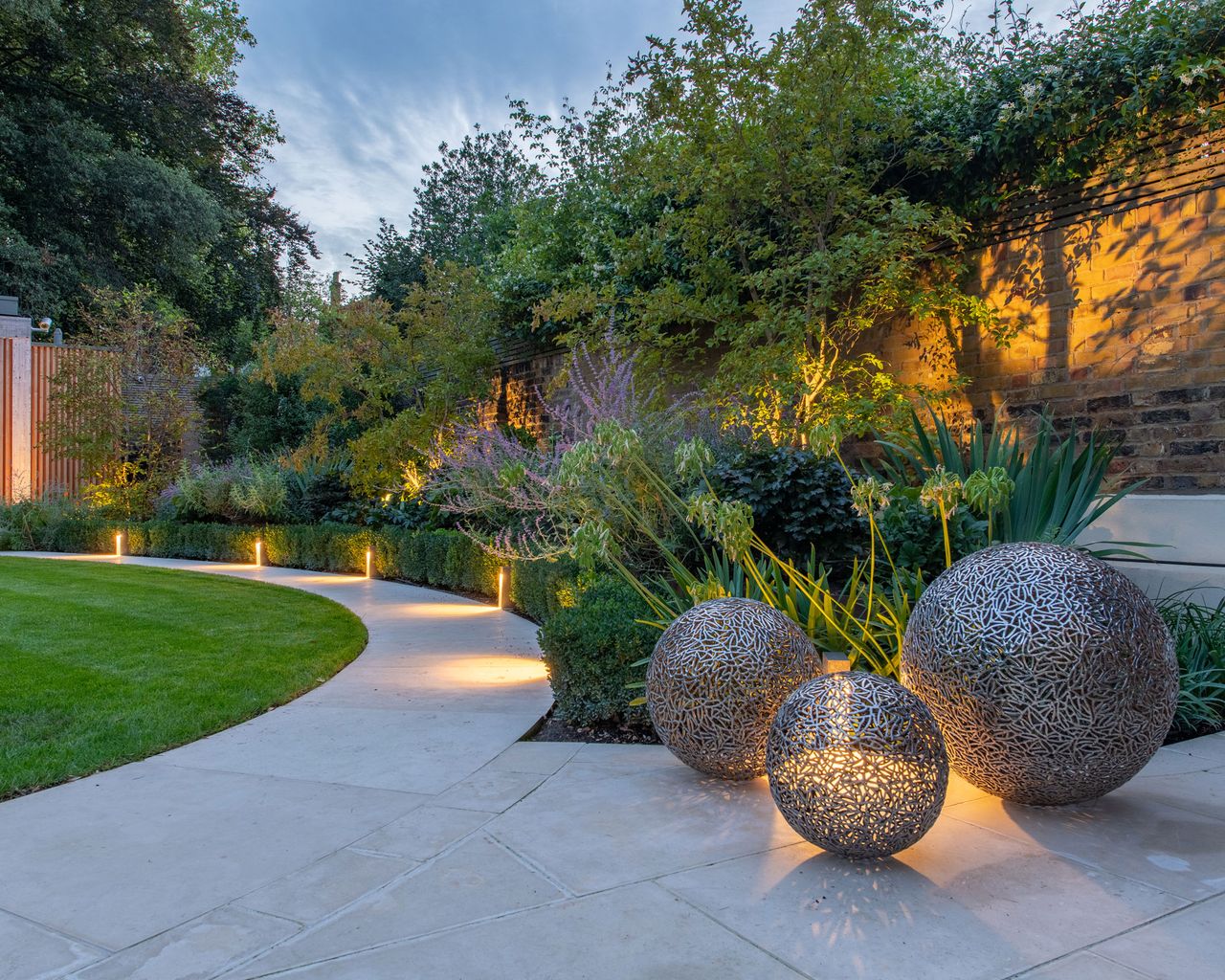 Bringing a lighting scheme into your garden can really create a special ambience in the evening hours. If you have different zones in your garden, why not opt for a different lighting solution for each? 
'This will help to define the different areas of the garden, almost like beads on a necklace,' says John Wyer, CEO of Bowles & Wyer. 'There are lots of different ways to use garden lighting. You could use it to show off a key feature of your space or a winding pathway can be given a new lease of life with subtle spotlights.'
When it comes to lighting landscape ideas the best plants to highlight are those with architectural forms. 'Yucca, Phormium, Dicksonia, Phyllostachys and Trachycarpus will all look dramatic when illuminated at  night,' says garden designer Kate Gould. 
'Uplights – either recessed into the ground or set on moveable spikes – are ideal for highlighting plants. Their light diffuses up through lower-growing foliage and softly away into the night, which means that the light does not cast great halos into the dark sky.'
10. Soften the mood with lighting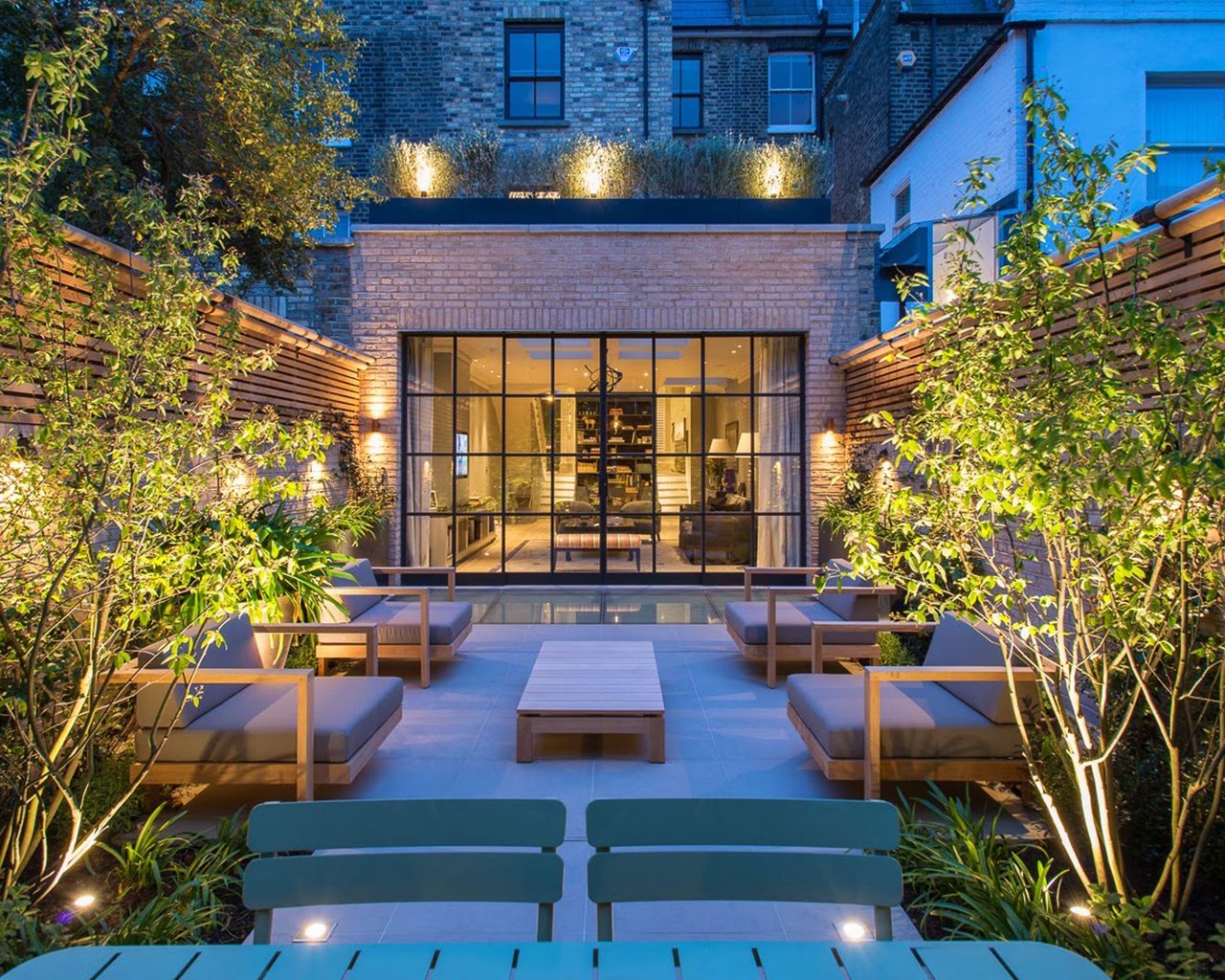 When choosing lighting landscape ideas for a relaxing atmosphere co-ordinate them with the textures and colors they're illuminating for a harmonious look. When the lights are switched on at night think about how they will work and where shadows will be cast. Make sure that dark spaces won't dominate.
'The intention with this garden project by landscape designer James Holderness was to create an intimate courtyard effect,' says Piero de Marchis, director of Detail Lighting. 'The horizontal slats give the space a sheltered feel, and help the lighting envelope the entire outdoor area. The design uses recessed floor lights, uplighters in the plant borders and discreet wall-mounted LED fixtures for an up/down lighting effect on the walls either side of the Crittal doors.' 
The various lighting elements combine beautifully to create the perfect space for night-time entertaining.
How do you light a landscape?
When it comes to lighting landscape ideas the rule is that a little can go a long way. This is because your eyes need less light outdoors to see light, shadow and pattern. 
'A walk around your garden at night time will help you plan where you need lighting, such as pathways and entry ways, and where you could make clever use of lighting to highlight your best features,' says landscaping expert Deborah Cobb of MKM Building Supplies. 'They deserve to be noticed so why not accent your favourite shrubs with fairy lights? Or you could consider placing small lanterns around and through your flower and vegetable beds or use lights under trees with large branches, creating enchanting and dramatic silhouettes when the night draws in.'
You could also use plinth or strip LED lighting to illuminate decking, steps and patio areas, or use spike lights to light up pathways and stepping stones. 'The options are endless,' says Deborah. 'Another clever way to highlight feature areas, drawing attention to the most impressive parts of your garden, is to use outdoor lighting to illuminate wooden garden features such as pergolas, arbors and arches.' 
Can you have too much landscape lighting?
As long as you design your lighting landscape ideas with a light hand the result should be fine. Always err on the side of caution – you can always add more lights but taking them away can be more problematic.
'Adding drama where you have architectural plants or forms and contrasting these with spaces where there are no lights enhances the focal point,' says landscape designer Kate Gould. 'Practical matters need to be taken into consideration too. Generally I would start with areas that need to be lit for safety, then add detail above that, usually on different circuits for flexibility of use.'