Ok, so the Lego Flower Bouquet set is a strange one. And for a few reasons. As someone who really enjoys modular builds, I'll admit I wasn't massively excited by this set. It looked fiddly. Really fiddly. And so I approached it with a sense of just wanting to get it built quickly so I could revel in the set's main purpose – to be displayed. 
But it wasn't long after opening the box that I realised fulfilling that purpose might be a bit of an issue. As someone who regularly builds some of the best Lego sets, I'm used to creating an exact replica of the image featured on the box, and was fully expecting the pieces inside to complete that image. Because what's on the box is in the box, right? 
Wrong. A vase or any way to display the flowers is not included. So not only was I not really looking forward to the actual build itself, I was also disappointed to find I had no way to display them. Not a great start. 
Maybe I was expecting too much. After all, the set is reasonably well priced for just over 750 Lego pieces. But omitting a way to showcase the final build here made me feel, probably for the first time ever, that Lego had dropped the ball somewhat. And for a while, it meant I had the flowers stored away in a drawer to avoid them being damaged while I found a more permanent storage solution. 
Features
Swipe to scroll horizontally
| | |
| --- | --- |
| Price | $59.99 / £54.99 |
| Ages | 18+ |
| Pieces | 756 |
| Minifigures | None |
| Height | 14″ (36cm) |
| Item Number | 10280 |
How easy is it to build?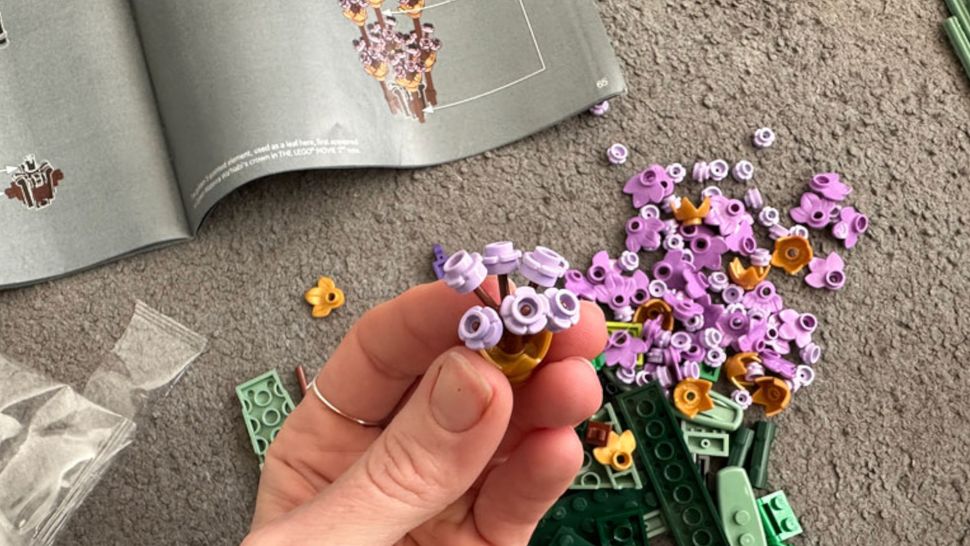 Takes around 2hrs
Lots of small fiddly bits
Fragile
The Lego Flower Bouquet has just over 750 pieces in total, spread across three main bags. The instruction booklet is black/dark grey, and the bright colours of the bricks pop from the pages, making it very easy to identify each piece (bar some of the darker green stems). 
There is nothing outwardly difficult about this build. There's no moving parts, no in-built functionality to piece together. The main problem here is the sheer intricacy of the design. Many of the flowers come together by placing lots and lots of very small bricks together, which I'm sure even the most petite of hands would struggle with. 
The fragility of these flowers almost mimics their real-world counterparts too, and you have to be incredibly careful as each build progresses not to break anything already assembled. 
Design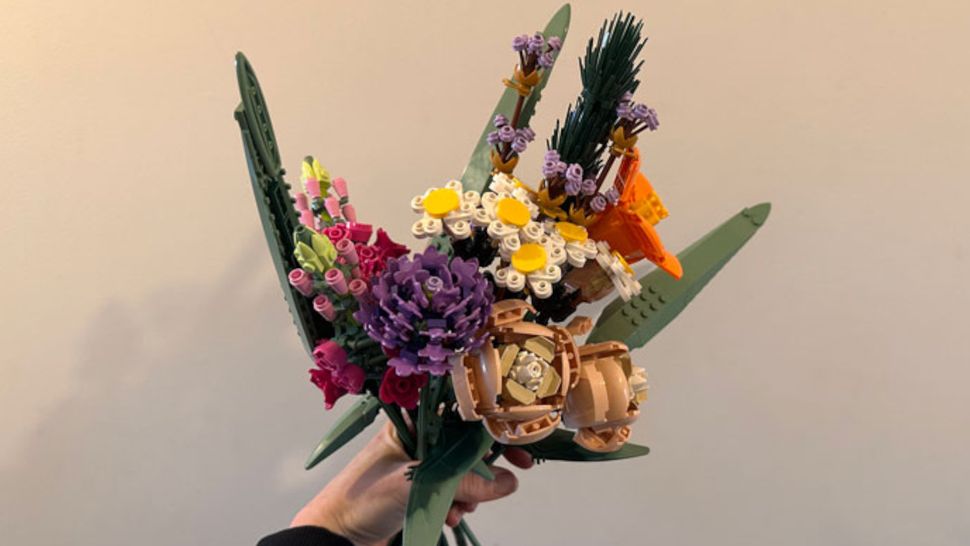 Looks amazing…
… but doesn't include a pot
A reminder of how clever Lego can be
There's no doubt about it – the new Lego Botanical collection is a work of art. But, as previously mentioned, I wasn't overly excited to build this particular model. And that's mostly because the image on the box gave me the impression it would be a tad dull and/or fiddly. And while the latter is somewhat true, I'm pleased to say the former is not. Well, mostly. 
There are a couple of green stems that are hard to get excited by, but they're so quick to put together, I didn't really have time to be bothered. (Though I think knowing they would add to overall design helped.) 
The rest are flower designs inspired by real-world roses, snapdragons, poppies, asters, daisies, and grasses. I was genuinely surprised by how much joy I got from seeing them take shape. The build might not be the most fun, but I took away something altogether different from this set… A renewed passion for Lego, which was completely unexpected. 
Every Lego fan has their preferences when it comes to builds, and this is was very far from my first choice. But as it happens, this is now one of my favourite sets because of its ability to instantly remind me why I fell in love with Lego so many years ago. The fact that, and let's call them what they are, little bits of plastic (which on their own are pretty ugly-looking) can be brought together to recreate real-world objects so beautifully, with such intricate detail, makes me excited to remember that there is almost nothing you can't build with it.
Should you buy the Lego Flower Bouquet?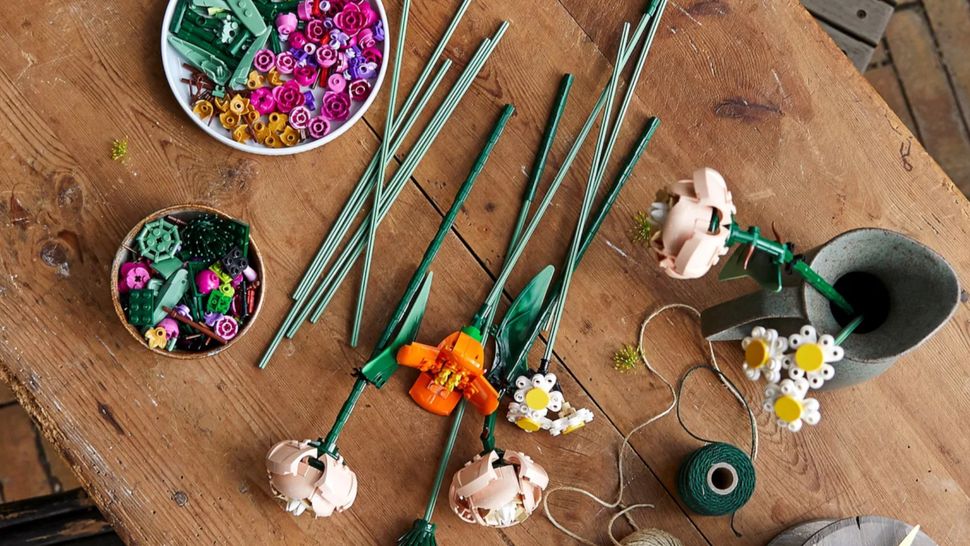 For probably the first time ever, I find this quite a difficult question to answer – simply because my first impressions of this set were both met but also wildly different at the same time. This kit gave me a renewed sense of joy to build, completely unlike any other set I've experienced, and I'd recommend it wholeheartedly if I thought it'd do the same for others. 
But in a more Lego building traditional sense, there's no denying the built flowers are just beautiful, wonderfully bright and detailed, so much so they are a regular conversation-starter in my home. They serve as a really lovely gift for someone special, particularly if they are like me, who real world foliage regularly falls victim to. Just be sure to check they have a spare vase to hand first. 
Buy it if…
Don't buy it if…
How we tested the Lego Flower Bouquet
I built the Lego Flower Bouquet set over the course of around two hours, being sure to compare it to other kits of this size, price, and complexity.
For more information on our process, take a look at how we test products.
---
Want some recommendations? Don't miss these essential Lego Star Wars sets, not to mention the top Lego Super Mario sets. Meanwhile, you can save money via our dedicated page of Lego deals.