If your outdoor space is currently void of life save for a few weeds sticking up here and there, you're probably in need of some fresh backyard ideas to revive this area. You want to be tempted to sit outside all the time, not turned off.
Whether you prefer to fire up the BBQ or simply take lizard form and bask in the sun for hours (don't forget the SPF), your garden or outdoor area should look the part. Get your green thumb involved and plant some new leafy friends or get your patio furniture cleaned up and officially laid out. You've got options, even if you're not #blessed with a gigantic lawn, any tiny balcony or patio can still get a stylish refresh.
From easy-to-maintain backyard ideas to bigger landscaping projects, we've got you covered with ideas that'll turn any sad outdoor space into one that's thriving. 
1. Start small with container planting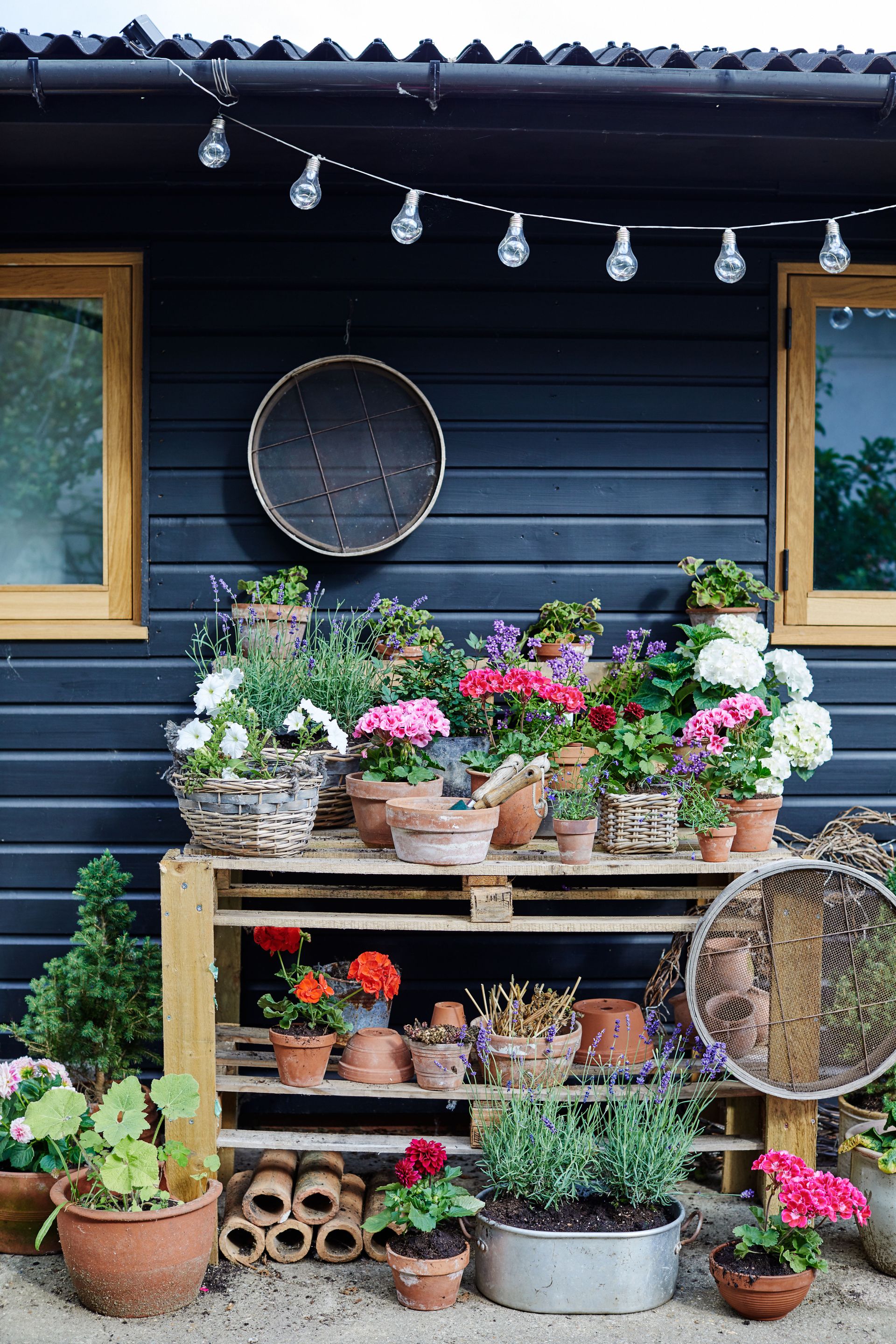 Raised beds are cool and all but a lot of work. And as anyone with a small backyard knows, who has the space? If you still want to grow herbs, edible plants, and flowers, container gardening is your new bestie. 
It works for absolutely every type of backyard or garden space under the sun and is especially ideal for renters who want to take their plants with them. Plus, you have the chance to get creative with both the plant and the pot to make a really beautiful display. Mix it up with herbs and scented flowers. Hydrangeas look great in a container, while you can team upright florals alongside trailing plants like creeping rosemary or ivy.
2. Landscape, subtly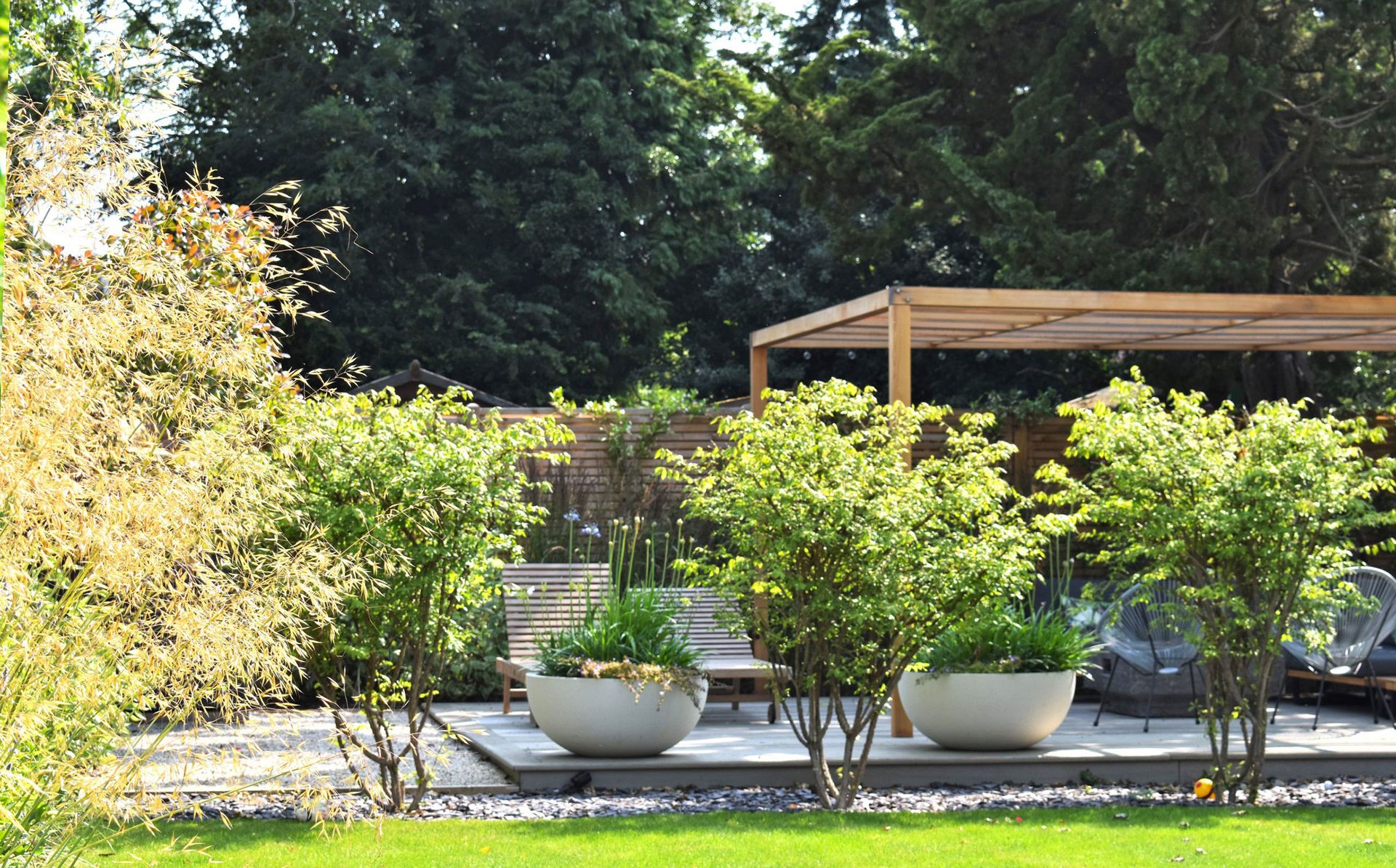 For a curated backyard that's styled yet subtle, choose low trees, planted simply in rows of three for definition. It's enough to elevate a space and add privacy to a yard without creating a space that's too high maintenance.
3. Plant vertically on a patio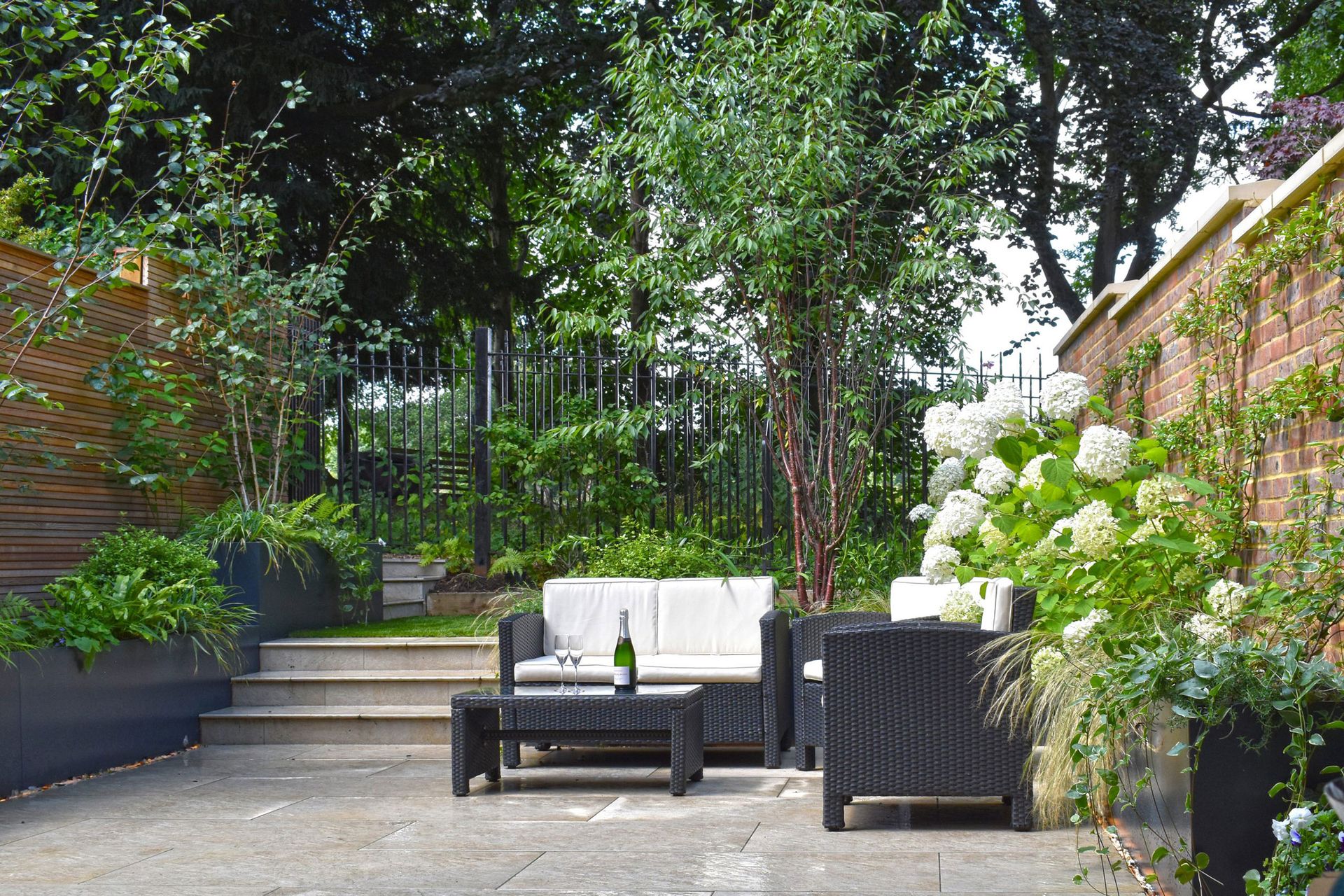 Even concrete-filled patios have the chance to feel a little greener. Make your outdoor furniture pop with a matching garden plant scheme that features plants in vertical containers. 
4. Repeat planting and colors for impact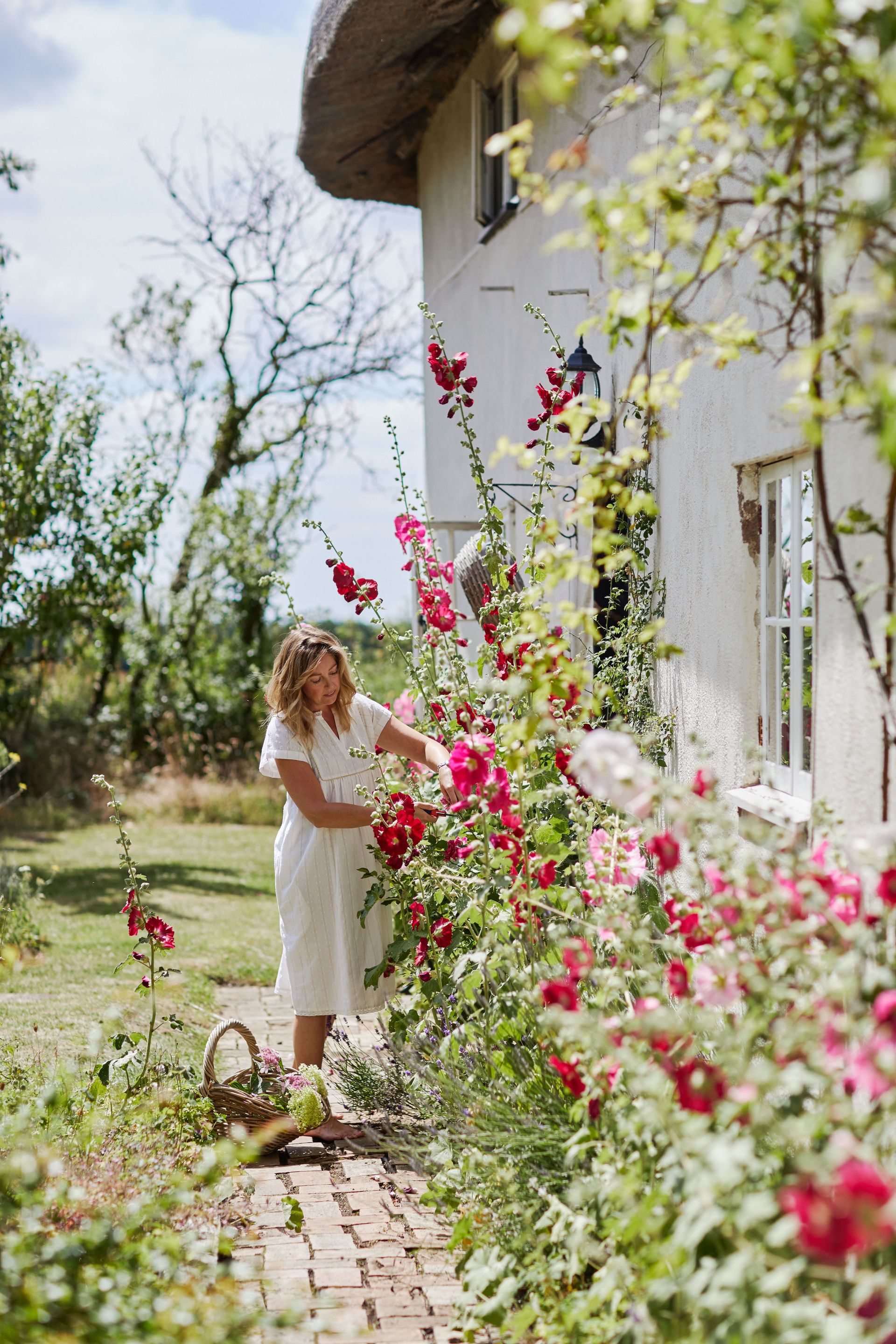 For an eye-popping display, repeat planting of wildflowers is the way to go. Choose tall-growing perennials that are colorful (and hardy). Foxgloves are an all-time fave, plus the bees love them, too. Rose mallow, hollyhocks, valerian, and globe thistles are other nice choices for bold summer color and fragrance. 
5. Frame an outdoor dining area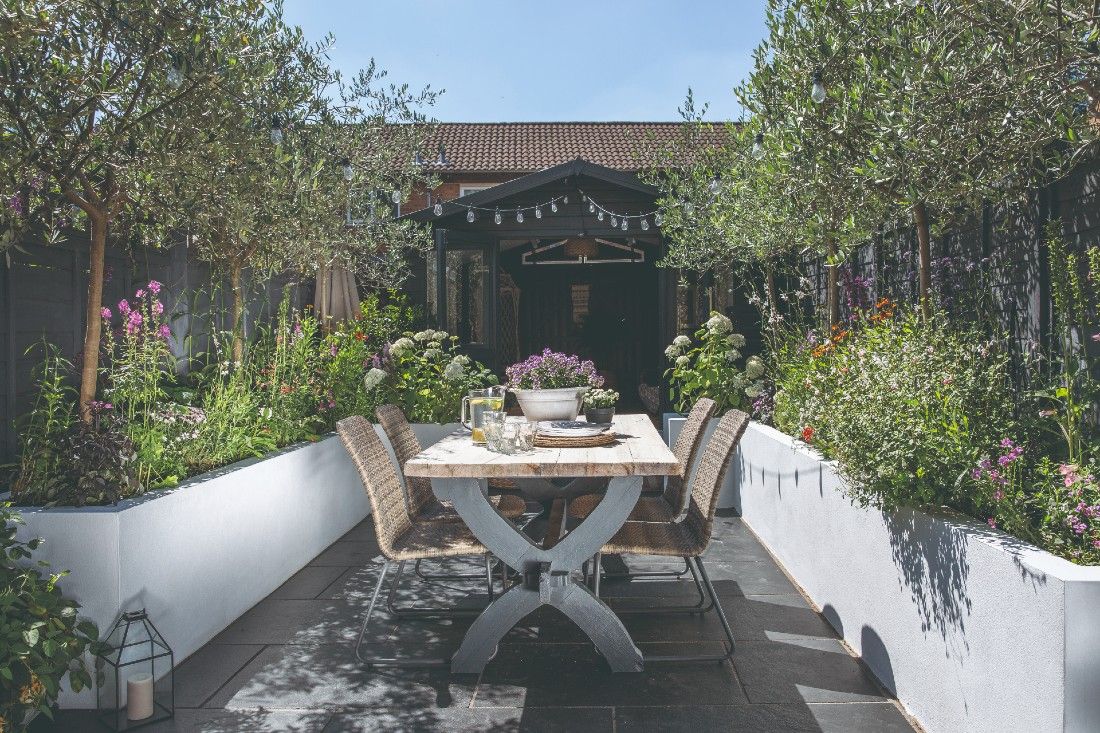 Gorgeous borders make for a beautiful display in all areas of your backyard, so consider making raised borders part of your garden design if you have the space. Plant a variety of greenery and bright flowers, and build it around an outdoor dining spot for a chic and decorative finish that will make your guests feel like the center of attention.
6. Introduce one major pop of color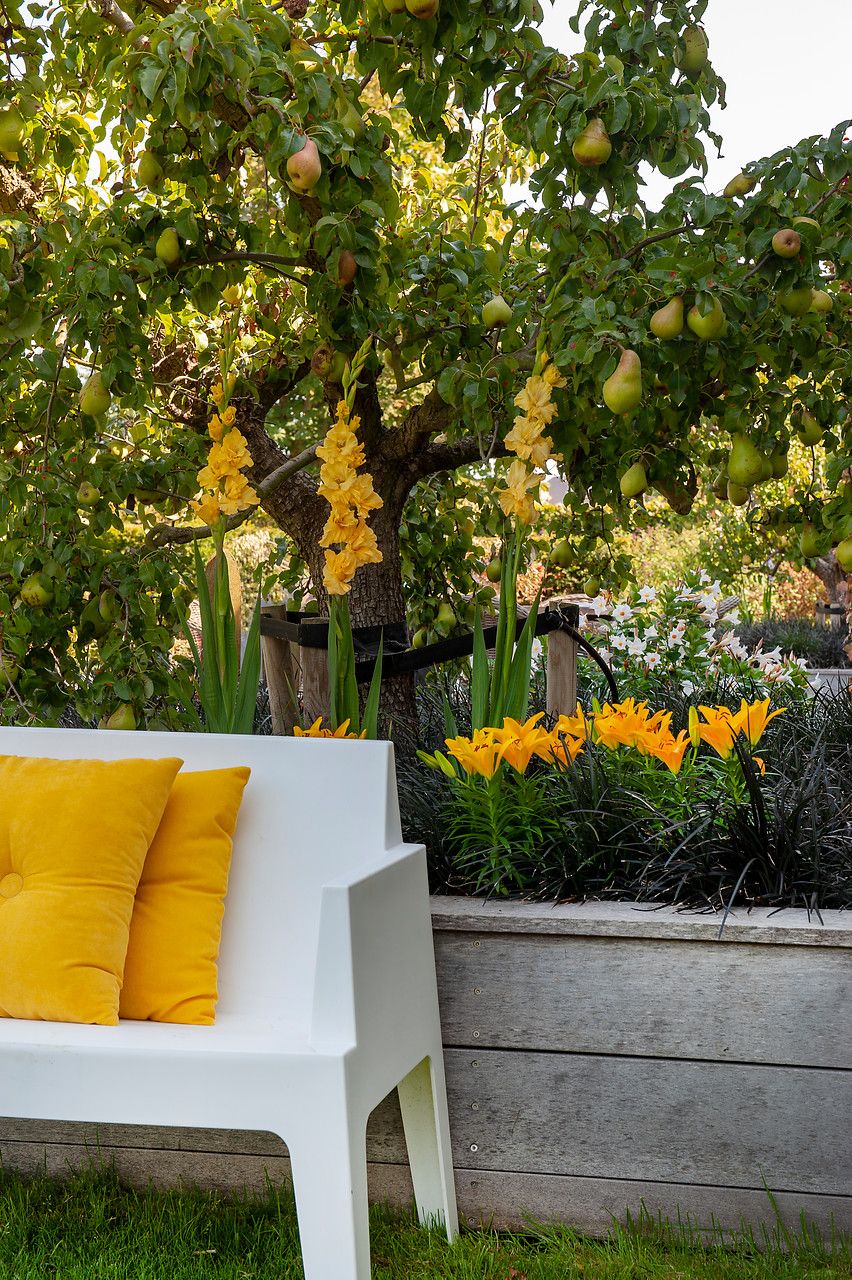 Choosing just one pop of color is enough to make a backyard look chic and even a little expensive, sans the effort of a complete redo. Grab furniture or accent decor that matches the colors of your favorite potted flowers or use patterned pillows as your burst of florals if you don't have a green thumb.
7. Create an organic layout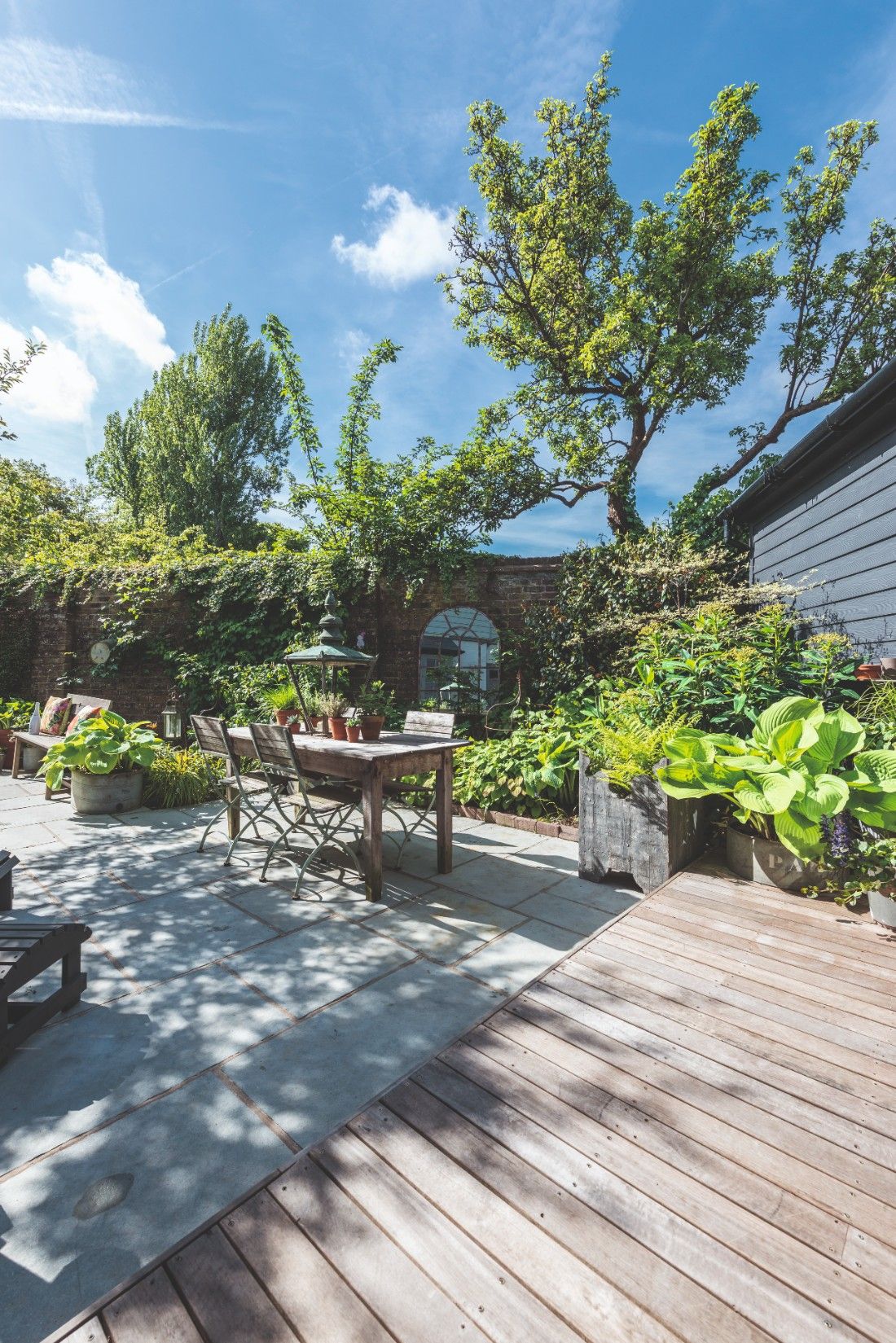 It's all about balance when you're choosing your favorite backyard ideas. You want the space to be just as beautiful as it is functional. This yard is big, but puts all the space to good use, weaving in good garden landscaping techniques. 
By continuing the deck material through to the dining and seating areas, all the little outdoor pockets feel cohesive.
8. Add a boho touch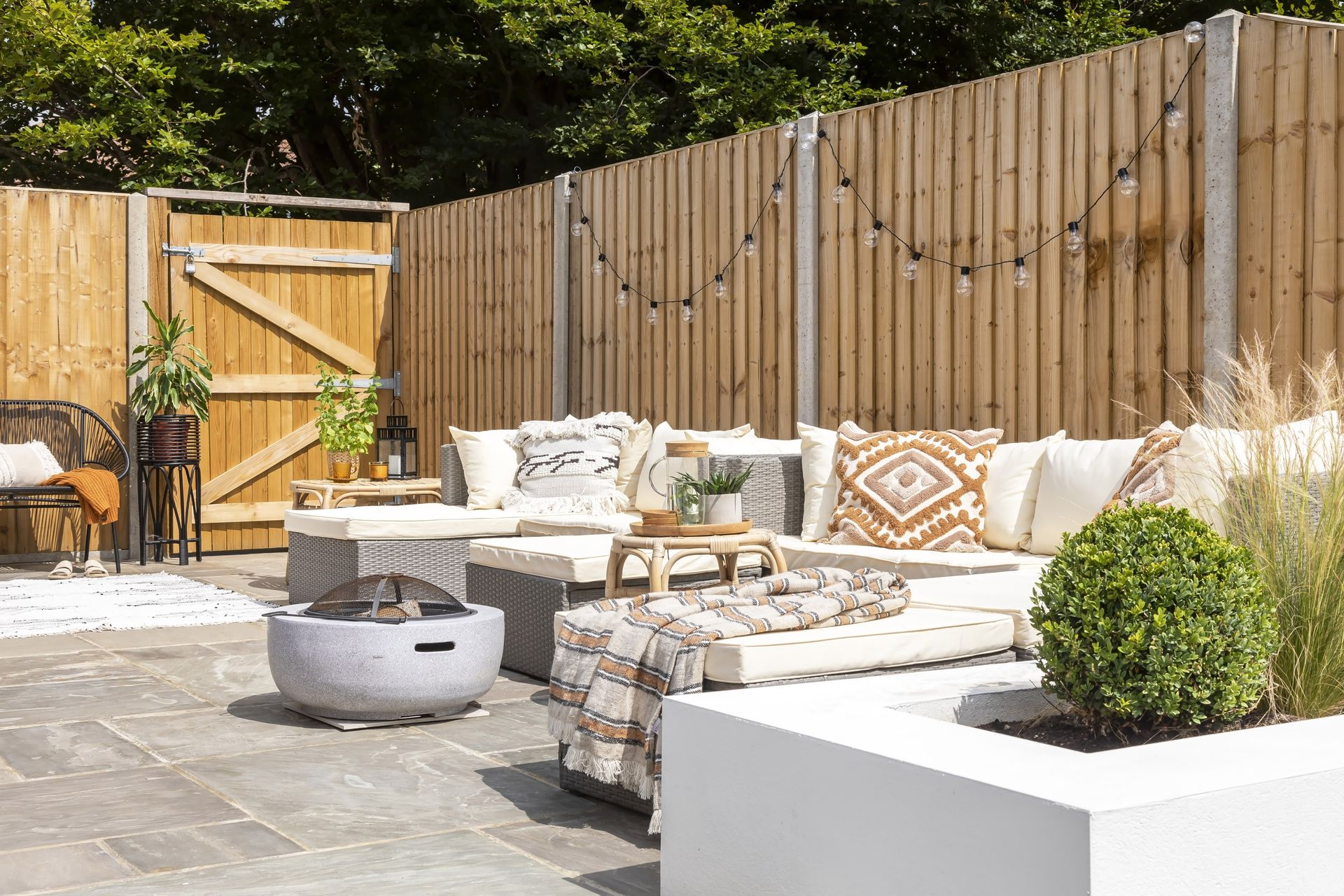 Missed out on Coachella? No problem. Make your backyard area or patio feel like a festival with boho touches. Investing in a cozy modular outdoor sofa, fairy lights, patterned soft furnishings, and even a fire pit and you'll be sure to ignite that same spirit in your own backyard.
9. Plant for your climate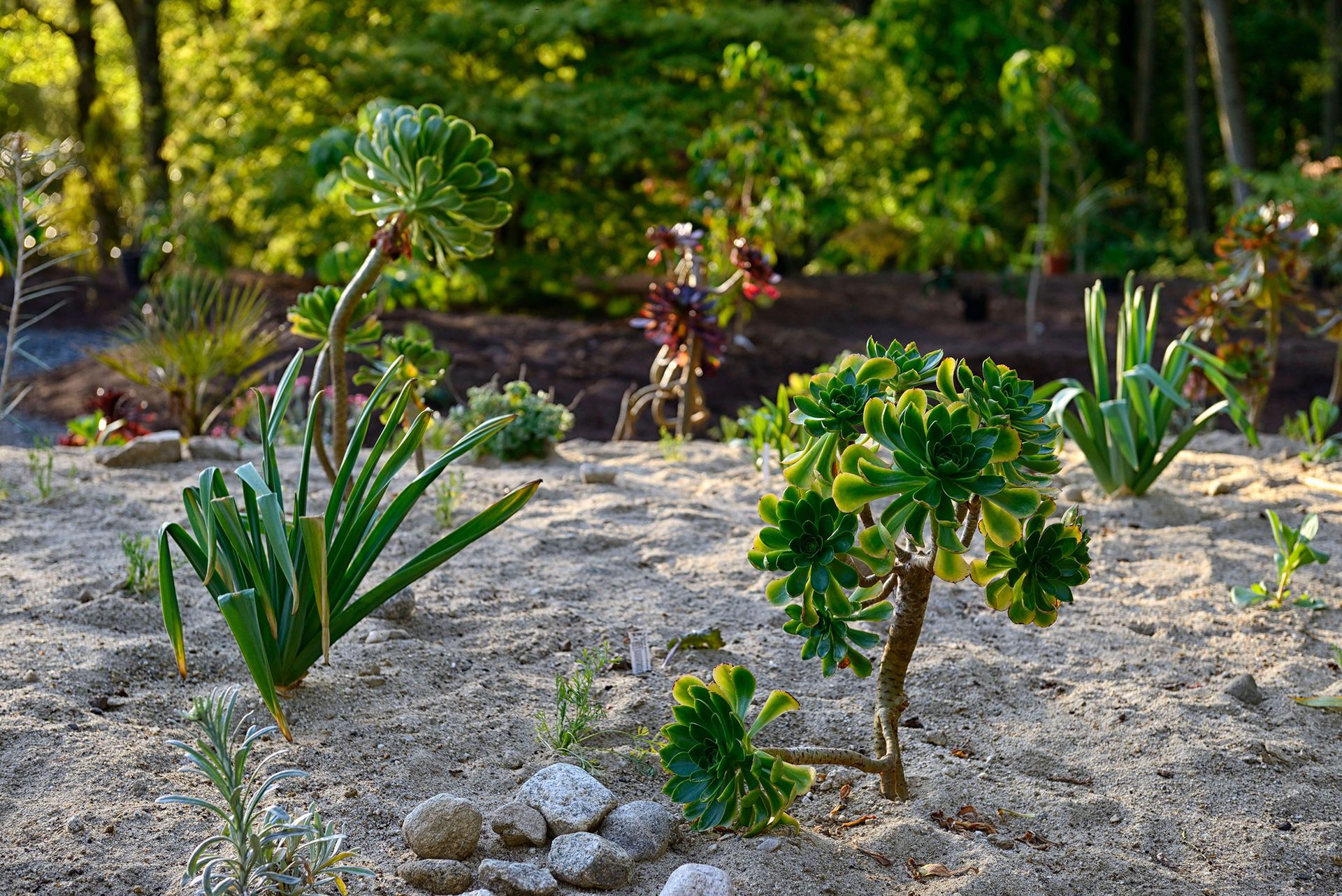 If you live in California, you're going to be working with a more Mediterranean-like climate, in comparison to if your backyard is in Florida and a little more tropical. It's no secret that the climate you live in will ultimately define your garden ideas.
So if you live in a particularly dry area, embrace it with xeriscaping, which is actually a very beautiful and resourceful way to garden. Little or no irrigation is required so it's ideal for a low-maintenance garden or backyard.
10. Add trees that become focal points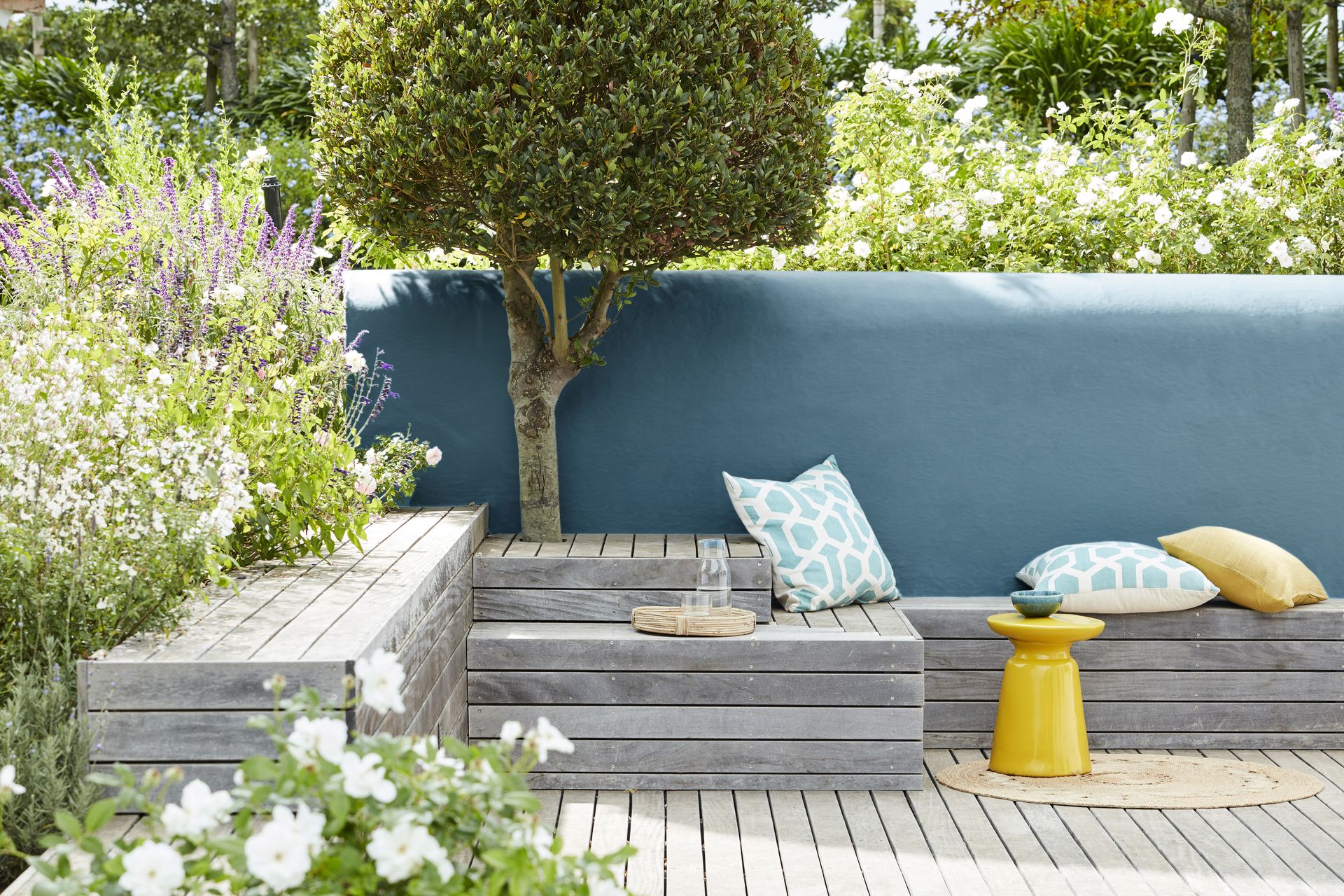 Outdoor spaces and trees go hand in hand, and if you're lacking these lovely plants in your backyard, we recommend buying some. If you have a tiny balcony, patio, or deck, try finding trees like olive, apple, or cherry, which do totally fine in pots.
If you're lucky enough to have a space with mature trees, these can be a great starting point for your garden design, adding natural height and structure to your backyard. And other than being an attractive feature, trees also create wonderful habitats for birds and wildlife.
11. Choose feathery grasses for modernity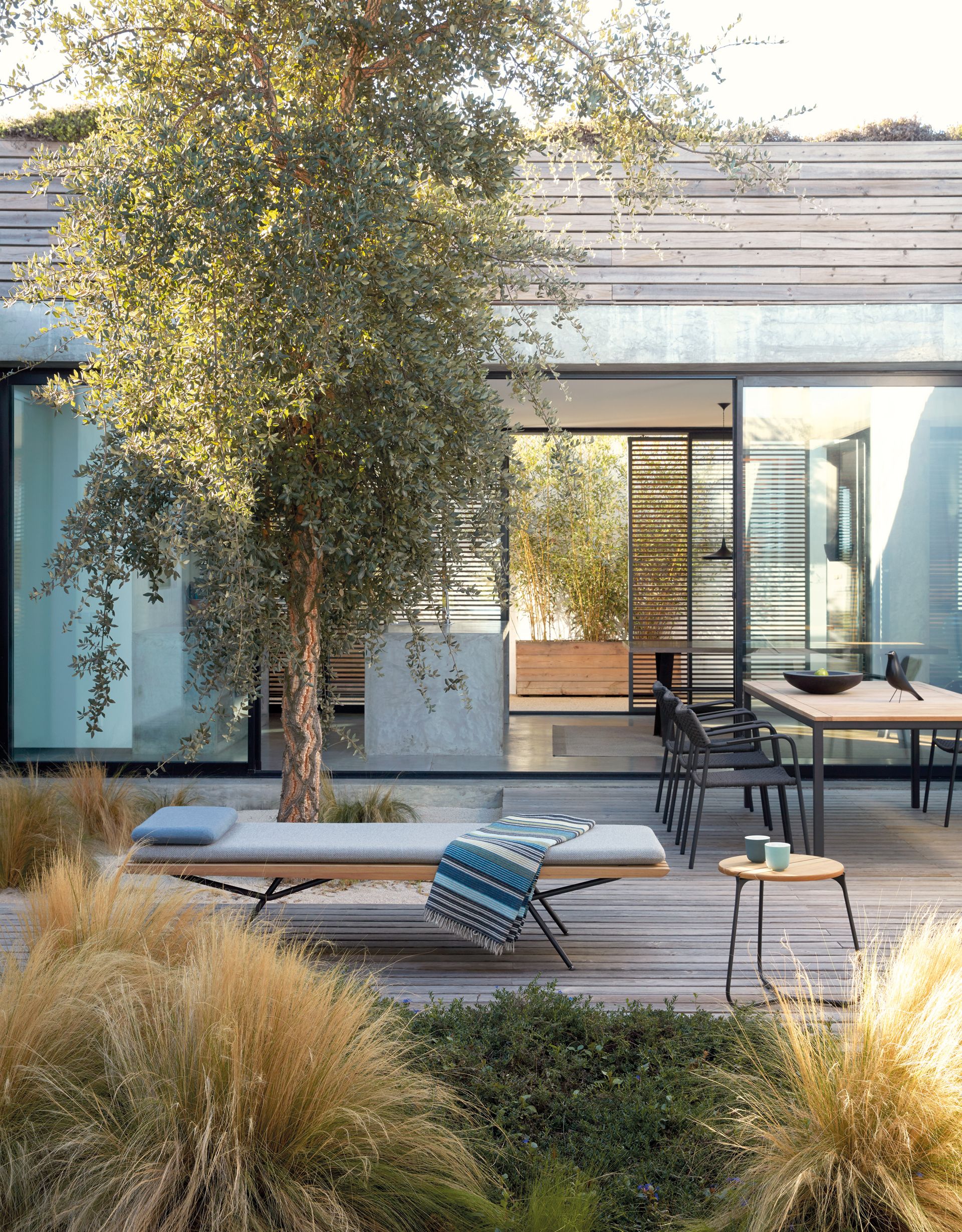 (opens in new tab)
If you like a more luxurious backyard look, then try including ornamental grasses as part of a minimalist planting approach is the best way to achieve that. Include a daybed for extra points and keep all your other outdoor furniture streamlined and modern.
12. Start a kitchen garden in raised beds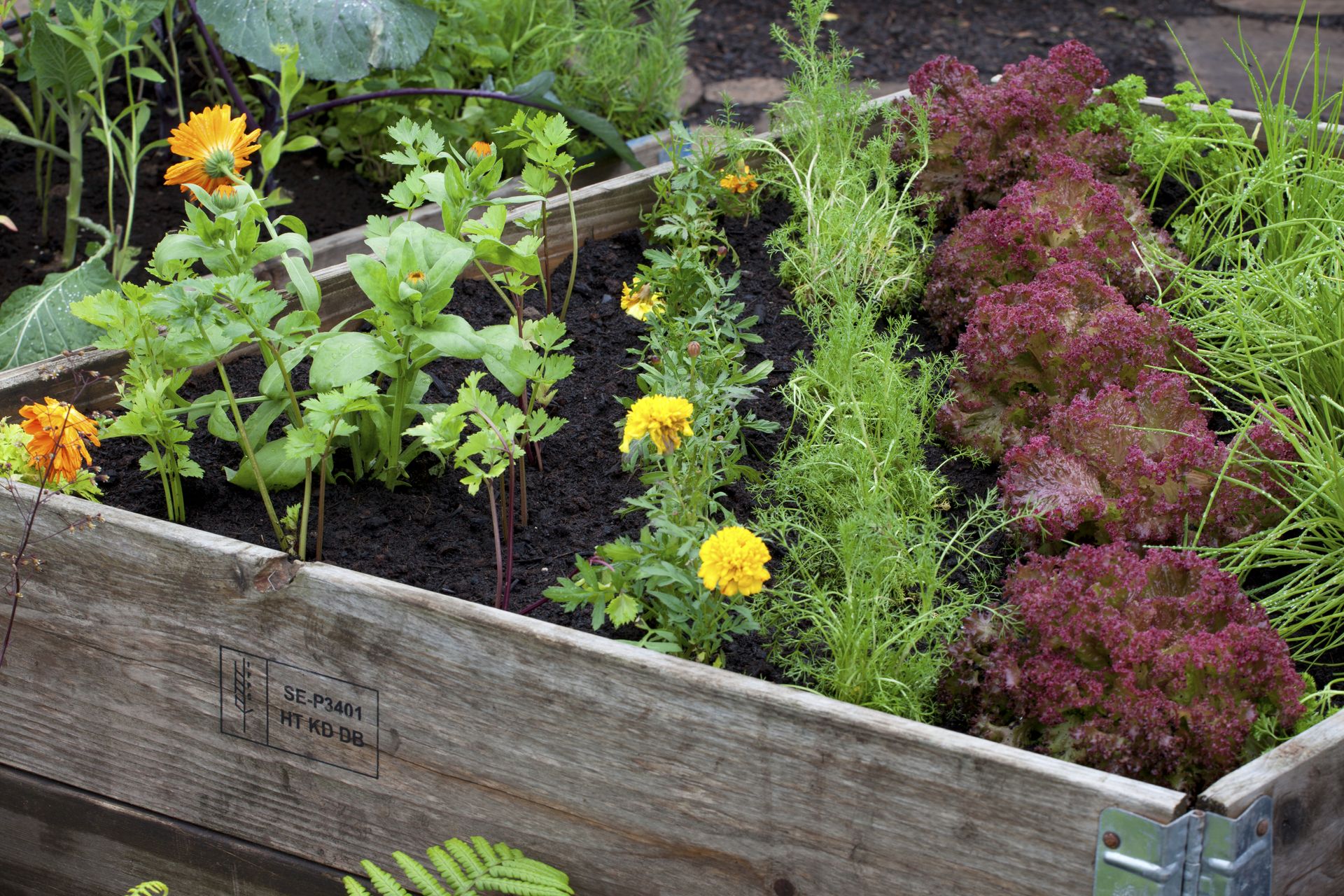 There's a whole host of fruits and vegetables that you can grow in your garden and building raised beds yourself is super satisfying. The best part is, you can do it no matter what size backyard or outdoor area you have. You'll also feel super proud when you can start eating from your own garden. Many plants even flower, like zucchinis, so you're guaranteed a gorgeous and tasty display. 
13. Create an organic garden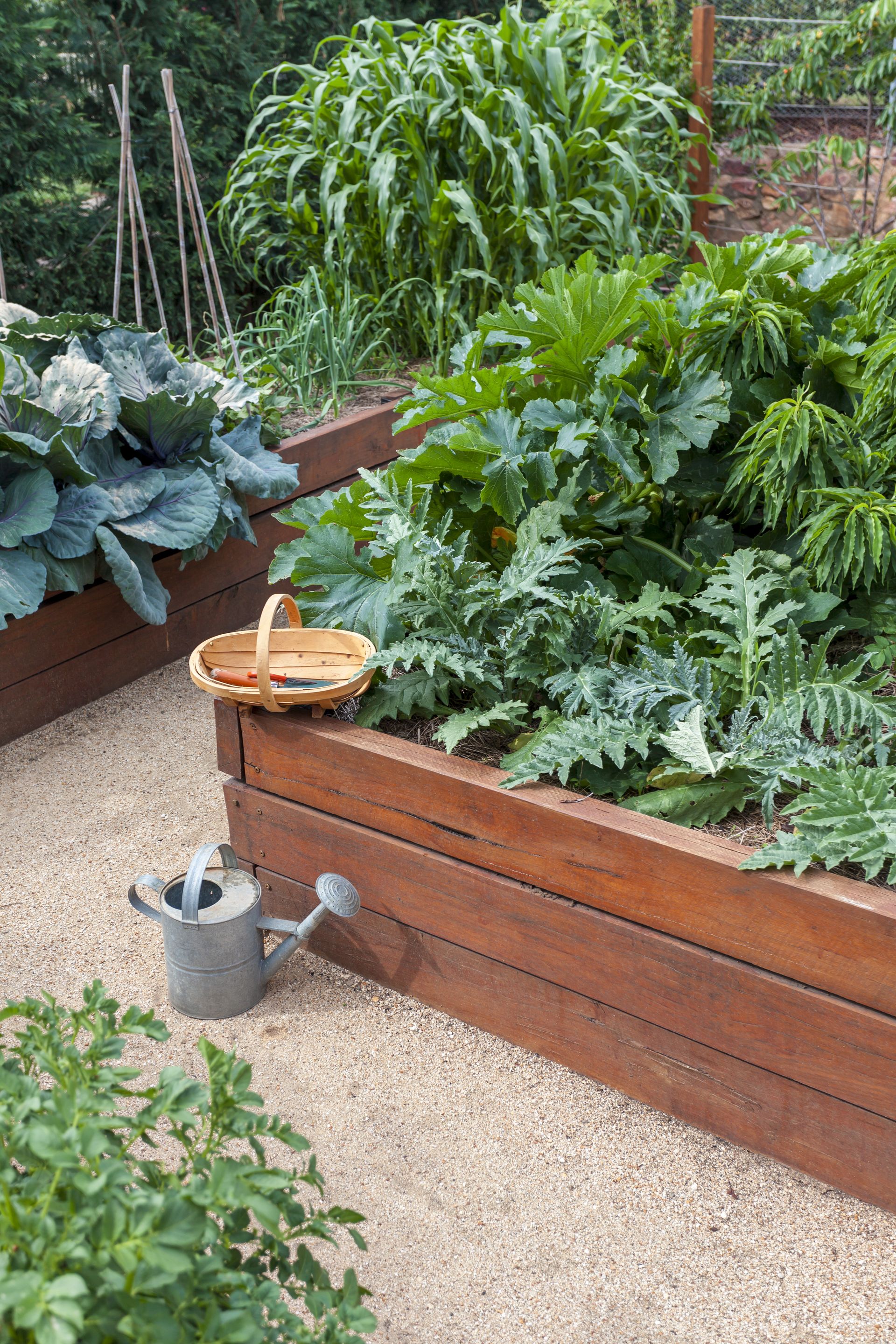 Organic gardening is the way forward for us all. And, it's a great garden idea that will not only benefit your health but Mother Nature's, too. Without using pesticides and by being resourceful in your garden, you will enjoy a beautiful display of plants and most likely some great wildlife, too.
14. Choose climbing plants to create privacy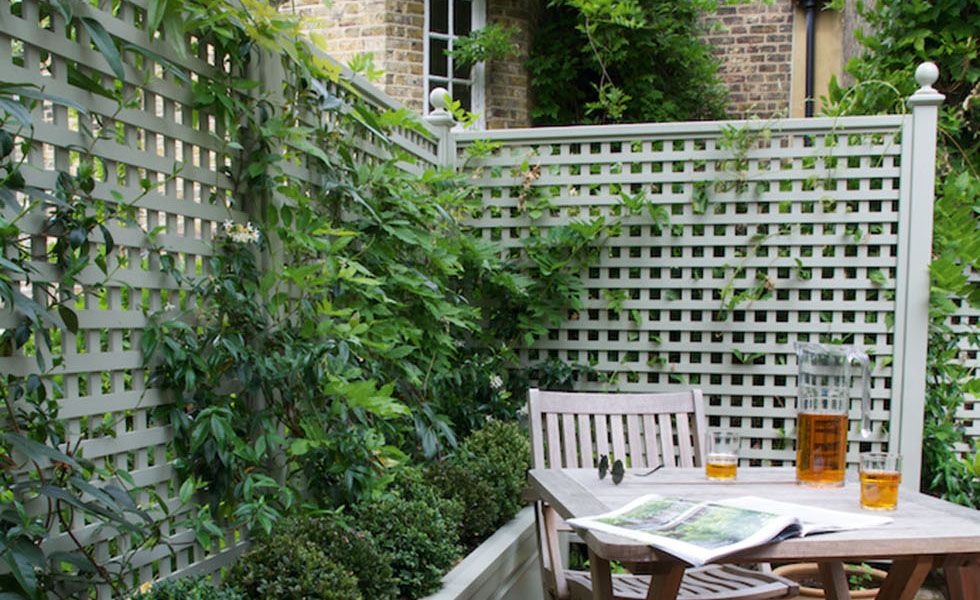 Climbing plants will bring glory to every backyard. Climbers are enormously inviting to wildlife, and offer beautiful views and backdrops in the process. Trailing and climbing plants also help block any ugly walls or features in your backyard. Most are pretty low-maintenance too (win-win!).
15. Plant succulents for low-maintenance but high-impact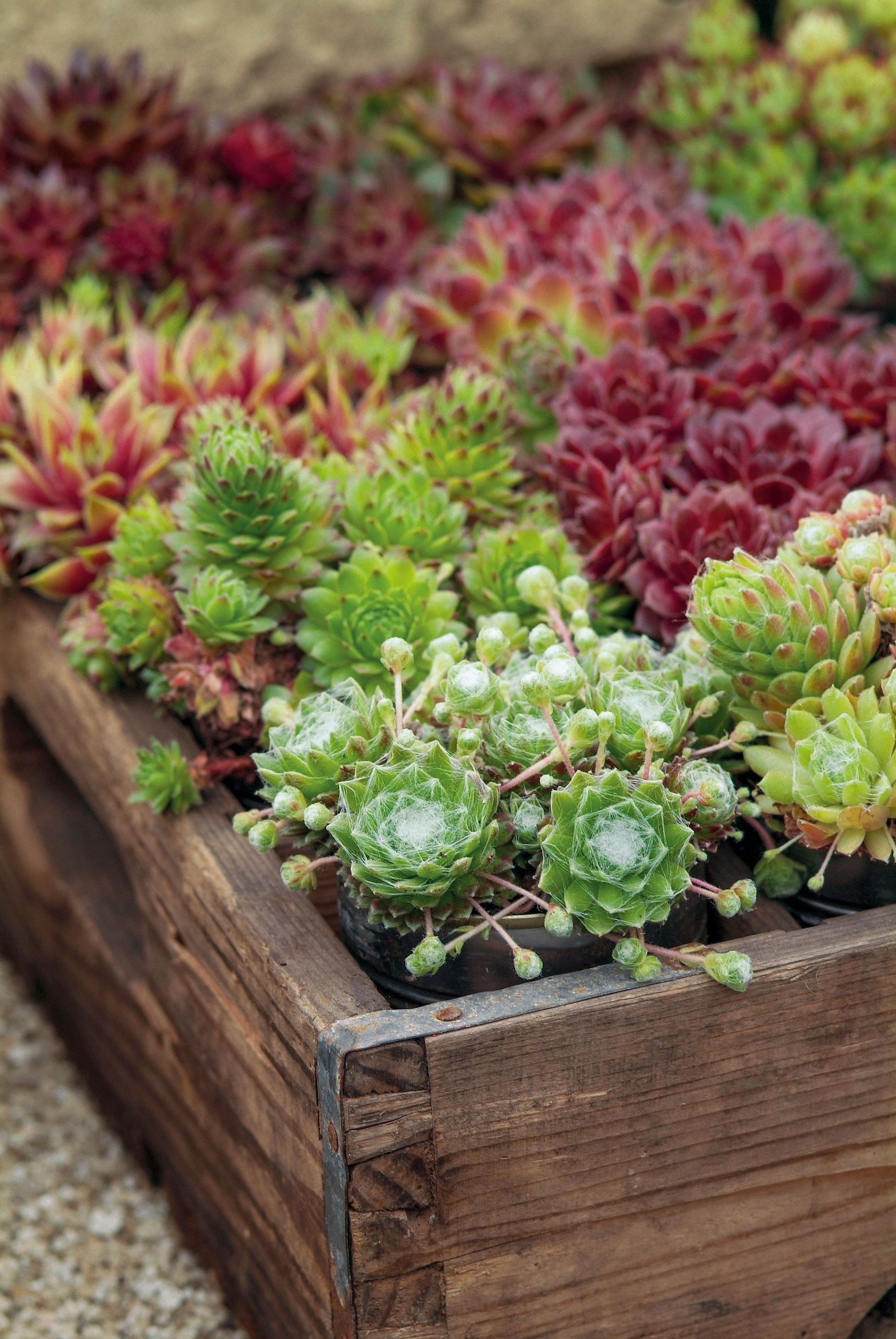 We are big fans of plants that you can't kill, which is why succulents are a no-brainer for every type of backyard or balcony space. Whichever type you choose, their cool colors, shapes, and textures will bring a modern feel to your outdoor space. Just pop them in coarse, gritty soil in a pot with drainage, set them up in a sunny spot, and let nature do the rest. 
16. Frame a living wall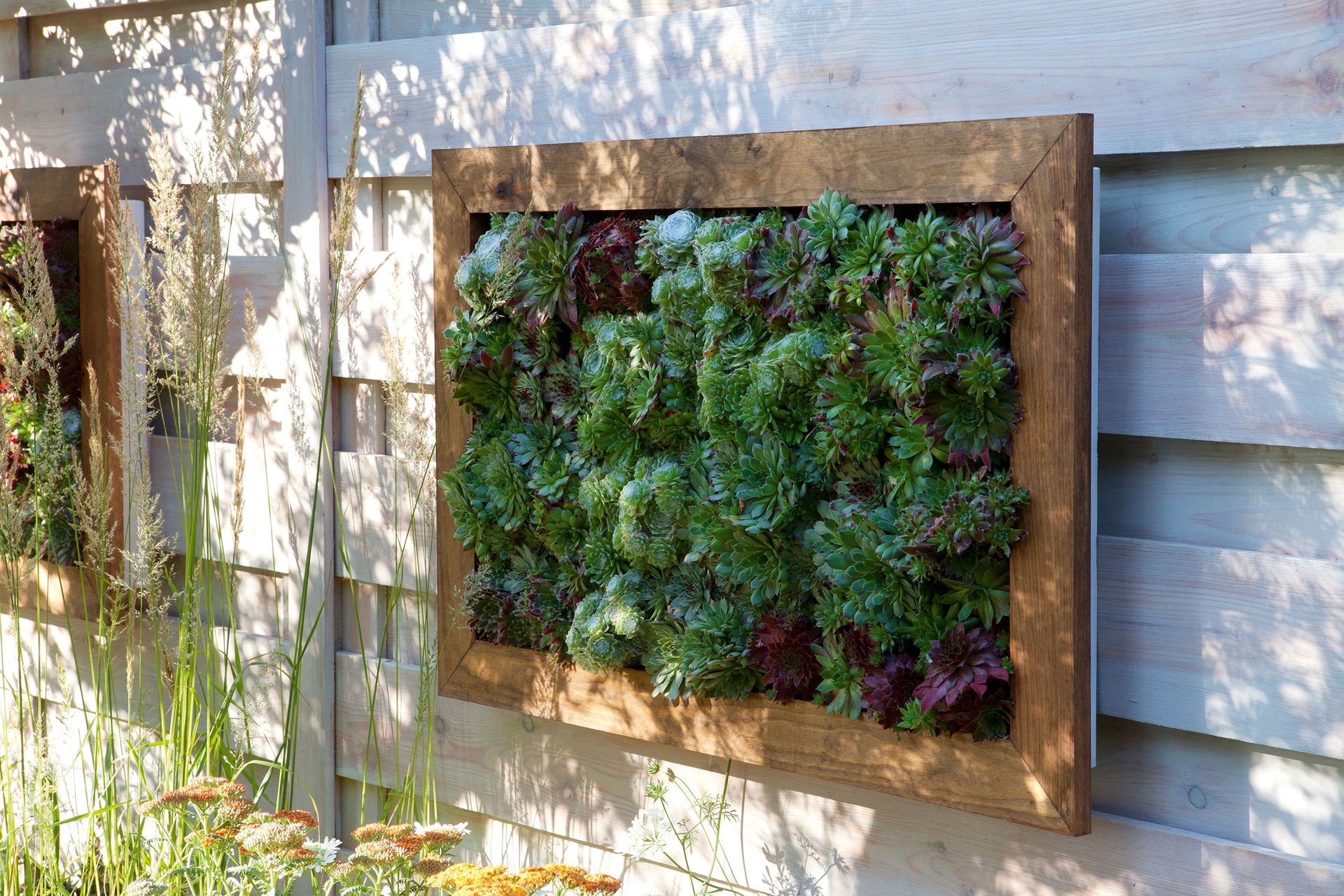 We love the added impact that the frame adds to this succulent display and living wall. It's a fabulous way to add interest to your backyard. Visually, these garden ideas are beautiful and will draw the eye up, creating the illusion of a bigger space, while they also help create a soothing atmosphere (yes, please). Because no floor space is required, they're must-haves for balconies, patios, and small backyards. 
Opt for evergreen varieties so you get a pretty display year-round. Climbers are a great choice if you want your green wall to grow up directly from the ground, so jasmine, honeysuckle, and similar plants are nice options.
17. Complement greenery with natural interiors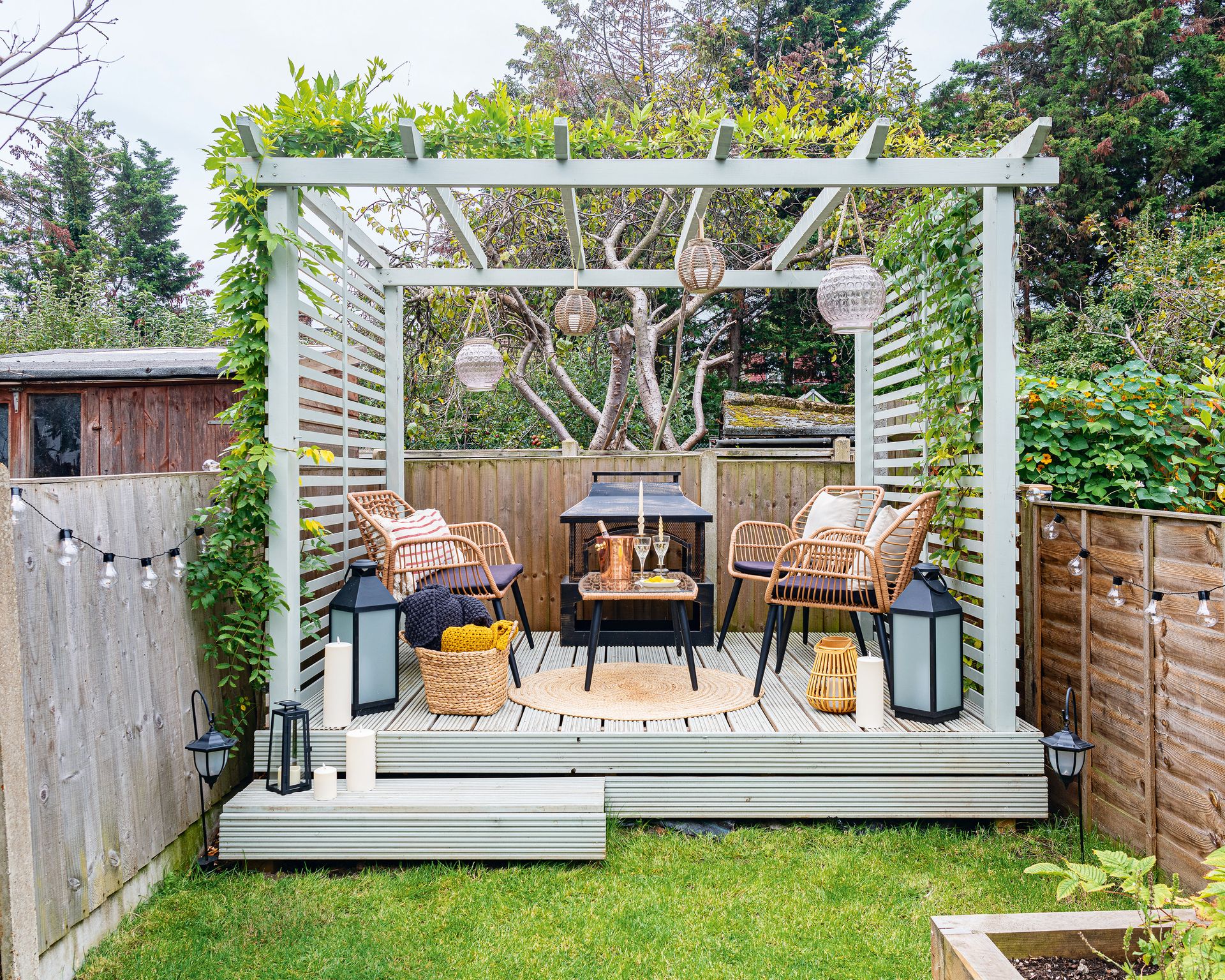 For a genuine feeling of being in your living room, but outdoors, enhance your surroundings with super modern rattan outdoor furniture. Even if you've painted a pergola to brighten up this corner of your yard, nodding to natural materials in your soft and hard furnishings will create a super cohesive space. Bringing cushions and lots of lighting into the mix makes this a fun hang-out spot.
18. Add some cover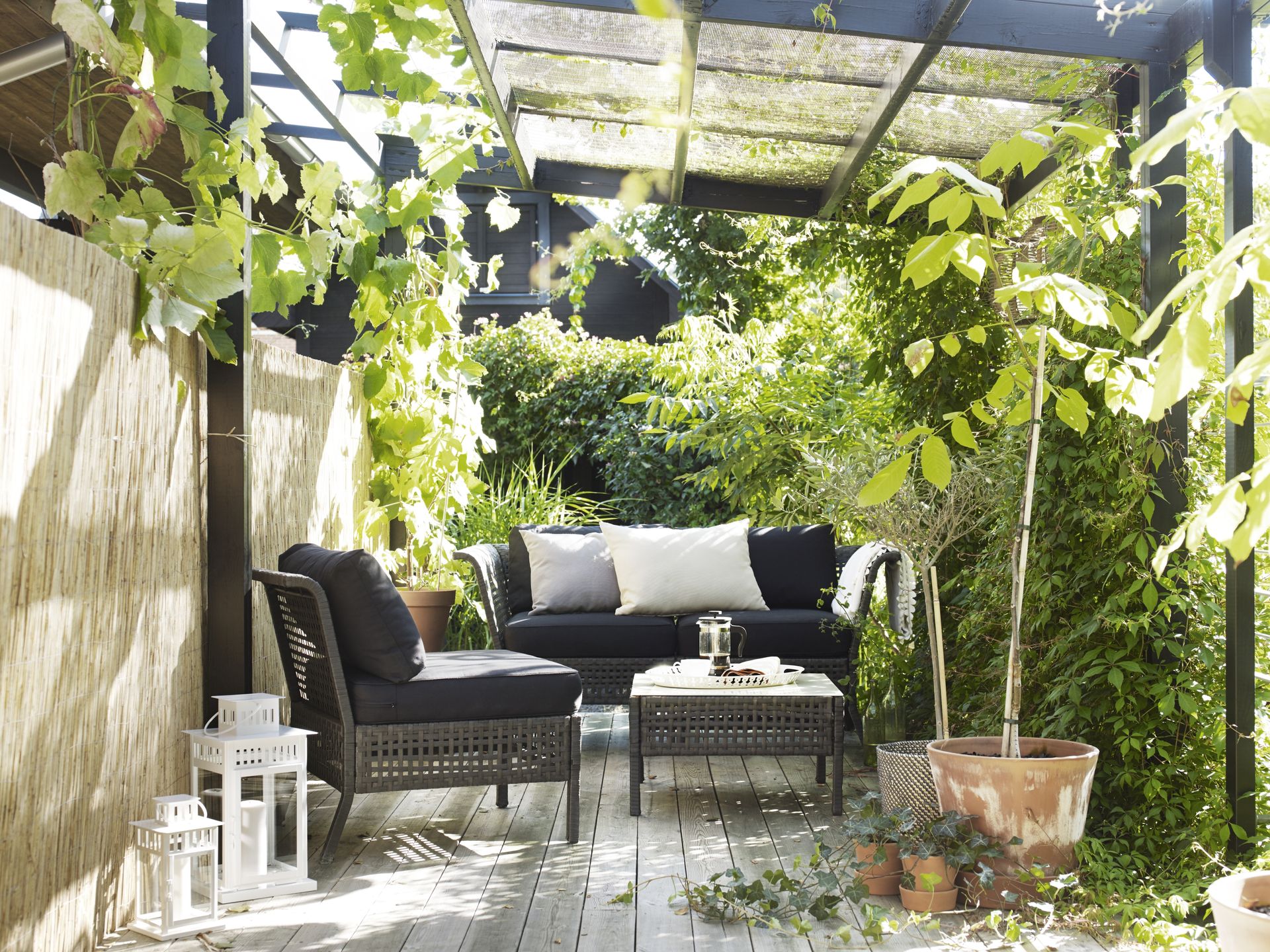 Any area that's basically dead space but still completely useable can become the perfect backyard nook. Add a roof, throw a small garden coffee table in the center, gather a few favorite chairs, and you're good to go!
19. Plant around your deck for warmth and texture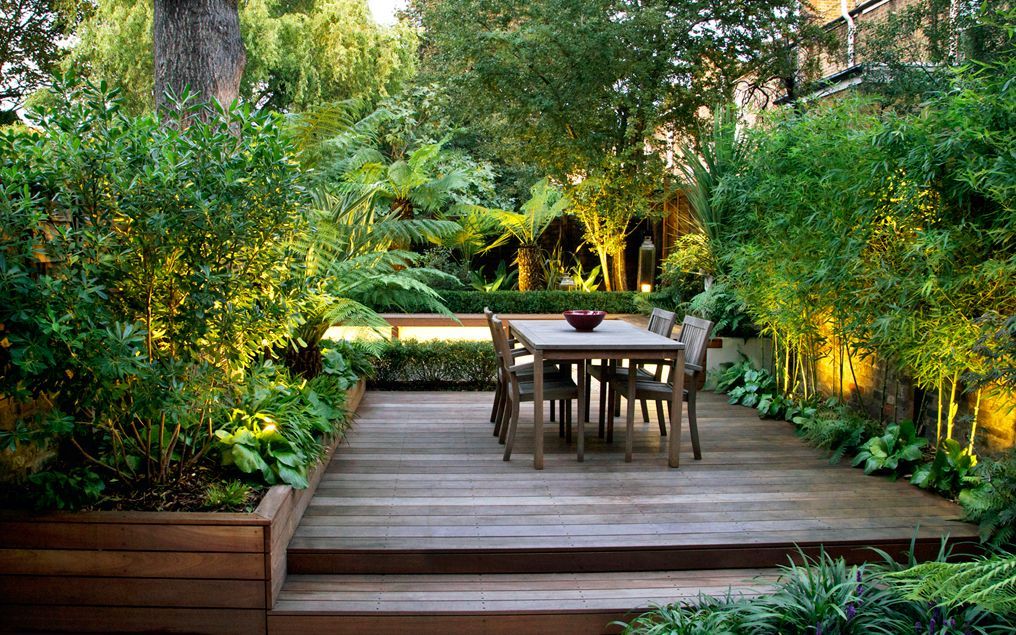 Defining areas in your backyard is a clever way to create the illusion of different rooms in your garden. This can be achieved using plants, outdoor furniture, different landscaping materials, and even garden fencing.
20. Build or DIY a pergola to create private zones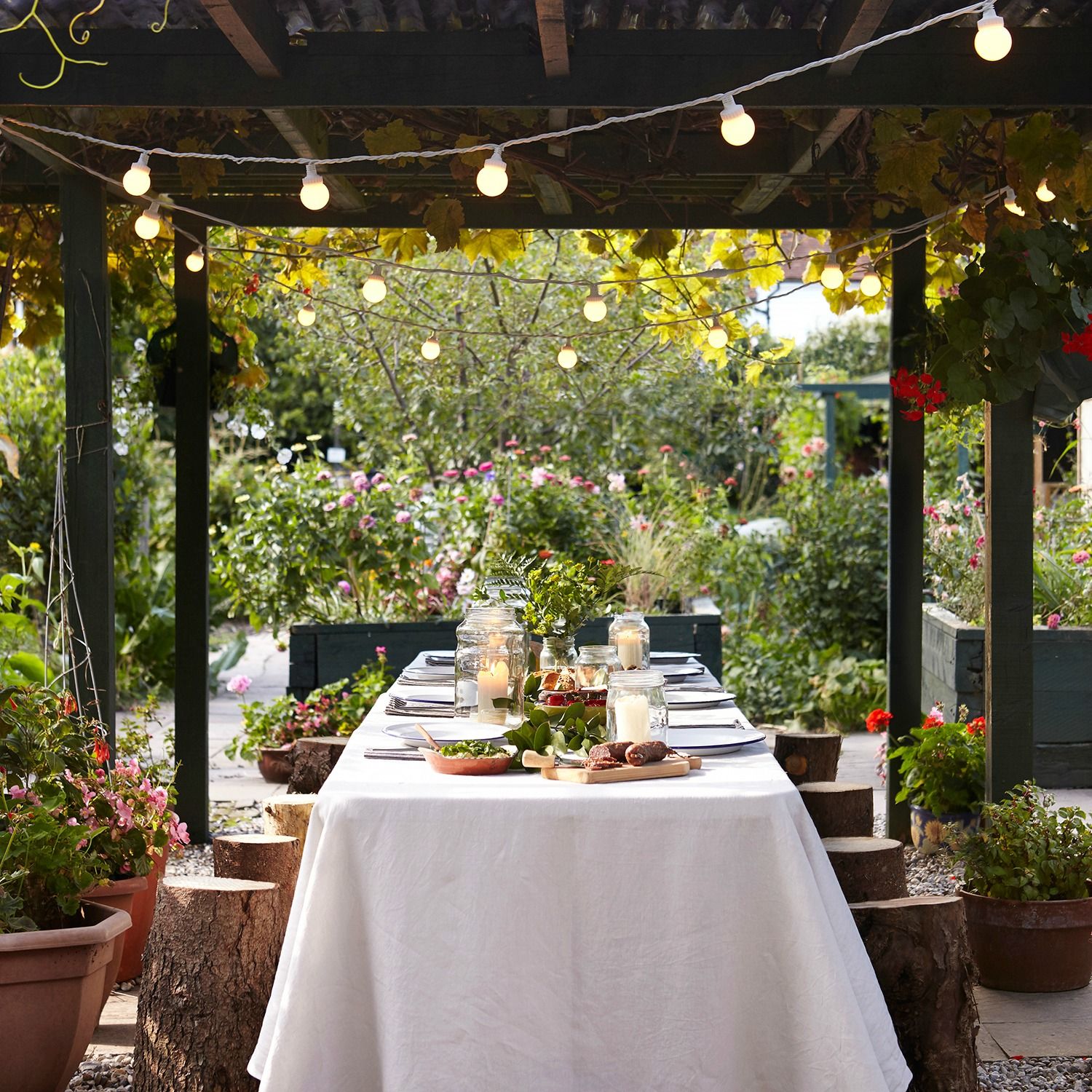 Building a pergola to house a seating area is a great way to create the illusion of a bigger and brighter space. The eye is drawn up, and lots of light is welcomed in, yet your outdoor area will feel cozy and contained to boot. Perfect for dinner with friends or even just happy hour.
21. Surround a mini paved patio with small pots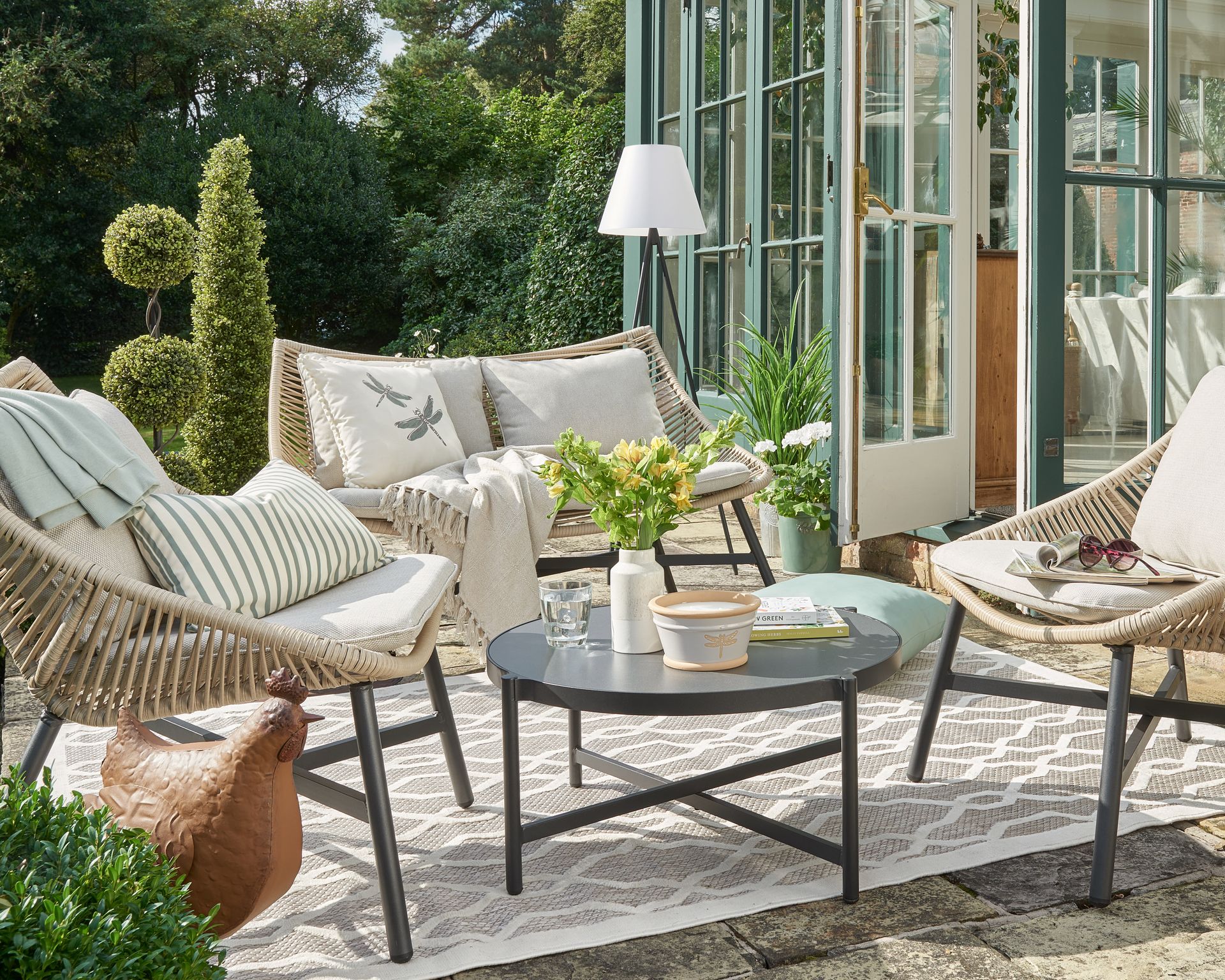 The patio can often be the focus of a backyard or front yard area, so always make sure you allocate enough room for one. If you have a tiny garden, light pavers will help create a spacious feel and will let you make the best use of this area, too. Add a few delicate pots filled with evergreens or florals for that final finish.
Whether yours is to be the perfect spot for lounging, eating al fresco, entertaining, or all three, be creative to ensure your setup is stunning. Consider if you want yours under shelter or completely out in the open as both are inviting looks, it simply depends on your preferences.
22. Create an indoor-outdoor link with a variety of plants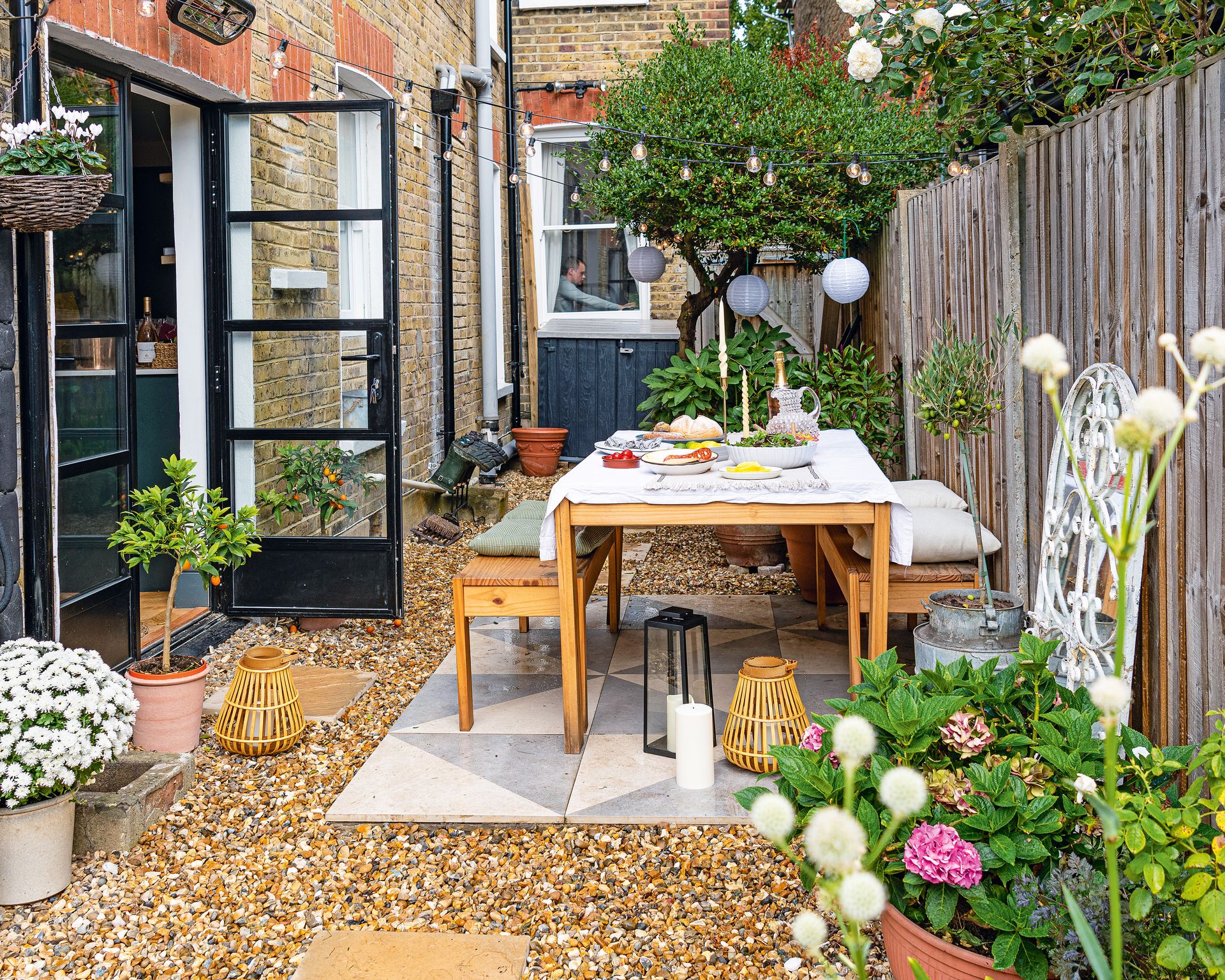 Create a subtle backyard space that still feels like a cute extension of your home by starting the plants at your patio doors. Think hanging baskets or ornamental grasses to create a seamless walk from inside to out.
23. Add atmosphere with ground level lighting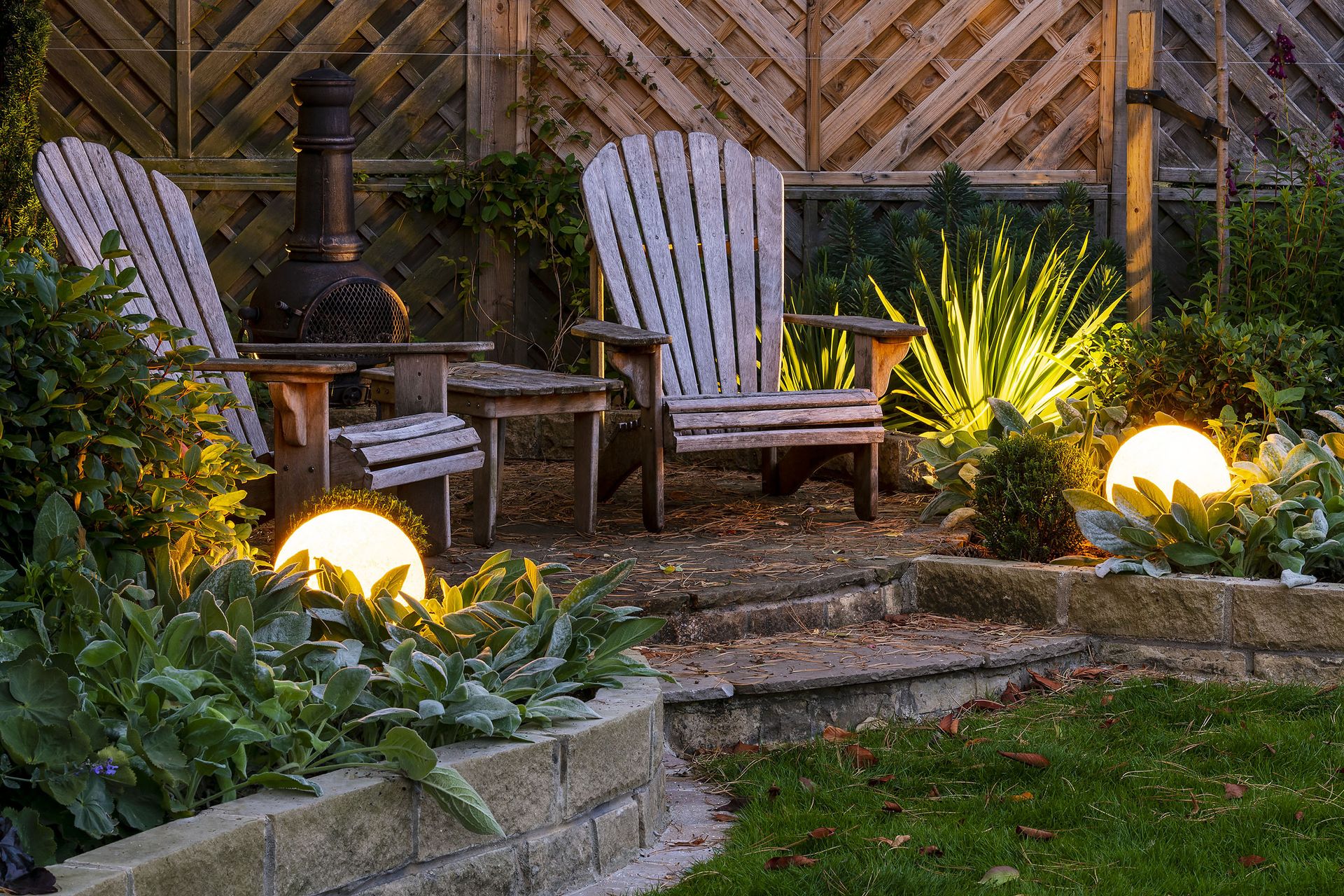 There is no better backyard inspiration than one with plenty of atmosphere. Create ambiance in a garden by choosing low-level lighting like these gorgeous spherical LED globe lights, which add interest by day and also light up by night, proving they can be both stylish and functional in every type of outdoor setting.
24. Add warmth with a log burner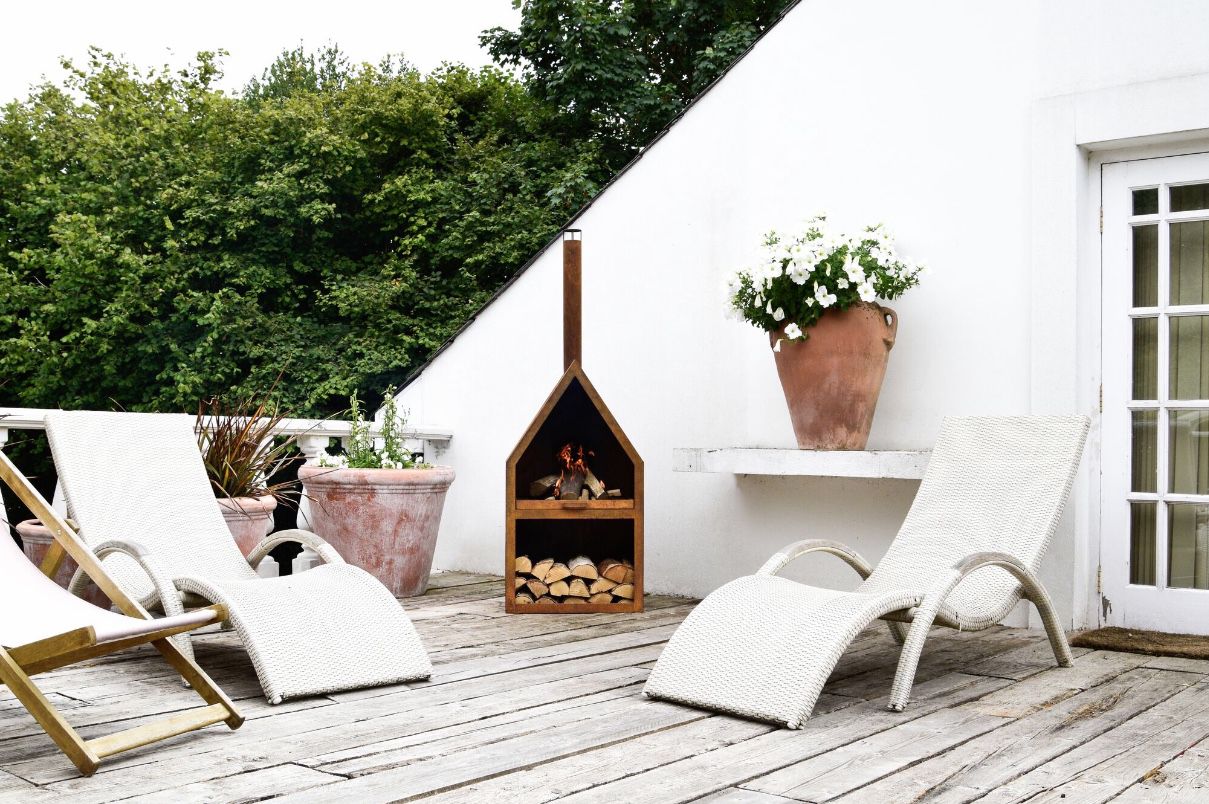 Perfect for when the sun goes down (get the marshmallows and graham crackers ready), a log burner brings warmth to any patio setting. This one in a terracotta hue perfectly complements the pots and pared-back color scheme. This spot couldn't get any more serene if it tried.
25. Use pallets to create a quick, cheap corner sofa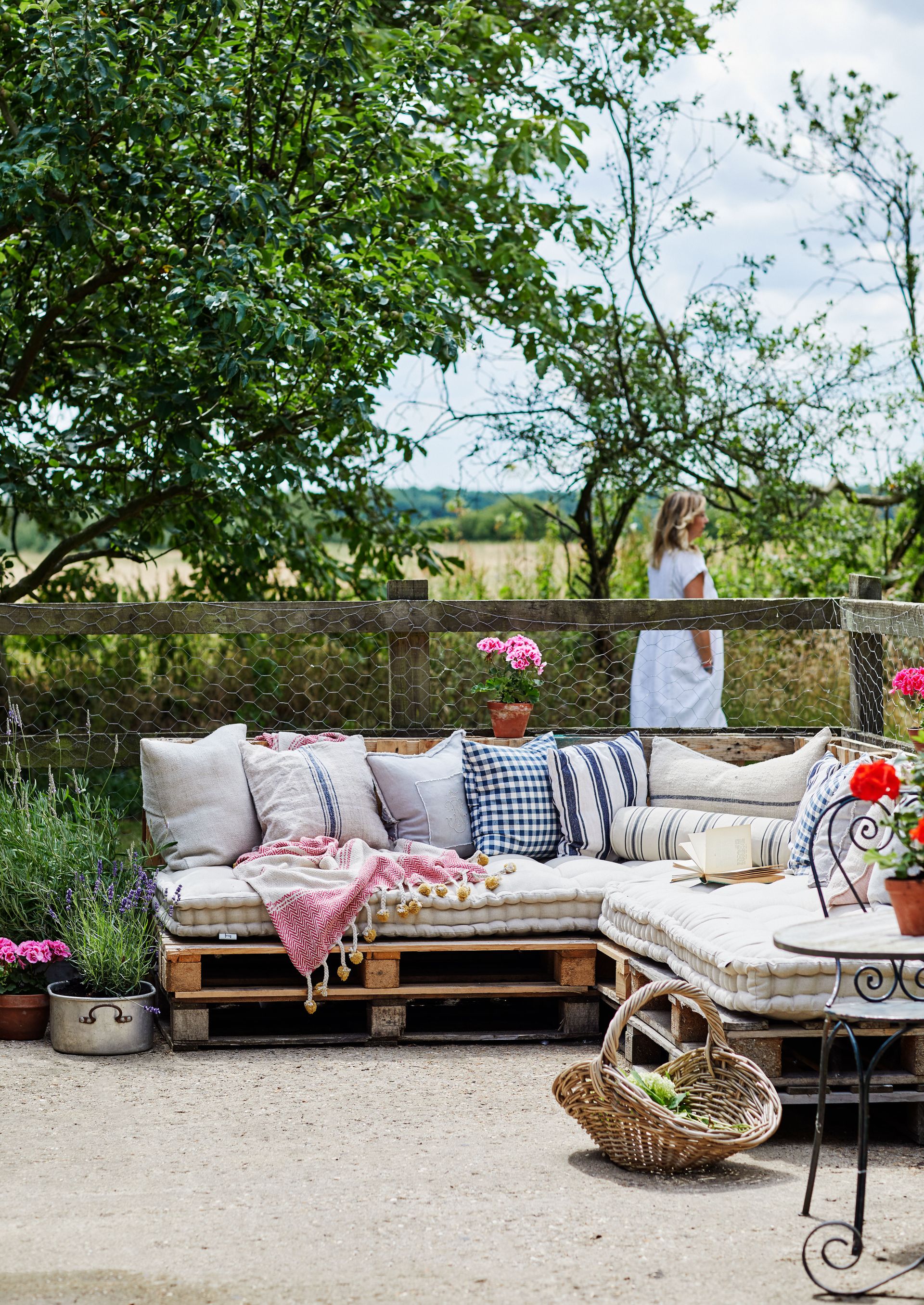 A corner sofa can make the best use of space, especially if you like having a lot of friends over, and it doesn't need to be expensive if you DIY your own with wooden pallets. This is one of the best cheap garden ideas that boasts a cozy and stylish result with the simple addition of mix-matched cushions and throws.
26. Color-coordinate your seating area with your home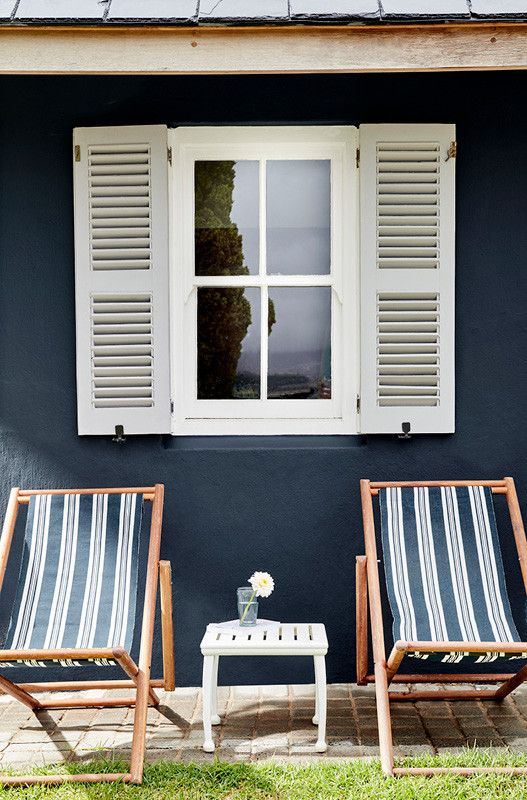 (opens in new tab)
These deck chairs tick all the boxes. Slightly nautical, the reason that they look so good — despite the lack of sand and an inflatable beach ball — in this backyard setting, is because the colors perfectly coordinate with the exterior house paint and window shutter color.  
27. Play with contrasting patterns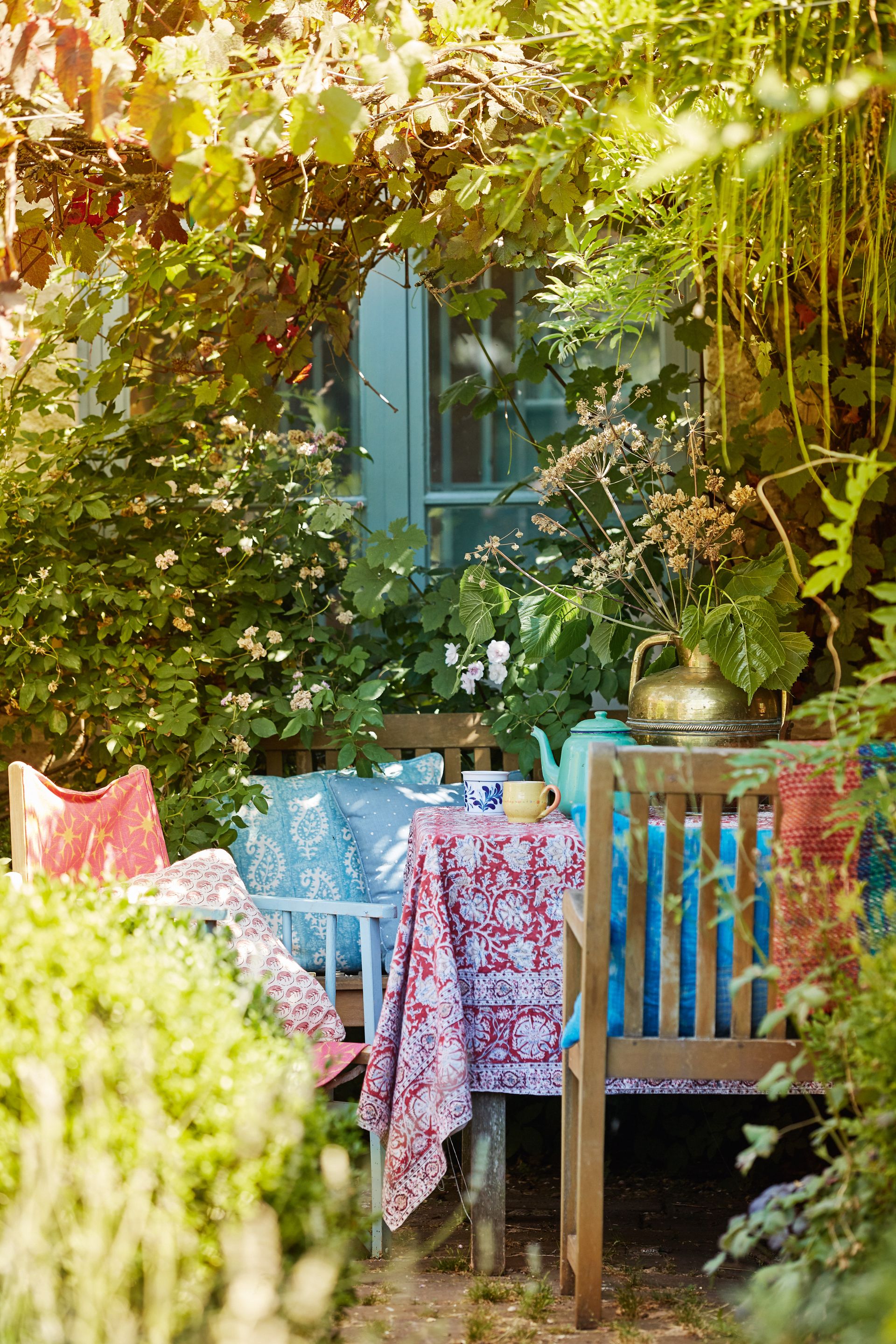 Not all beautiful backyard ideas have to be labor-intensive or expensive. You can add softness, color, and design interest with printed cushions and a tablecloth. The bright soft furnishings used in this garden idea are made with fabrics from Vanessa Arbuthnott (opens in new tab).
28. Fake foliage on a balcony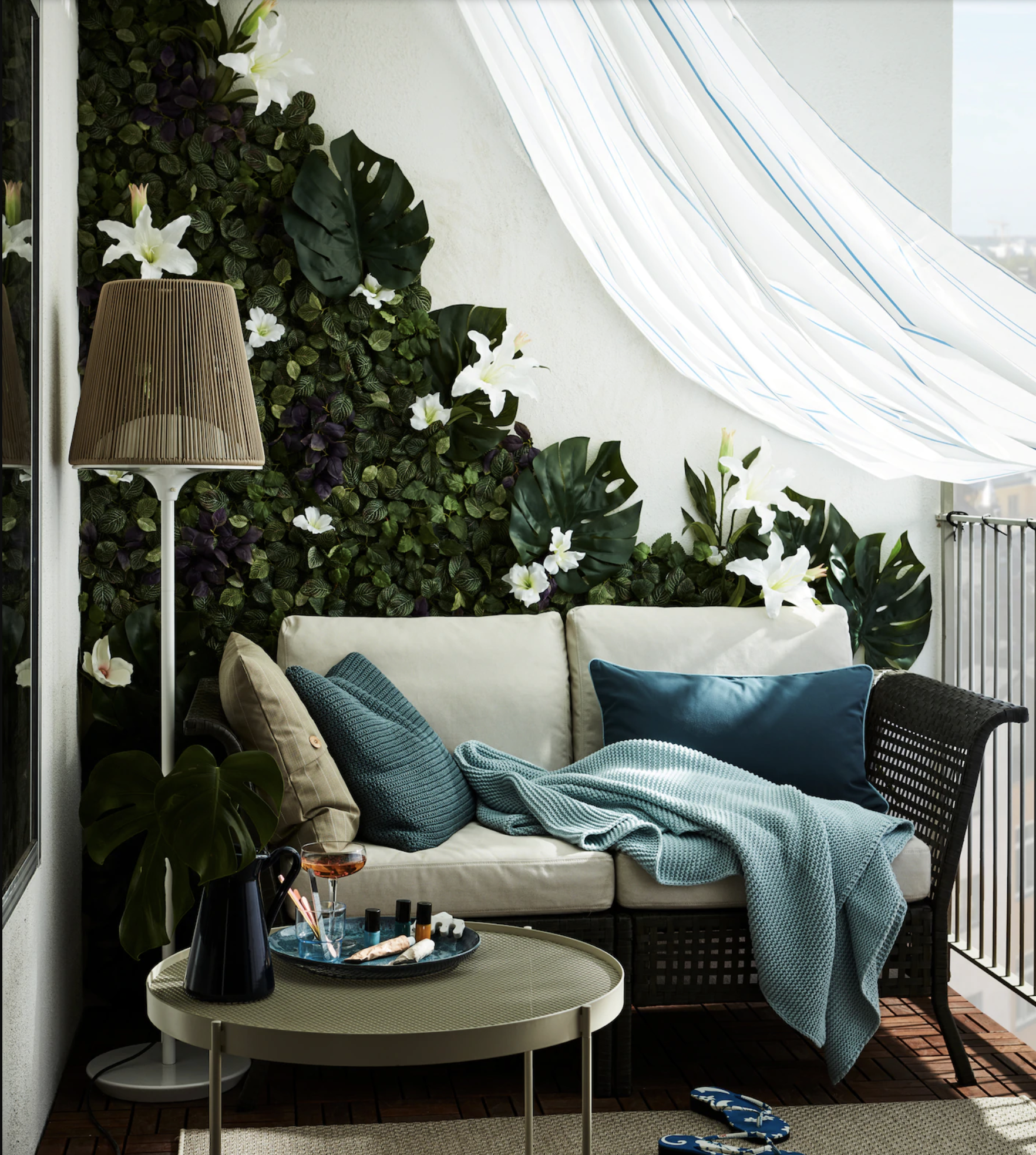 If you want a good outdoor space, but have zero space (and zero green thumbs), then try this DIY idea. Build a green wall for your balcony using fake flowers. This one has been made using a combination of artificial lilies, monstera leaves, and IKEA's very handy faux plant wall panels. It will work in a small courtyard garden as well or a tiny, shady backyard since you won't need to worry about water and light levels.
29. Add a splash of bright paint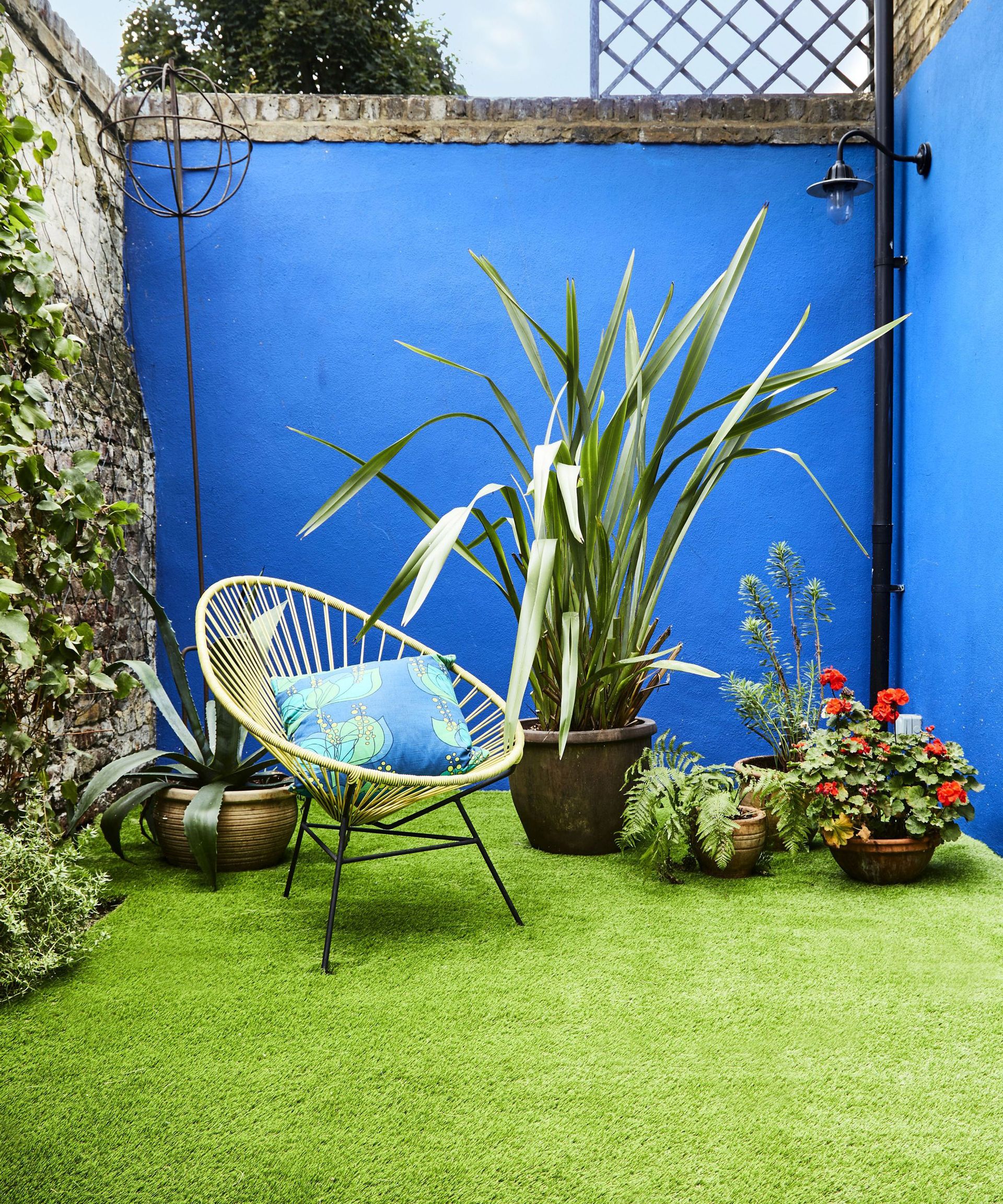 Bold colors and maximalism work so well to exaggerate space both indoors and out. Use this technique to create a cool backdrop in a small or even balcony garden space to complement the planting you do have. Be sure to ask your landlord before you paint, though.
30. Hang string lights for a mood boost and warmth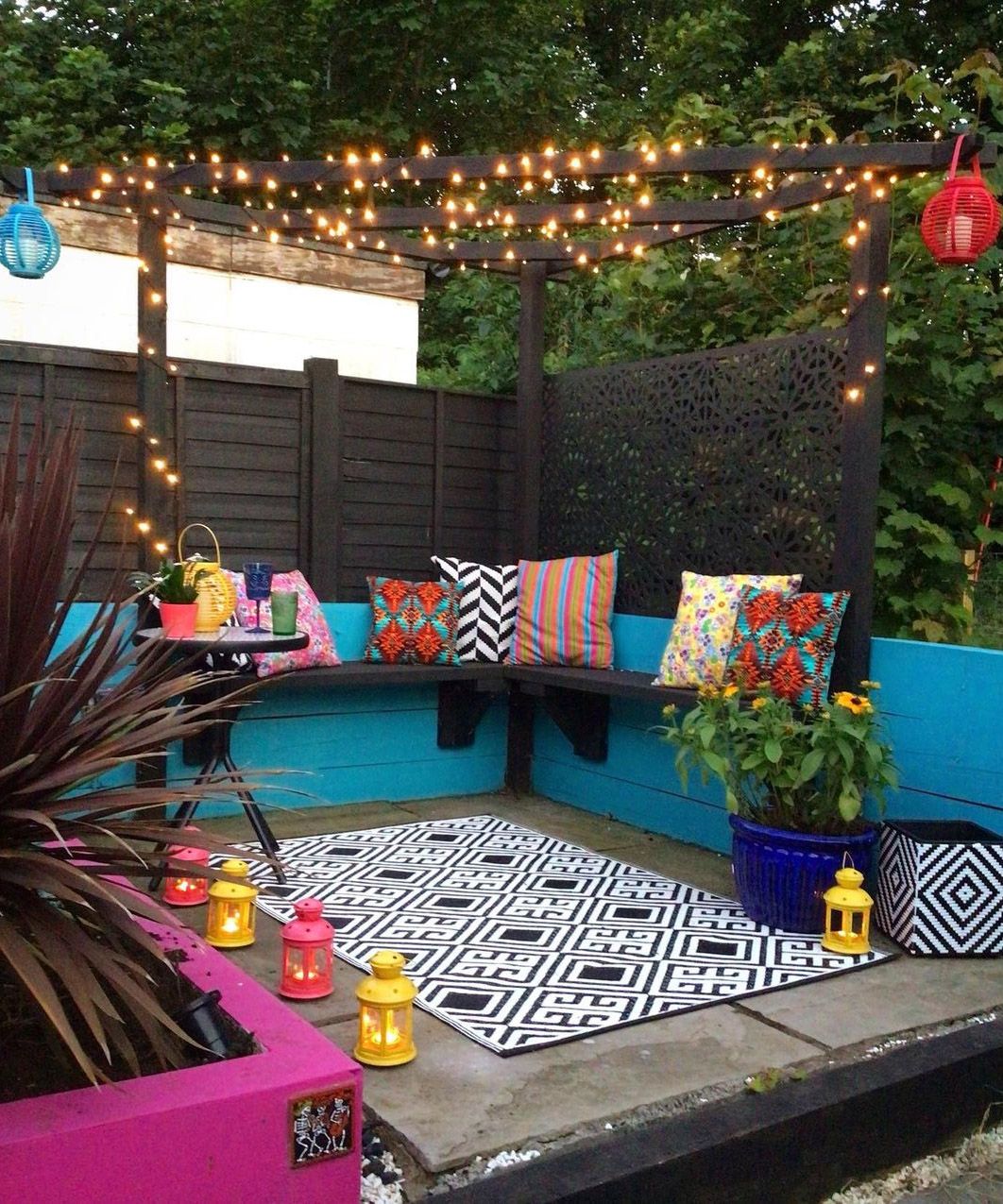 Weaving your favorite outdoor string lights among vines and greenery will create a super cozy vibe, which is perfect for lounging and relaxing in. Add lanterns for a layered finish.
31. Add pattern to a small patio floor with paint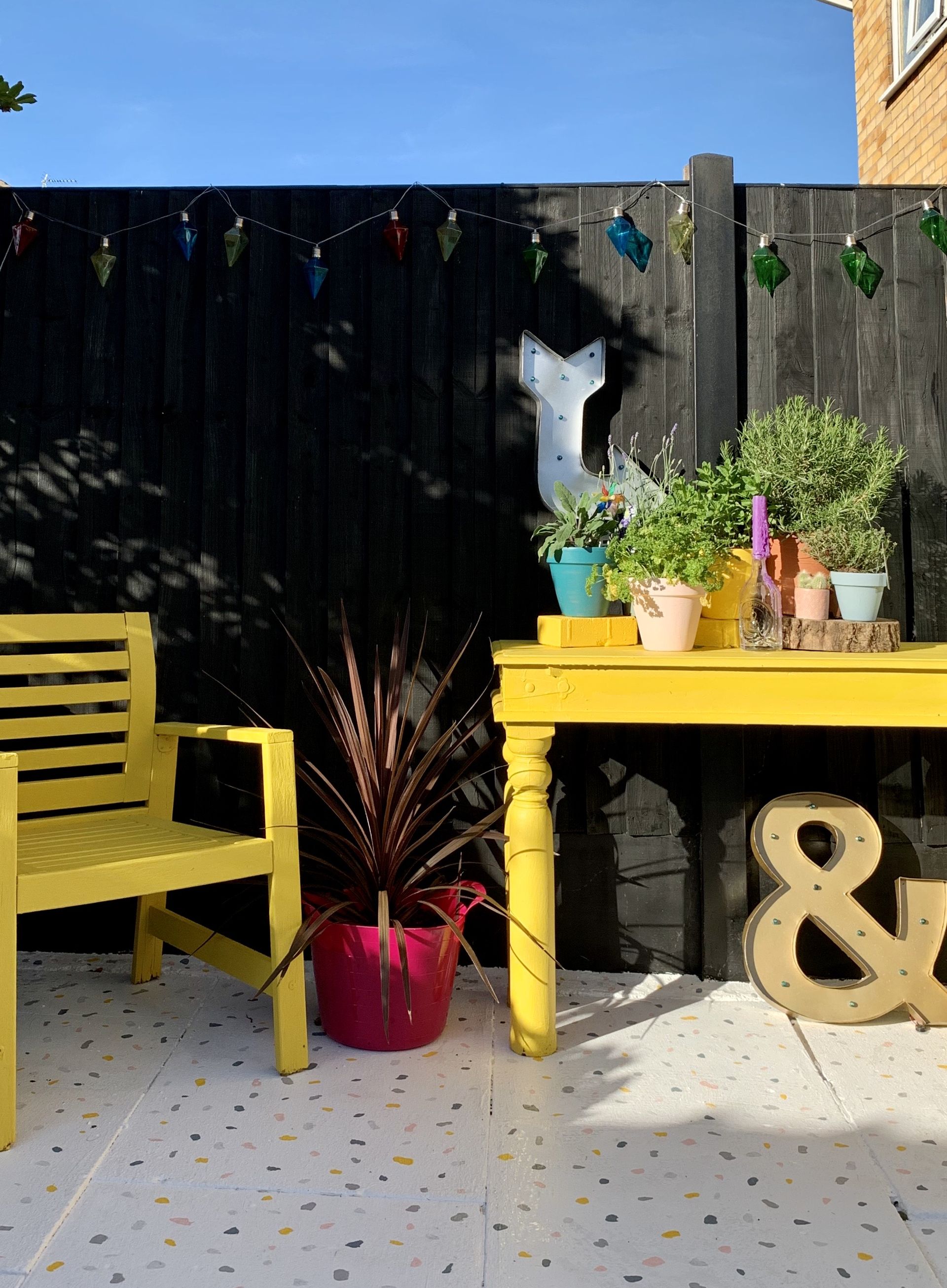 Getting artsy in a small backyard goes a long way, and the proof is in this stunning patio floor. The terrazzo print was simply created using masonry paint, and toothbrushes, but the effect is second to none. Despite it being such a simple painting hack, it adds instant color, energy, and interest, and is much more affordable than pulling up old patio tiles and replacing them. 
32. DIY a spot for outdoor movies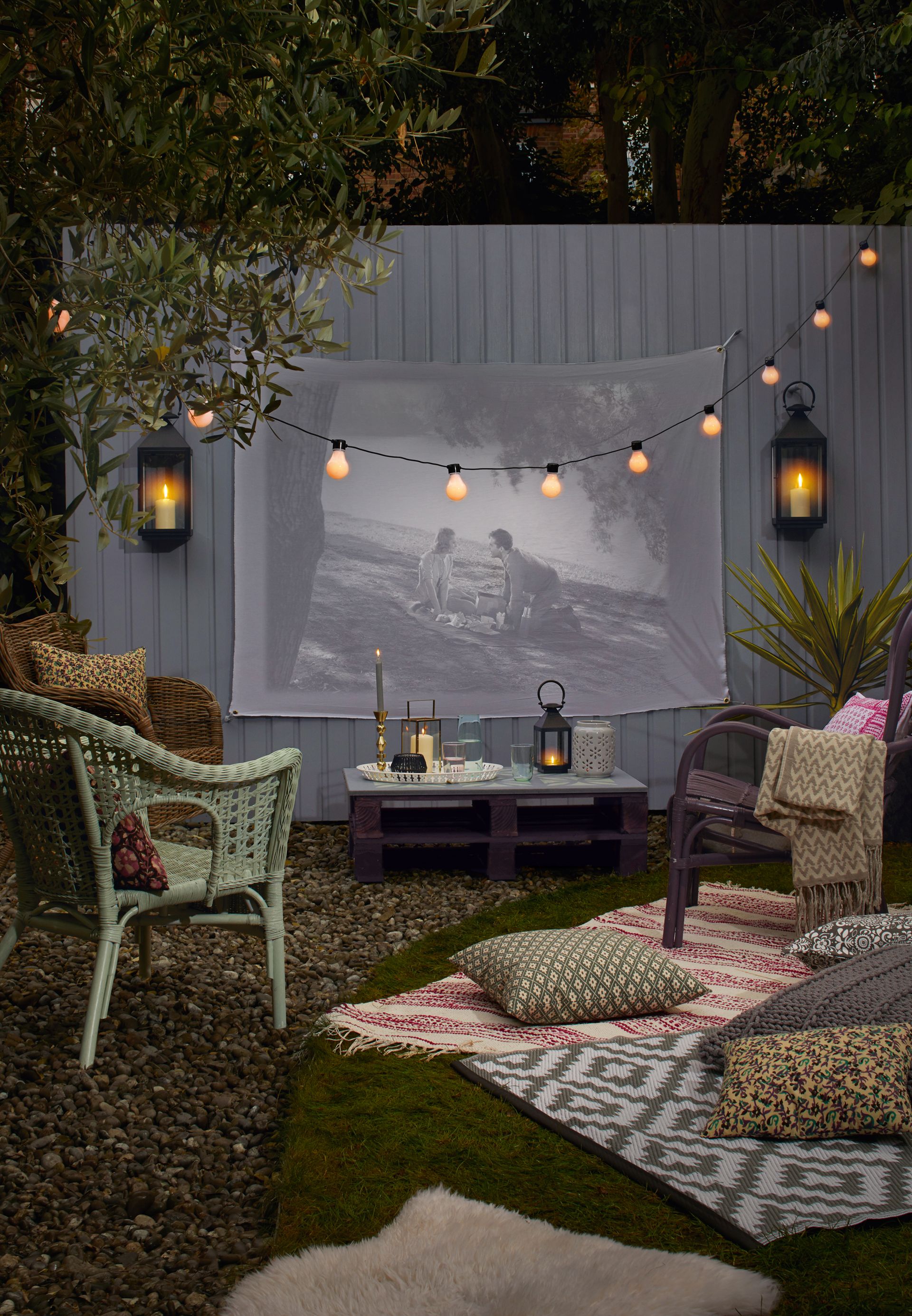 A great way to create sections in your backyard and make the most of your lawn is setting up your very own outdoor movie theatre. All you really need is a sheet or a white wall and an outdoor projector, but investing in cushions and pillows is a must. Even if you have a tiny balcony, this setup is doable.
33. Disguise your BBQ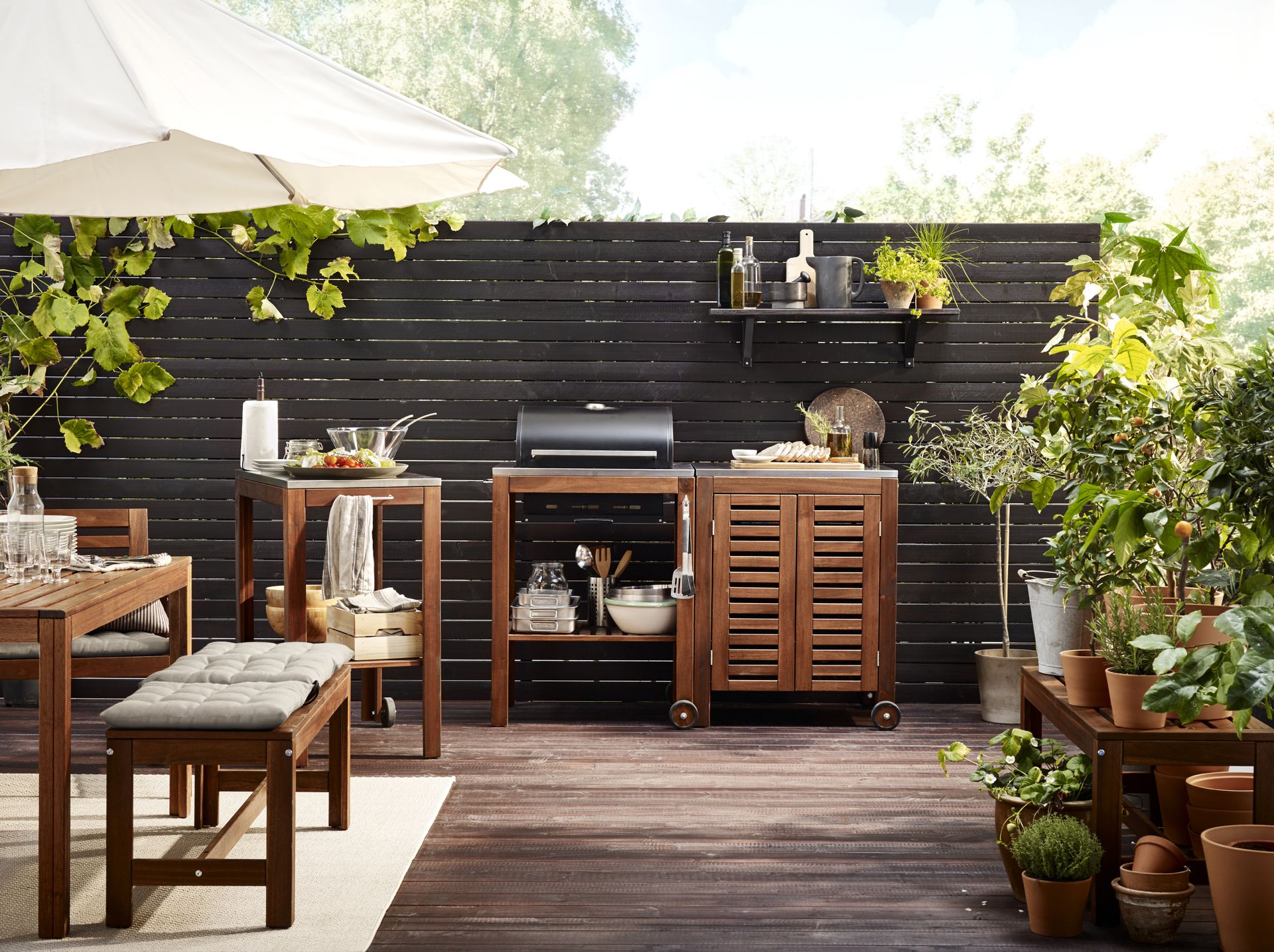 If you have a great BBQ,  then you may want to have it on display. But, if you want to be more discreet with your outdoor kitchen ideas then choose a grill that works with the rest of your backyard's style. This cool outdoor kitchen setup features a BBQ on wheels by IKEA and the wood that conceals it helps keep the entire look, undisrupted. 
34. Opt for simplicity with natural materials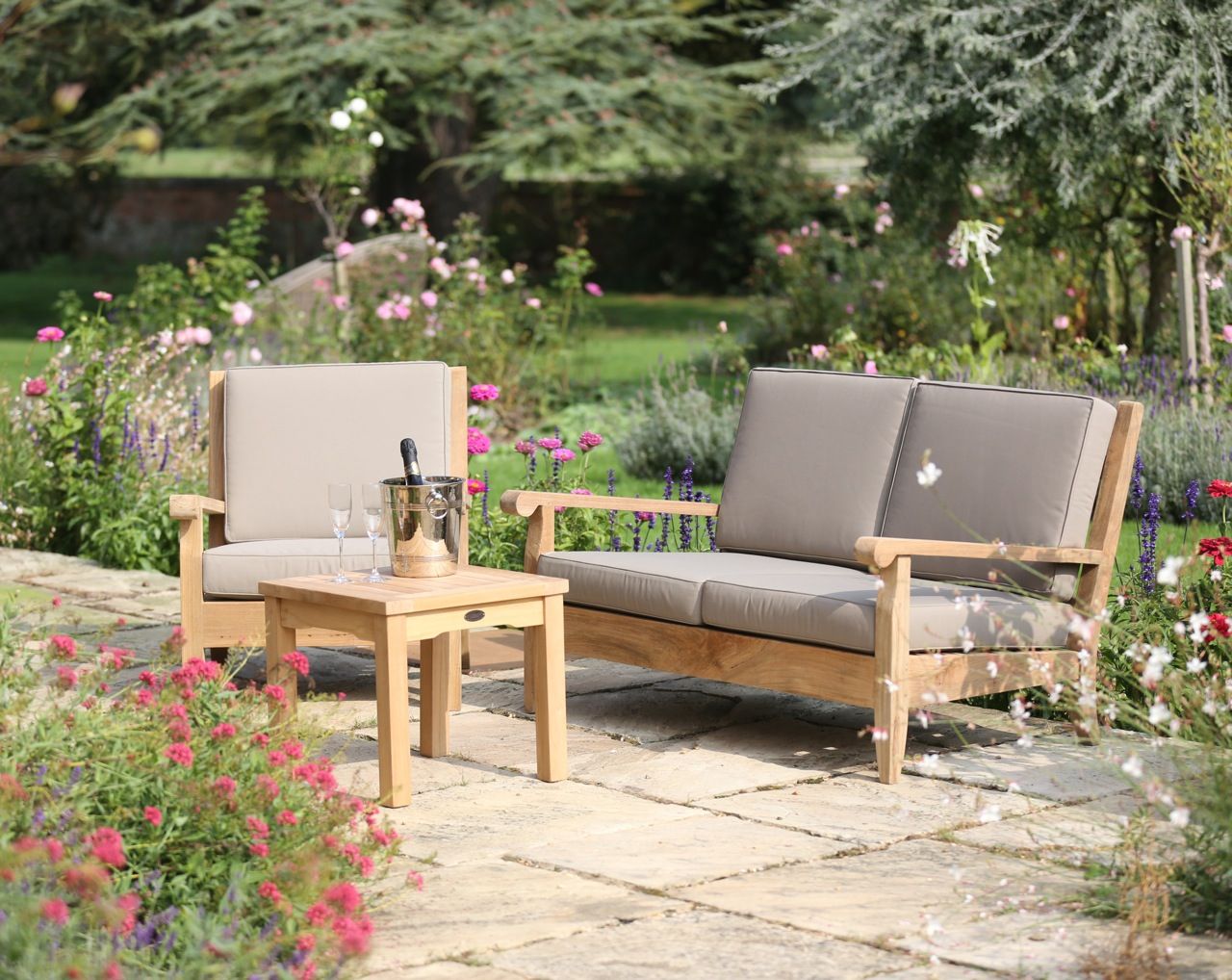 If you're a minimalist or prefer simple backyard ideas, there are plenty of small additions and changes that you can make to your outdoor space to create your desired garden look. Choosing neutral fabric colors and natural materials in Scandi-like garden furniture is effective to create a zen area. And to finish off your space with ease, try scattering wildflower seeds in surrounding spots for colorful and elaborate growth that's not overbearing and that doesn't ask for a lot of effort, or maintenance.
35. Go for bright, bold outdoor furniture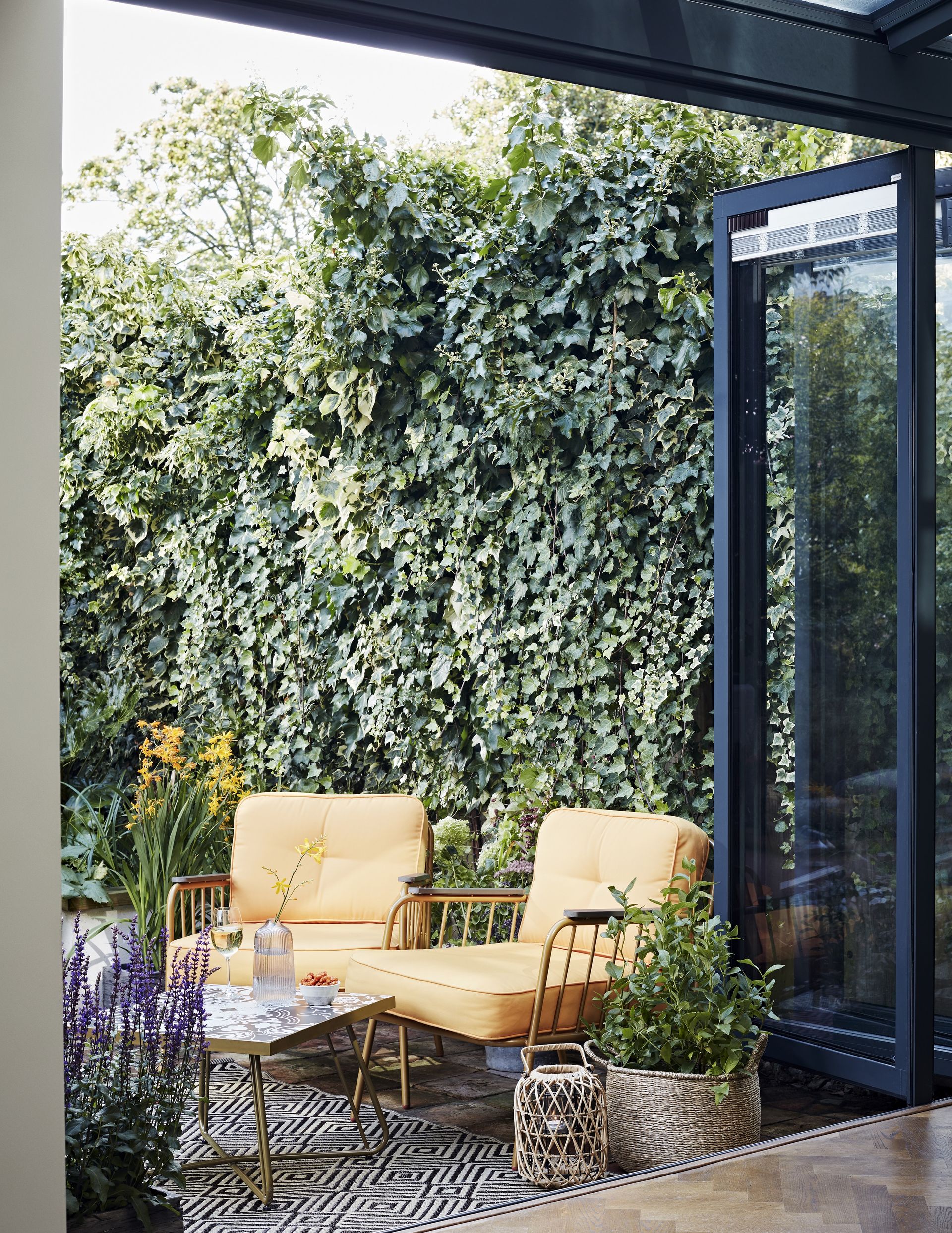 Bright is often the best garden chairs and it can make all the difference to a basic outdoor space. The simple addition of a small but bold-colored bistro set with low seating can add even more personality to a small but modern patio.
36. Decorate your outdoor furniture like you would indoors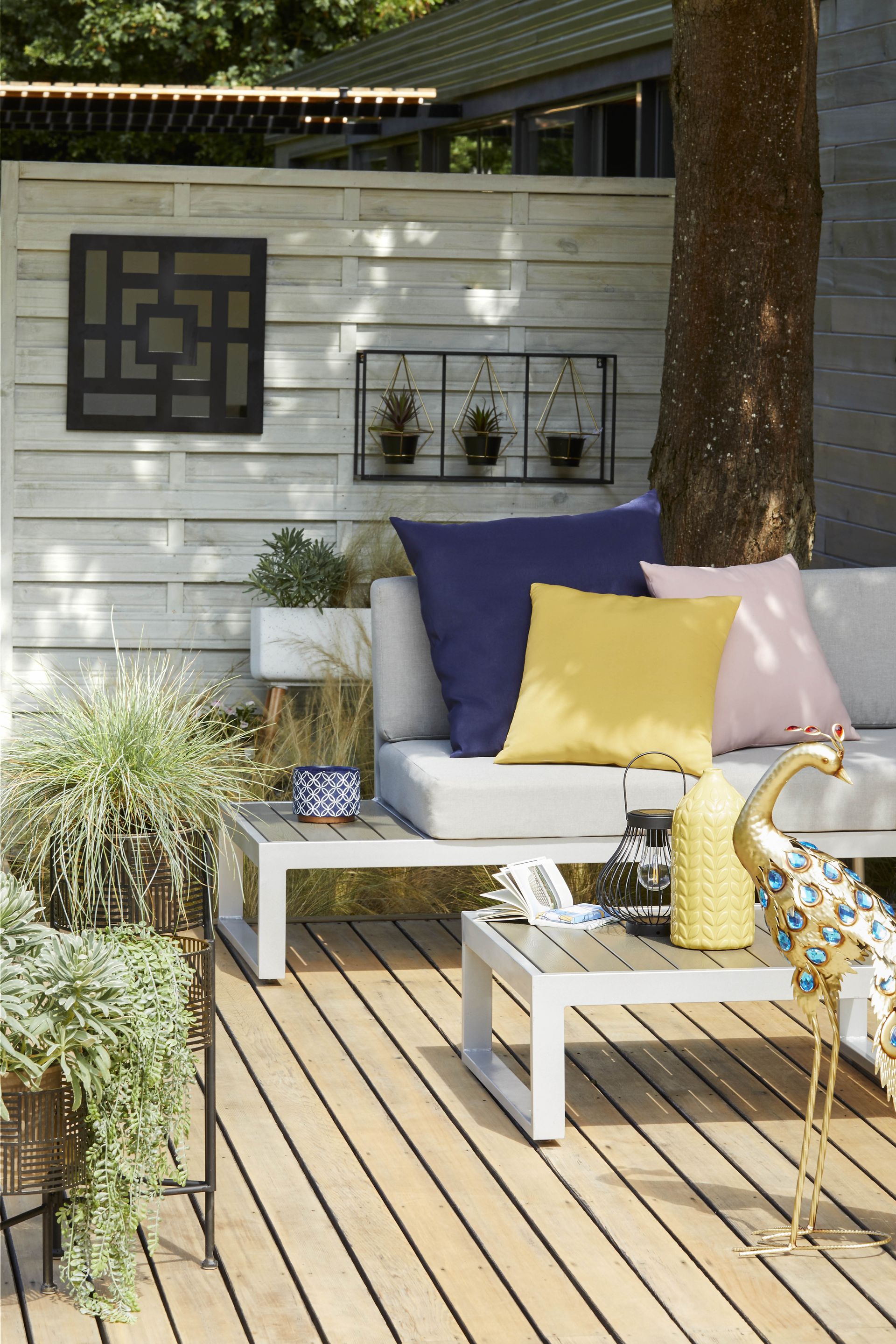 Whether it's dining, lounging, or both that you've envisioned for your backyard space, the right furniture will be functional and enhance it to no end, making it welcoming and inviting for anyone. Choose comfort and quality to ensure that your pieces stay in good condition throughout the seasons.
Add weather-resistant accessories to make your outdoor furniture more inviting and comfy — from cushions to throws to outdoor rugs.
37. Do more ground work with a rug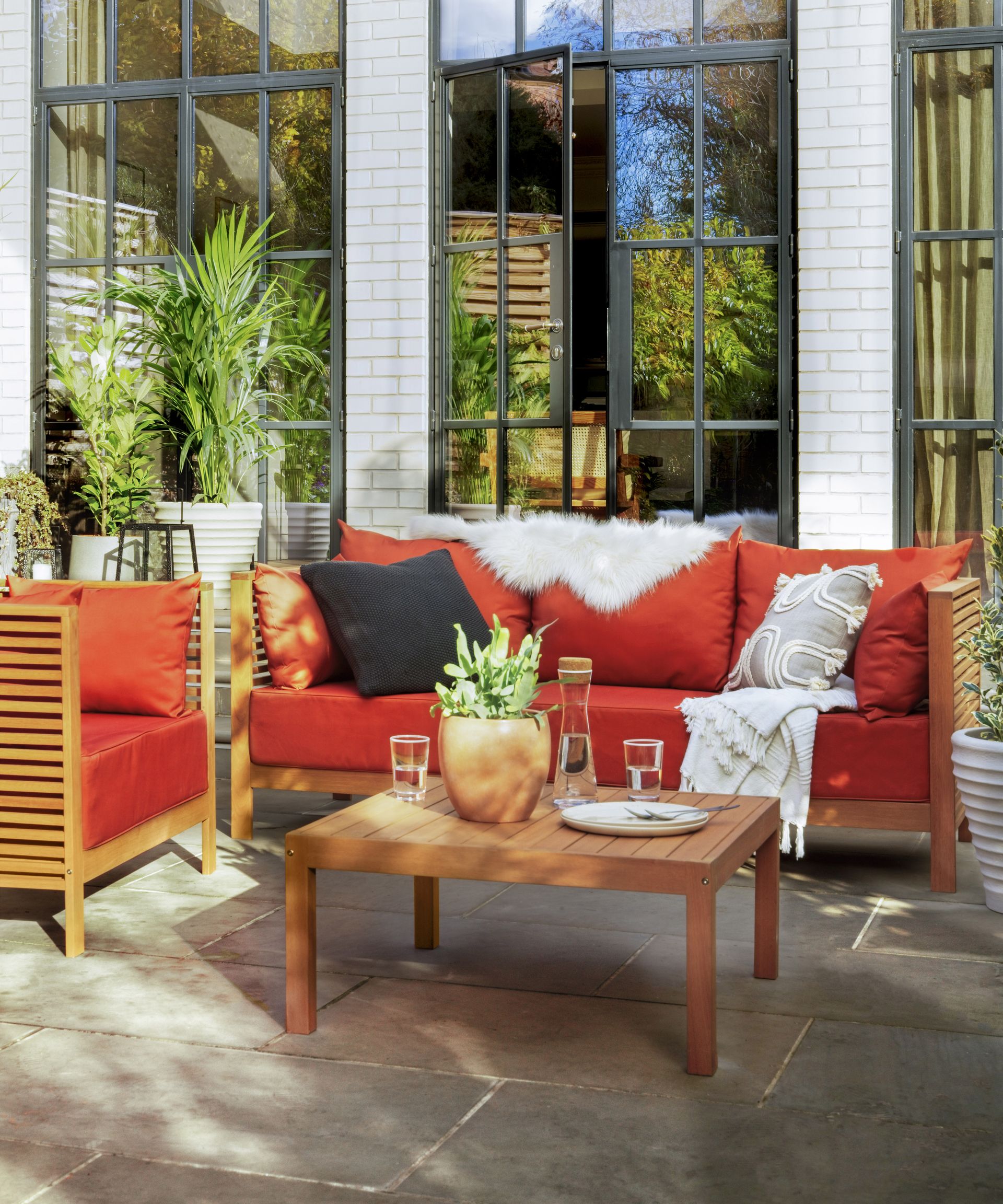 Bring your living room outside by adding a jazzy couch to create a centerpiece for this space. Use throws and small rugs for more cozy vibes, which will take a more modern setting from day to night. 
38. Bring home Moroccan vibes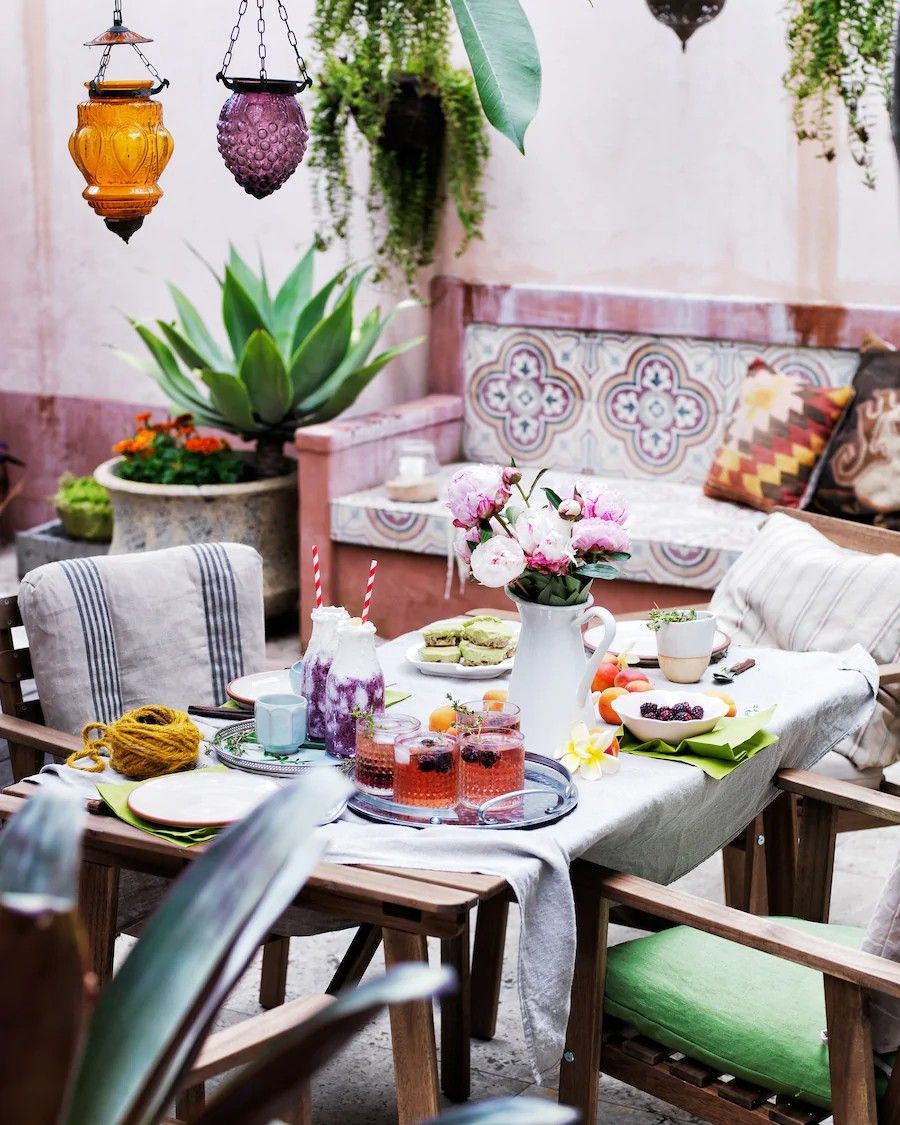 Moroccan decor is pretty timeless, and there's nothing more perfect for a backyard party setting than colorful lanterns and intricate designs on everything. Bring the heat to your outside dining settings with mismatched furnishings, layers of detail, and let yourself daydream of exploring vibrant souks, while you're in your own backyard.
39. Choose a Spanish-inspired backyard style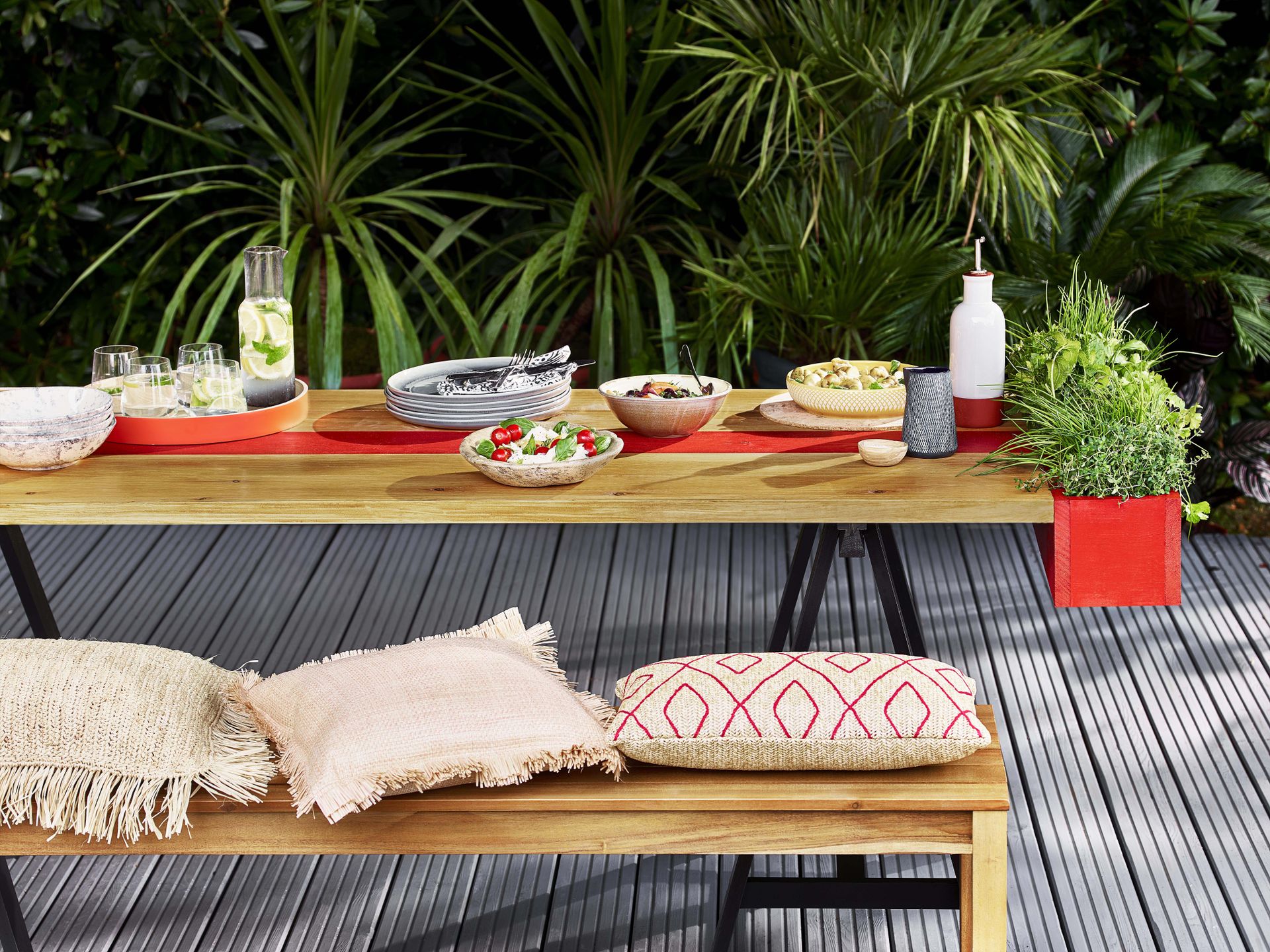 A Spanish-style outdoor setting will provide perfect backyard inspiration at any time of year. This simple table and bench are actually perfect for best friend gatherings, while the adorning bright soft furnishings will make you feel like you're in Barcelona, even on a gray day. Talk about cute vacation vibes.
40. Make fencing a design feature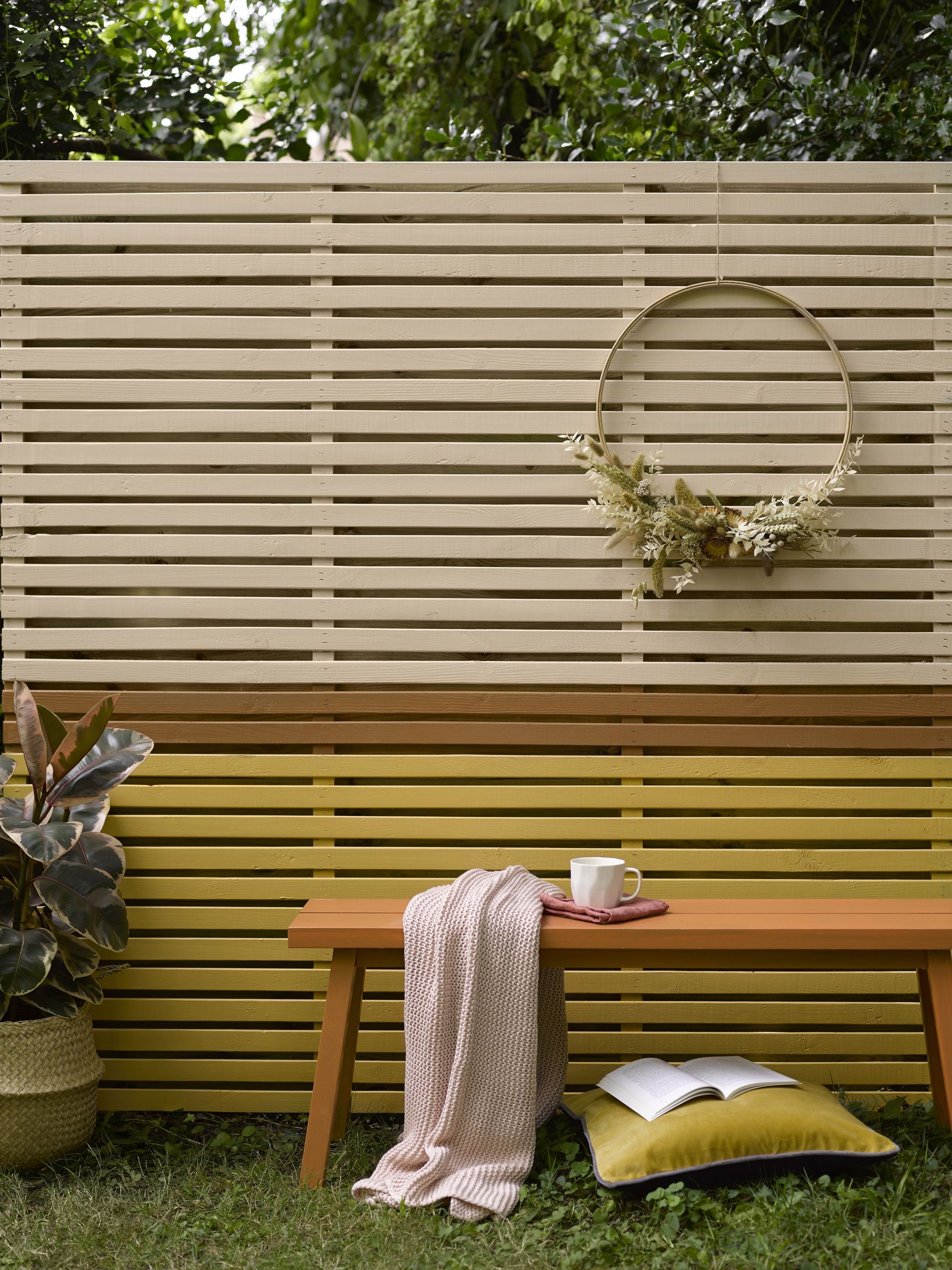 Fencing has the obvious practical functions of creating boundaries and privacy, but there's no reason it shouldn't look great, too. We love the color-blocking on this fence which adds heaps of modern character and a great seating nook. If you're renting, just double-check with your landlord that it's okay to paint.
41. Take your container garden to the wall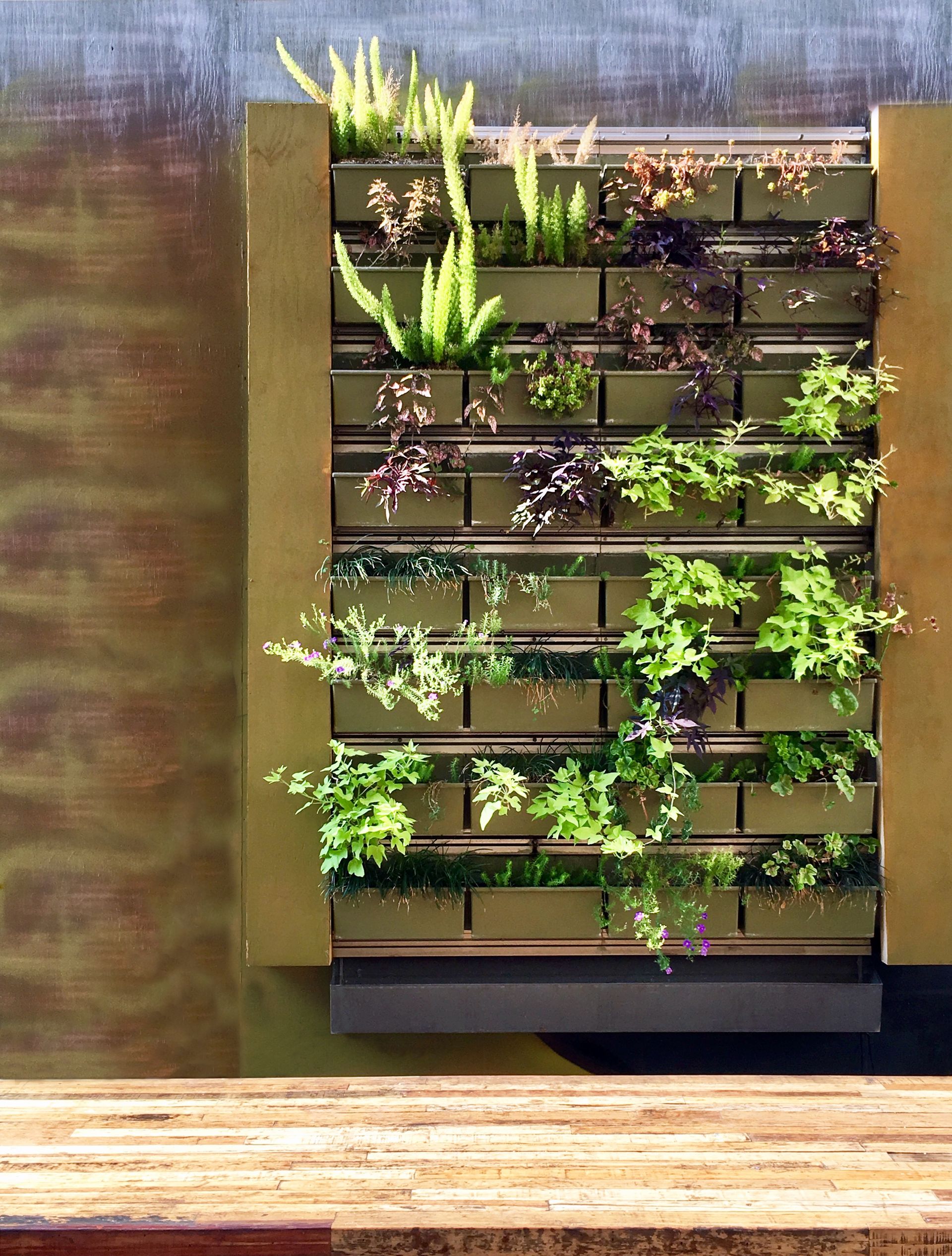 Planting vertically offers plenty of opportunities to get creative and to add the finishing touches to a coherent outdoor design scheme. To create a modern look, think of creating a green wall with uniform containers and choose plants that contrast each other in size, shape, and texture. This green wall looks elegant in structure and still contemporary thanks to the energetic choice of greenery.
42. Create an outdoor "room"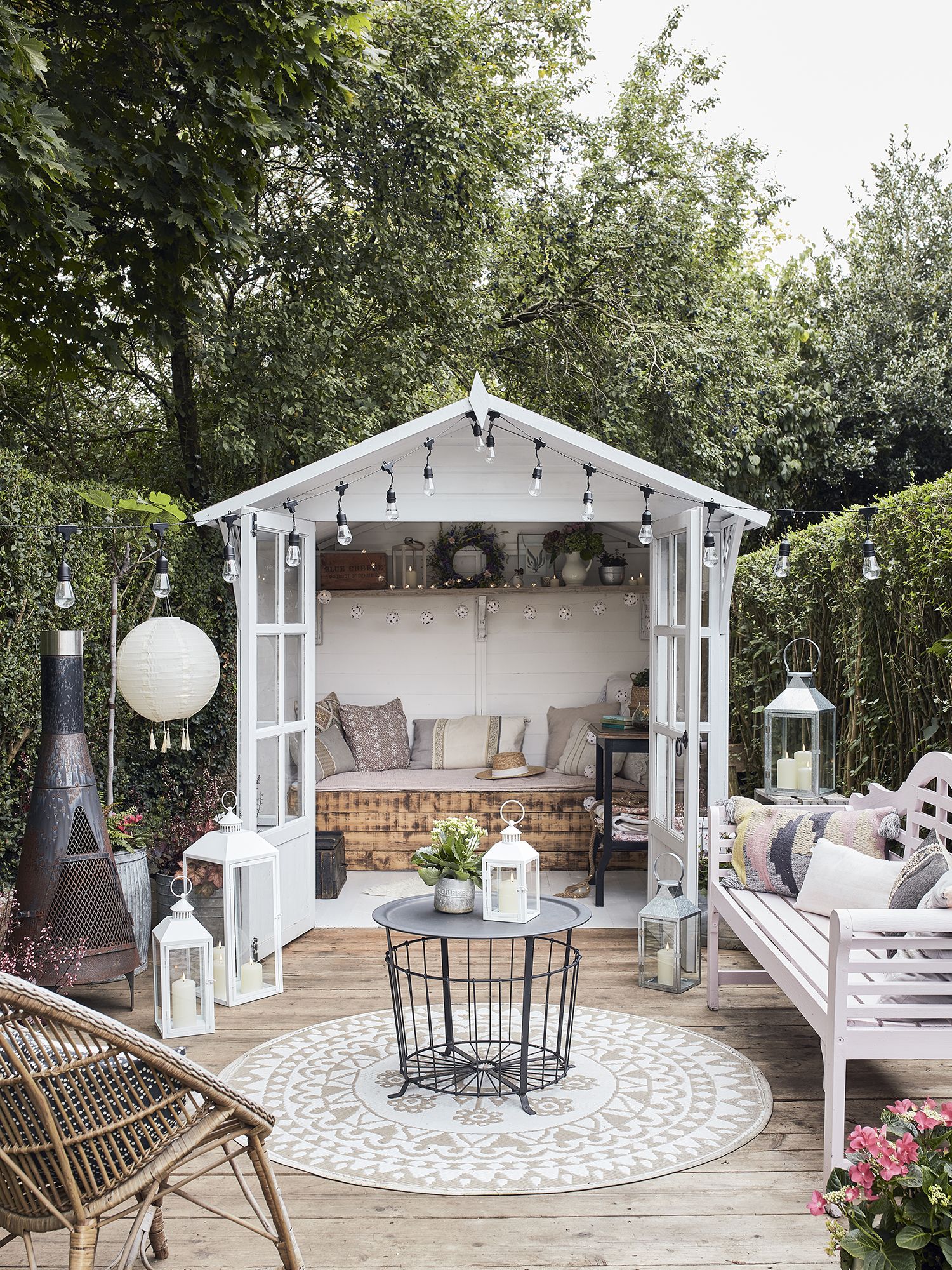 Whether you have a small greenhouse, tiny balcony, or a super modern backyard with a couple of areas, make the most of it by setting up a lush lounging spot. This is a lovely backyard design idea that speaks to us both on a visual and practical level.
43. Push salmon pink into a cottage planting scheme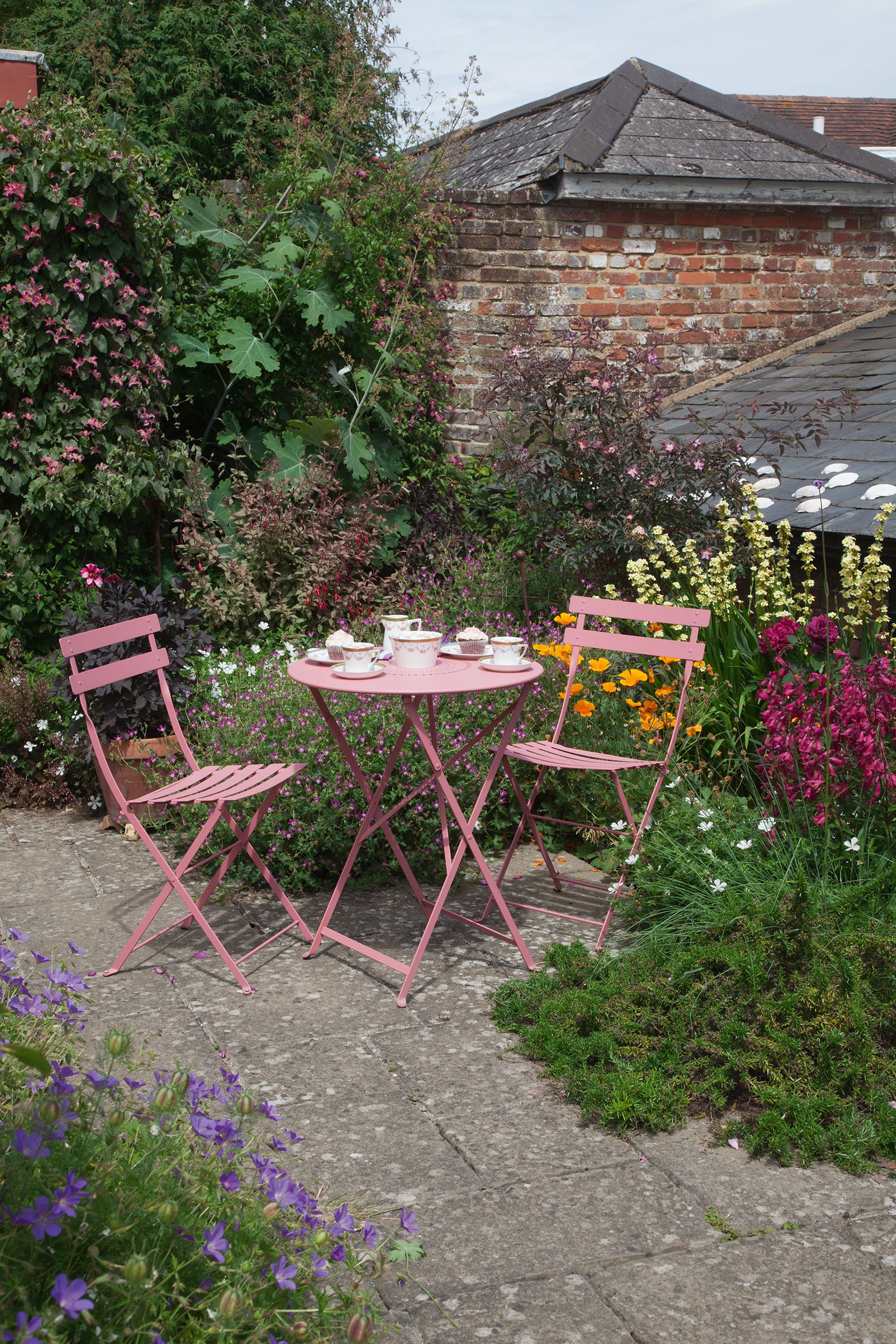 Love cottagecore but like modern colors? You can definitely blend the two together. Even if you have a shared outdoor space, bring in a vibrant bistro set for having coffee in the morning outside. 
44. Create a bulb planting station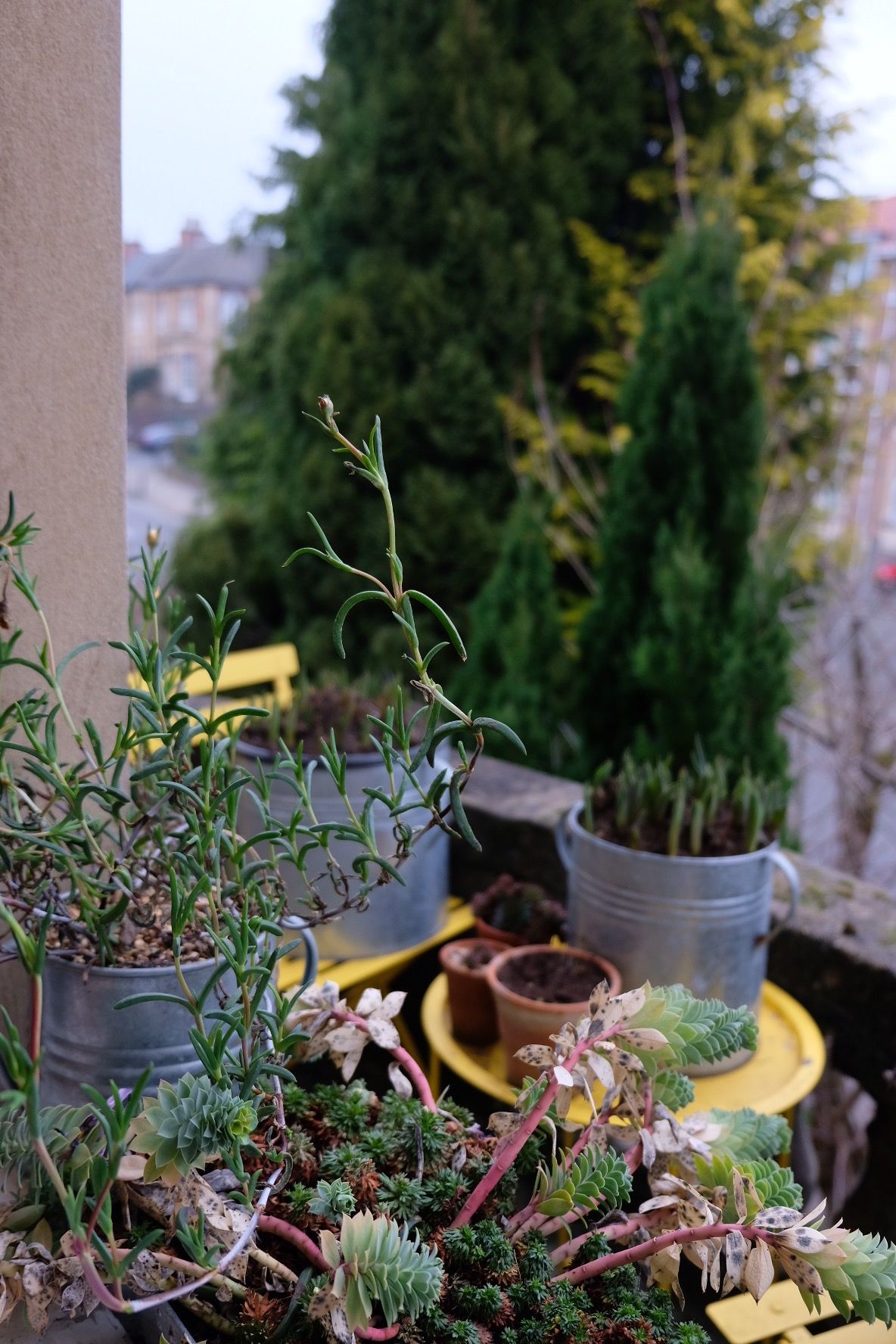 For both the avid gardener and complete novice, create a makeshift area to pot up bulbs, herbs, and succulents using colored round tables at standing height for a cute and practical spot.
FAQs
How do I make my backyard look good?
We always try to make the focus of our gardens the plants and trees. Pick out plants and foliage that make you happy and match the overall theme and design you're going for. Then grab outdoor furniture that complements the space or stands out as its own statement. If you have a small backyard or patio, do the same, just on a smaller scale.
Keep dreaming big with your garden ideas 🙌